38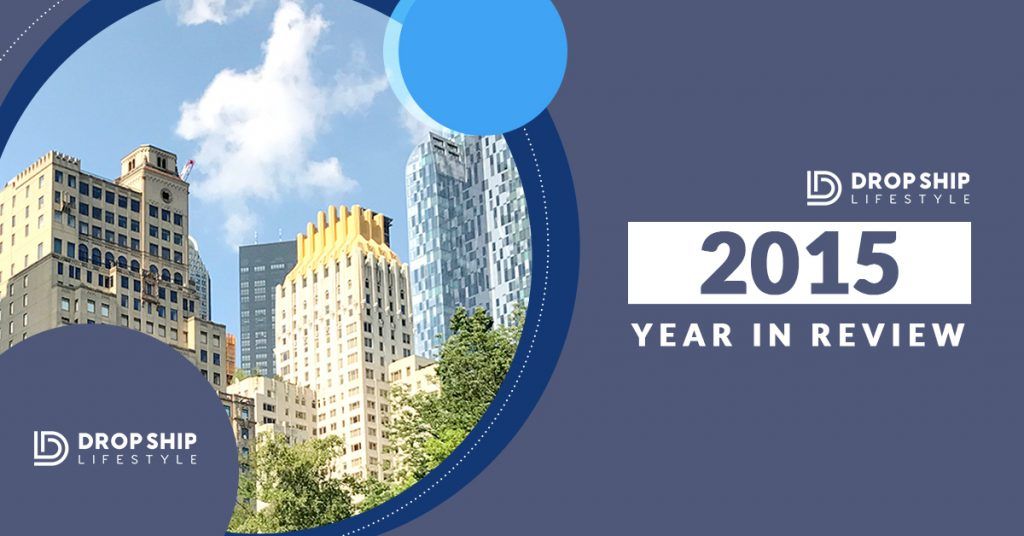 2015: Year In Review
Family, friends, travel, music, education, employees, a new 7-figure business, and an engagement…
2015 was a year not to be forgotten.
2015 Highlights
I made progress in business as well as my personal life. As a business owner, sometimes I feel like the months often blend together. When I'm in Southeast Asia, the winters are still HOT, summers even hotter. Sometimes I travel so much that the trips start to blend together and time seems to slip away...
In 2016, I want to be more transparent on the blog. I want people to feel like they have a better idea of what's going on behind the scenes here at Drop Ship Lifestyle. So this post isn't like anything I've ever written before (you'll see why in a bit)…
It's more personal. It's more self-reflective. And it's more honest.
As you may or may not know, Drop Ship Lifestyle helps people create lifestyle businesses. So this review will reflect just that. It'll include a blend of lifestyle memories as well as notable business ones. So here it is: Drop Ship Lifestyle 2015 Year In Review.
I don't want to bore you, so I've only covered the highlights. I assume you don't care how many pounds I deadlifted and how I found the perfect pillow.
If you haven't looked back at your year and done some reflection, I highly recommend it. Alright, now let's start with the very beginning….
January 1st - New Year's Eve in NYC.
I grew up in New York. But for some reason, this New Year's Eve was a special one. I was surrounded by friends and family, and we had a blast It was special because this is the first year I didn't return home alone… I brought my girlfriend (now fiance).. but more on that later...
January 8th - Traveled to Phu Quoc Island.
After getting cold from the NYC winter weather, Thao and I went to Phu Quoc Island to get back to warm weather. We spent a few days there relaxing, but I also made it a point to draft a biz plan for the coming year. From the outside looking it, it may seem like we've got everything under control. The truth is, a lot gets done at the last minute.
When I wrote this business plan, I wrote out some goals for the different businesses I own, and some goals for the new ones that I wanted to start.
Instead of looking at success, let's talk about what goals never came to be:
Launch Coffee Brands
Launch Disaster Preparedness Site
Co-Launch Supplement Course
Launch Travel Bag Company
These were 4 HUGE goals that I had set out for myself in 2015 and not one of them happened....
Why? I decided to hold off on the coffee brands until I return to the states later this year. Another eCommerce venture took off so I put the disaster prep site on the back-burner. My partners for the supplement course decided to take a different direction to not proceed until next year. And after working with about 1/2 a dozen suppliers, while trying to source the perfect travel bag company, I decided it wasn't the best use of time so I cut the project from my queue...
Did I fail because NONE of these goals were achieved?
NO!
In fact, I consider this year a major success because I was able to grow my new information product business to over 7-figures while also being able to teach thousands of my students how to do the same...
I'd never been to @hustlecon, but wow… it was awesome. I heard presentations from lots of other non-technical founders including @_jacksmith of Vungle, @walkerteespring of TeeSpring, @timchen82 of NerdWallet, and @gaganbiyani of Udemy (and now Sprig).
What's funny is that I didn't even know about this conference until about 1 month before it was taking place… I casually heard about it from a friend in Vietnam and about an hour later I had bought tickets and booked my flights!
Remember what I said about seizing every opportunity that presents itself to you 🙂
This had a big impact on me. I immediately felt inspired to scale my businesses even bigger (you'll see the effects soon). This event also reminded me how important it is to ALWAYS be learning. In fact, I've invested over $10,000 on marketing training this year alone. Not only does it help me, but it helps my whole team to perform efficiently.
May 1st - Moved into Office in Vietnam.
As you probably know, Drop Ship Lifestyle is about running a business from anywhere in the world. As long as you have a laptop and decent wifi, you're good to go. I know it sounds crazy, but that's the main reason why I've chosen to work online in the first place: so I can travel like a boss.
Anyway, this was a big step for me and my business… I closed my last office almost 5 years ago and never thought I would have one again after traveling so much... But, I wanted to settle down a bit and work on taking Drop Ship Lifestyle to the next level. It was weird at first, but overall this was a great business move. For a few hundred dollars a month, I'm guaranteed (okay, except when the power goes out) a place to go and get some quality, focused work time in.
Co-working spaces and cafés are great, but for me personally, having an office has increased my productivity a ton.Plus, it's made it easier to record videos. True, it meant I was "tied to a city", but I love Saigon. It's buzzing with energy and is a great city to live in if you're trying to make money online.
May 9th - First full-time DSL employee (Alison) started.
About a week after I moved into my office, we hired our first full-time employee (not including Thao). Alison had her own drop ship store that had some early success, and I loved her hustle. But I'll be honest, hiring Drop Ship Lifestyles first full-time employee was scary.
I was worried I would overpay and not see ROI soon, if ever. I was worried that it would take up my time managing her. I was scared that after a few weeks, I would run out of projects for her to do. I had outsourced hundreds of times, but having an employee showing up at the office every day was new.
Plus, what if I wanted to take some time off to go to Europe for a month and only be online for a few hours each week? Would she be able to keep with the work on her own?
I managed to fight through all these insecurities and I soon realized that it was all in my head. Alison was a GREAT addition to the team. Unfortunately, Alison is a bit camera shy, so you won't be able to see her smiling face in many DSL videos. But she's been working hard behind the scenes on paid traffic, marketing funnels, and social media ever since. Maybe some day soon she'll get over her fear and get on camera, but until then, you'll just need to use your imagination (or come out to Saigon to meet her yourself)!
Having Alison on board working full-time was going so well, I realized it was time to hire again.
June 1st - Hired second full-time DSL employee (Adam).
We quickly grew from two to three and it was great. Adam booked a one-way ticket from California to Vietnam and got started right away. To be honest, I never would have had the courage to do that when I was his age (21).
Adam is another successful member of Drop Ship Lifestyle who has built and sold a couple of his own stores before joining my team in Saigon.
With Adam on board, it meant we could do more in less time, and it also freed up my time to focus on more important tasks such as: creating better content for DSL students, creating mini-courses to help eCommerce beginners, adding a PPC course, and creating our own drop shipping app! Adam came in and helped build out our funnels while also helping in areas such as: email marketing, affiliate marketing, and more.
Plus, it was nice to have another guy in the office 🙂
June 27th - Italy for two weeks.
"Is this real? An office, full-time employees, what I am getting myself into!?"
OK, I was nervous about this... I just hired two full-time employees, and now I was leaving the country...
But, I have to practice what I preach (lifestyle design) and it was time for some traveling. So, I went to Italy for two weeks with my three favorite girls in the world: my girlfriend, my mom, and my sister.
We had A BLAST! We went to Venice, Cinque Terre, Florence, and Rome and I had a chance to see some amazing pieces of history. I had zero interest in history while in school but as I travel more, I am beginning to appreciate it more and more.
If you ever have the chance to travel to Italy with your family in the summer my advice is to just go! Quality family time + history + the best food in the world = a trip to remember. (Even the 10+ lbs were worth it!)
July 31 - Helped Michael & Nathan Launch FBA Empire.
After having lots of success with my own information products, I decided to help others do the same. Michael and Nathan are both members of Drop Ship Lifestyle who also sell via Amazon FBA. In July, I helped them launch a membership site that teaches others how to do the same.
August 1st- Hired a remote communications manager (Larry).
As one person, sometimes it can be a lot to read and respond to every inquiry I get. I hate leaving questions unanswered, but sometimes I don't have time to write someone the detailed response that they deserve (for example, when I went to Italy for two weeks, I barely checked email at all).
Enter: Larry. Larry helps gets people's questions in real time. He's been a life saver because he lives in a different time zone, so he's able to answer questions while I'm sleeping.
August 23rd - One of my Best Friends got Married!
I am 31 years-old now and I still am close with most of my childhood friends…
It's taken this long but finally, one of us decided to settle down. I almost couldn't believe it, but as soon as he told me I booked a flight and decided to spend the two weeks leading up to the wedding back in New York. It was a great trip and included lots of beach time, lots of catching up with old friends, and LOTS of golf.
September 21st - Above and Beyond Concert at the Grand Ho Tram Casino.
When you and your friends travel a lot, you end up doing some weird stuff, but you also end up doing some EPIC stuff. This night was on the EPIC end of the spectrum… I even wrote a Facebook post about it.
I've never heard of EDM music at a casino, but in Vietnam, anything is possible. The show took place a few hours outside of Saigon. Our crew was 20+...
I'm not a party specialist, but anytime you get more than 20 friends at one pre-game, it's bound to be an epic night.
I'm not a huge fan of Above and Beyond either, but this was one of the smaller shows they've done, so we were able to be front row! We danced for hours as positive energy filled the air. I felt so lucky to be able to go to a random concert in a random city with so many of my friends.
October 7-10: Hosted the Drop Ship Lifestyle Retreat #2 in Krabi, Thailand.
I honestly don't know how to describe this weekend in words. Luckily, I hired a camera crew to film it, but still, even that video doesn't do it justice.
Over a hundred people flew out to Thailand to do what Drop Ship Lifestyle does best: work on our online businesses and travel. In the mornings, we had speakers deliver value bomb after value bomb. Even me, the one who put on the event, learned SO MUCH from each speaker.
In the afternoon, it was adventure time. We went island hopping, rock climbing, snorkeling, played volleyball on the beach, and more. Writing this just gives me the chills.
The retreat was a blast. To make sure the event ran as smoothly as possible, I even hired Kellie to help out. She wrote a nice article on the behind the scenes as well.
Running a business that helps people make money and achieve freedom gives me a lot of fulfillment. But as efficient as the internet is, it was SO MUCH better to get to meet these people in person.
I'm not going to lie, for selfish reasons, it was great to meet the students and hear their success stories first hand. Some of these people found my course, worked hard for a few months, quit their job, and now are living in Thailand and traveling the world. Simon even got to celebrate his first sale while we were there! Watching DSL students succeed first hand was truly magical.
(Don't worry, there'll be another DSL retreat in 2016. I've still got to figure out all the behind the scenes stuff, but my top three locations are Hawaii, Mexico, and Thailand. It's going to be EPIC no matter where we decide.)
November 1 - Hired a part-time content creator (Jeremy).
So we had Alison taking care of paid traffic and Adam doing funnels, emails, and our affiliate program. But I felt that the one thing that we were lacking was solid and consistent content. I enjoy writing blog posts, but I don't have the time to be writing them on a consistent basis.
Everything in our member's area was fine, but I was looking to make a push to improve our content in order to bring in more leads and educate people more about what we do and what DSL is about. I wanted DSL to stand out, so I wanted EPIC content.
Jeremy Ginsburg is one of the most creative people I've ever met. For those of you who made it to the DSL retreat in Krabi, I'm sure you remember him rocking out on stage along with Adam, George, Rob, Johnny, Nate, and everyone else on that epic night.
So far, it's been great to have Jeremy on board. He's helping with our email campaigns, website copy, videos, and blog posts (so if you absolutely HATE this post and see a ton of grammar mistakes, let me know and I'll fire him ASAP. Just kidding, Jeremy).
We've already started creating a 2016 content schedule and brainstormed some creative/fun ideas. We have some other surprises up our sleeves…so stay tuned for our 2016 content!
December 1 - Closed Drop Ship Lifestyle to get ready for 4.0
This was a big risk, and a lot of my friends told me I was stupid for doing it. It's closed as I write this post, so if anyone wants to join, they can't.
Am I losing a lot of money? Probably. But I care more about having THE BEST ECOMMERCE COURSE OUT THERE than I care about making money. I probably missed out on five figures in sales, but it'll be worth it in the long run.
Why? Drop Ship Lifestyle 4.0 IS GOING TO BE EPIC. I've invested in a few software developers and we have brand new software for DSL students. It's going to help save them so much time it's not even funny. Plus, we've got a new Shopify app, a new course on having a business mindset, and more.
I'm trying my best to give DSL members as much value as possible. If anything, I'm worried I may be overwhelming them with the amount of information inside our members area. I honestly think there's enough in there to start several kind of online businesses, not just ones in eCommerce.
As you can tell, this stuff excites me, so I'm going to cut myself off here until I write two more pages.
Oh yeah, and the most important thing that happened in 2015….
My girlfriend and I got engaged!
Thao and I will be having two weddings in 2016. I'm not really good at writing about cheesy stuff like love and marriage, so I'll just leave it at that 🙂
Alright, so there it is. 2015 was indeed an exciting year, but I think 2016 will be an even better one. I hope you enjoyed reading this post. If you did, I'd appreciate it if you shared this post with a friend.
Thanks and HAPPY 2016!