5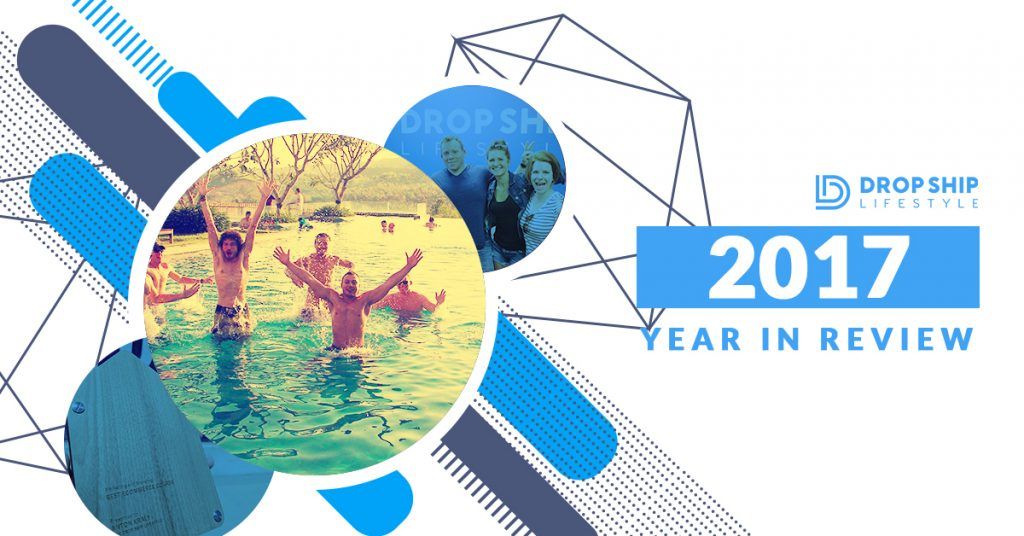 2017: Year In Review
Travel, masterminds, speaking engagements, and a new baby boy… 2017 was the year of new experiences. And before I dive into drop shipping in 2018, I want to highlight some of the best parts of 2017.
It's hard to believe that this my third year writing a year in review post… when I look back at my posts from 2015 and 2016 it's crazy to see how much everything can change so fast!
As a side note, I'd recommend you write your own year in review posts (if even only for yourself) so you can see how you've progressed over the years!
You may have had a glimpse "behind the scenes" if you're subscribed to my YouTube Channel or if you follow me on Instagram. But in this post, I plan to go a little bit deeper into what I've been up to for the past 12 months!
2017 Highlights:
February: Visited Vietnam for Tet
Early this year my wife and I flew back to Vietnam to spend a few weeks with family and friends and celebrate Tet. If you don't know what Tet is, you can watch this video:
If you don't already know, I lived in Vietnam for almost 3 years before relocating back to the states in 2016. It was great to go back and see all the friends I made while living there, Saigon especially, has an amazing community of expat entrepreneurs making it a great place for drop shipping in 2018.
If you've ever dreamed of living in SE Asia, even if only for a few months, I would highly recommend making it your home base. If you want any connections or recommendations on living there, just let me know in the comments and I'd be happy to help!
March: Traveled To Florida For My Mom's Birthday
After returning from Vietnam, my family and I took a trip to Walt Disney World and Universal Studios. I hadn't been there in years and it was great to spend a week with my wife, mom, sister, and sister's fiance.
My family all live in different states so I really appreciate the few times a year we can get together… especially if it's somewhere fun like Disney. 🙂 If you're also "nomadic" I would highly recommend trying to set up a yearly trip with your family. We've done everything from camping to touring Italy and each trip created amazing memories.
May: Officiated Another Wedding / Vegas LCT Live / IMx
In my 2016 year in review post, I mentioned that I became an ordained minister to marry a friend in Florida (random, I know)... This year my cousin asked if I could officiate her wedding, so this past May I officiated another wedding in Virginia.
After that, I flew out to Vegas to speak about high ticket drop shipping at an SEO event called LCT Live.
It was an interesting opportunity because while I have spoken at events in the past, they've been to groups of people that I'm familiar with. This talk was to a room full of strangers so I was definitely outside my comfort zone. The good news... I ended up having a ton of fun giving the presentation and it was one of the highest rated presentations of the event!
After flying back from Vegas, the team and I went into full prep mode for the Internet Marketer Expo (IMx for short), our first ever mainland US event!
We had some top marketers attend the event, as well as some amazing speakers:
I hope everyone who showed up for the event got as much value out of it as we did. Here is just one take away that increased our organic traffic by 28.9% in 30 days! Special thanks to Lindsay Marder from DigitalMarketer for that one. We'll continue to use those takeaways for drop shipping 2018 and beyond!
June: Gov Ball / Shopify NYC
I spent most of June in NYC. First for the Governors Ball music festival on Randall's Island (yes, I really do go every year).
Then I was back in NYC for a mastermind that Shopify hosted for their top partners.
Events like this are part of the reason I moved back to the states… For this weekend-long event, Shopify brought together the top 25 people in the eCommerce game to share ideas and strategies. I loved living in SE Asia but you won't get this quality of networking out there.
July: Costa Rica / LA
In July, I started planning the Drop Ship Lifestyle Retreat. I was set on hosting it in Costa Rica so I flew down there for a week to do some research.
After Costa Rica, my wife and I took a trip to Los Angeles so I can show her the sites (aka tourist traps) around the city and spend some time at the beach. We had fun doing the Warner Bros studio tour but honestly, after a dozen visits LA (mostly for business), I still have no idea why people are so obsessed with the city and its expensive real estate... If you know why let me know in the comments!
August: NYC / Vegas McGregor vs. Mayweather
In August, I went back to NYC for another wedding and no, I didn't officiate this one. That was good news for me because the party started at the pool around noon!
After New York, I flew out to Vegas for the McGregor vs. Mayweather fight. We didn't actually get tickets to the fight, but we wanted to be in town because we knew the energy would be great.
This was a great trip because everyone I went with owns a small business. So not only did we have an amazing 'guys' weekend and see a good fight, but we also got to talk business. I flew back home with lots of new ideas to implement.
If you're in a position to do so, I'd highly recommend taking a trip like this at least once a year with some of your friends and/or business associates!
September: Boise
In September, I was invited to Russell Brunson's Viral Launch Party at Boise State University and I decided to go. I have a lot of respect for Russell (I'm in his mastermind) but I really wanted to go to see the Harmon Brothers speak, along with Gary Vaynerchuk.

Russell's launch party was pretty crazy, to say the least. There were naked squirrels, bubble soccer, and about 250 of the top marketers and influencers in the world in attendance. I stayed through the weekend for a smaller mastermind and walked away with a notebook full of strategies to implement!
I was able to test some of those strategies and discovered what works best for drop shipping 2018 (I added these teachings to my Drop Ship Blueprint 6.0).
October: DSL Mexico
In October we hosted the 4th annual Drop Ship Lifestyle Retreat in Playa Del Carmen, Mexico!
We brought together DSL members from all over the world for four days of nonstop learning, fun, and networking.
The pictures above from our 2017 Drop Ship Lifestyle Retreat in Playa Del Carmen, Mexico doesn't do it justice. But it does share some great memories that were made.
Each morning, the schedule was packed with talks from some of the top eCommerce experts giving the best insight for drop shipping 2018. And after three full days of actionable insight from the speakers, our members were excited to take what they learn and kill it in sales.
December: Welcome To The World, Baby Anton!
If this sounds like a crazy year, that's because it was! I even left out almost ½ of my travel for the year but even with all of that NOTHING can compare to the craziness that was December. That's because on December 2nd, 2017, I became a dad!
He was born about one month ago and having him has been awesome but I have to say, I now have A LOT more respect for anyone who builds their business AFTER starting a family!
2017 was an amazing year but I think 2018 will be even better. I hope you enjoyed reading this post. If you did, I'd appreciate it if you shared this post with a friend.
Thanks and HAPPY 2018!