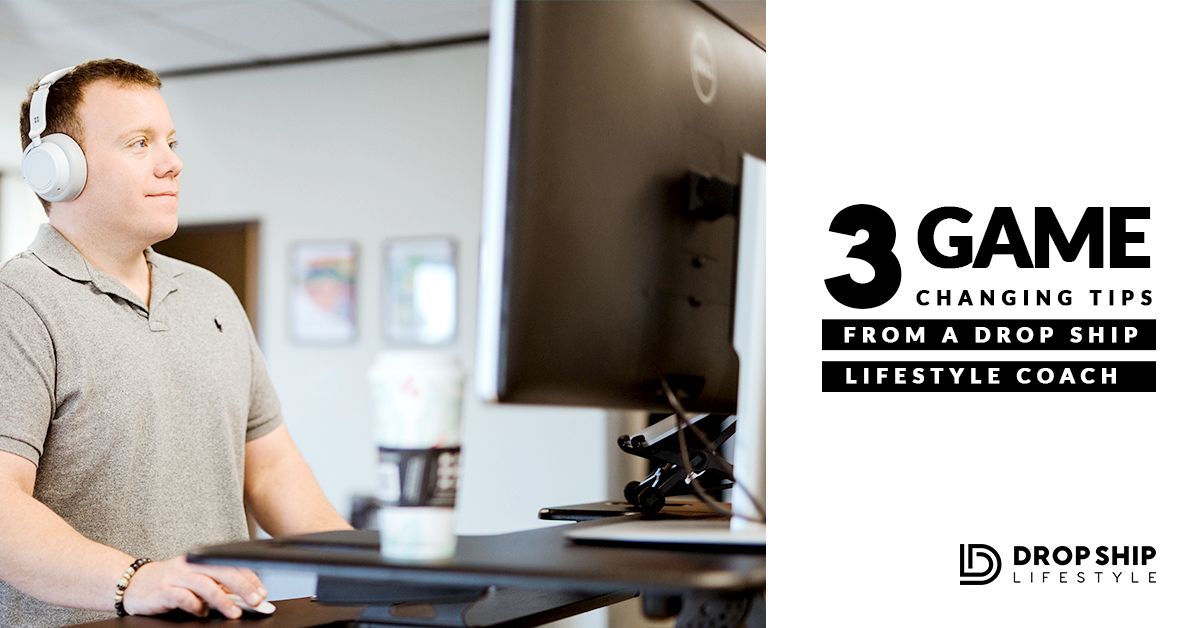 3 Game Changing Tips From A Drop Ship Lifestyle Coach
Introduction
We are just about to launch the updated coaching program to focus on bringing the community more value. And it's time to get excited because today we have some quick value from one of our most successful coaches!
Michael Coghlan has been a coach with us since we started the program and he's the perfect example of a great coach. Today he has three tips that any drop shipper can use to make higher profits.
Starting out in drop shipping can be tough! And you should use any advantage that you can find. Because without proper research and preparation, the progress towards your goals can be slow. Who wants that?
To help you start off on the right foot I have three game changing tips. But don't worry, if you already have a store you can still use these tips to get better results!
Tip #1 Think Just Outside The Box
When people pick their niche they often fall into one of two categories. Either people choose a very common niche idea or one that is too "out there".
The common niches are often oversaturated. Leaving you in a highly competitive marketplace that you'll struggle to thrive in. But there is definitely a way to find out if that's the case for your product idea...
If you follow Drop Ship Lifestyle, you may know that researching your niche is a huge part of the process. This has a heavy focus on looking at the competition. That way you spot problems with product ideas before you take the time to build out your website.
The other mistake is choosing an outlandish niche. Something that is very specialized, making it very difficult to make consistent sales without a ton of extra work. Again, if you research properly you'll see that niches like this feel more like a boutique than an automated business (the kind that will give you freedom).
The real way to excel at drop shipping is to pick a product idea that is just outside the box. For instance, my best selling product ever was a portable ice maker.
If you think about it, it was just barely outside the box. Not as common as a refrigerator, but not as UNCOMMON as say a walk in deep freezer for a restaurant. Finding that nice balance early on makes niche selection a much easier process.
Tip #2 Take Advantage of Abandon Cart Checkouts
We've all been there… You put an item in the cart as you're shopping, then you're distracted OR you aren't quite ready. So you leave the cart behind, completely forgetting you were about to get something amazing!
Well, one awesome feature included with Shopify is the ability to see who has put items in their shopping cart and left before purchasing. You can check abandon carts in your Shopify store by clicking on the ORDERS tab and seeing the "Abandon Cart" section appear. Clicking on that will show you if people have recently added items to cart, gone through most of the checkout process; but left before purchasing.
Here's the good news, people that abandoned their cart are far more likely to purchase than any cold lead! So by using automated abandon cart emails included in Shopify, you can efficiently increase your sales immediately!
Shopify even has pre-made copy included in the emails, so you don't have to face a blank page. It also means you can turn these emails on almost immediately and start making more sales today.
Tip #3 Use FREE Customer Tracking Software
There's a saying in marketing that you can't improve what you can't measure. This is true in drop shipping as well and is why I suggest getting as much information on your customers as possible. Specifically, know exactly what your customers are doing on your site.
Thankfully there are some great tools that make tracking visitor and customer information fairly easy. Many of my coaching students start with a free trial of Lucky Orange. I've also heard a new app named "HotJar" be recommended from the community. Lastly, there is always Google Analytics but it has a steep learning curve.
Whatever tool you decide works for you, get to measuring. I would also suggest keeping track of the performance over time and setting goals based on past information! Measure, then improve.
Using these tips can have a huge impact on your bottom line. They might seem obvious if you've been in eCommerce for awhile, but if they're new to you, you could be in for a huge improvement to your bottom line.
Conclusion
Whether you're just starting out or already have your store up, these suggestions should improve your business. Here are those tips again...
To get better results you need to:
Tip #1 - Find a niche that isn't too common but also, not too outlandish.
Tip #2 - Use abandoned cart emails.
Tip #3 - Track customer information and website interaction.
Drop shipping beginners need any advantage they can get to avoid costly mistakes. That's why we're upgrading our coaching program, to provide you with more content like this. Look out for more game changing content soon from Michael and our brand new coaches.
Have any questions or thoughts you'd like to share? Let us know by leaving a comment below, we love hearing from our community.