4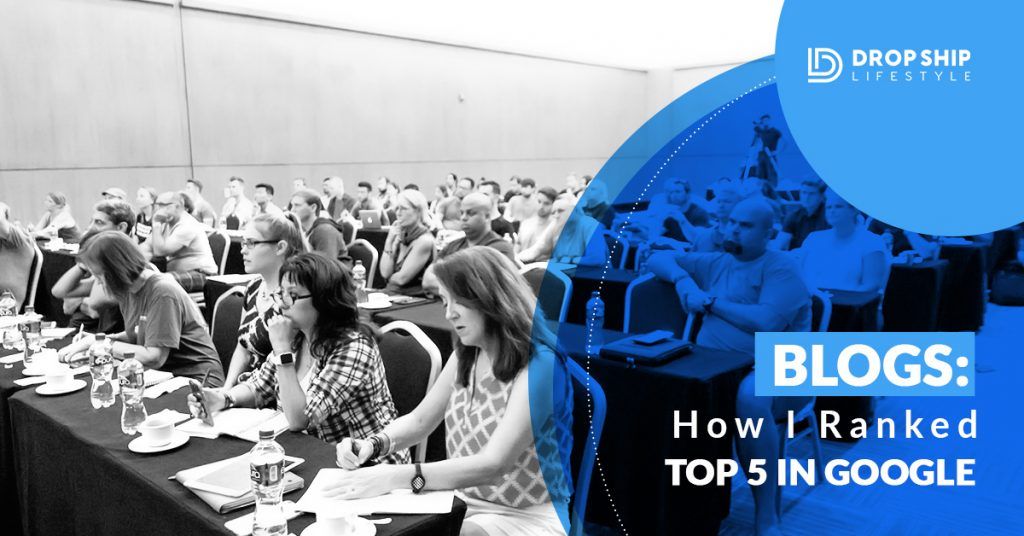 Blogs: How I Ranked Top 5 In Google
Build Trust And Increase Your Search Rank With Blogs
Many people think that a blog doesn't add much value or takes too much time to develop and maintain. The truth is that having a blog is actually a great way to:
Engage with your prospective customers
Have them spend more time in your store
Inform them about your products
Convert them into customers
The real benefit of having a blog is to link to other blogs for promotion of your store and products. This can be a really powerful strategy to build trust in the market and to drive customers to your store; especially when your store is new. This strategy also helps your store to rank higher in search engines, something that you can later optimize by creating your own content.
Basically, when bloggers backlink to your store or products search engines will rank you higher. Ranking is an indication of the popularity or importance of that website. For example, Google gives more weight to websites that have a good number of quality backlinks. They consider those websites more relevant than others in their results pages. On top of this, you can start building content with important keywords which may allow you to rank higher.
If you don't believe me yet read this…
Here is a screenshot of my web analytics during my first 3 months. Nobody knew about my store or trusted my business, so the best way to bring traffic was to use bloggers. As you can see, most of my visitors were coming from referrals or links in blogs.
Once I had a constant traffic coming from bloggers, I built content to optimize my acquisitions and conversions (look below to see what happened). I started ranking pretty high and most of my customers were coming from organic searches.
This was my journey…
Let me tell you my story. Like any other dropshipper I:
Worked on my niche selection
Built a site
Contacted suppliers
Launched my store.
Everything was going great and I was ready to receive my first orders. However, while exchanging emails with customers, reading forums about my niche, and analyzing competitor sites I found there were many scammers in my niche. That meant most customers were hesitant to place an online order on a new website with zero reputation or reviews. Also, due to the nature of my niche, I realized that PLAs, Adwords, and paid ads weren't going to work well. So I decided to start trying new things.
In the DSL Program, Anton recommends using bloggers to promote your products as an additional source of targeted traffic and I decided to explore this idea. This is how I did it:
Research, Research, Research…
The first thing I did was search for blogs talking about my niche and product. There are many blogs talking about these topics, but not all will work. So you'll have to do some extra work. Things to consider
Niche specific vs. related products Imagine that you are selling paddle boards (one of the examples used in DSL). You can find bloggers talking about water sports and other bloggers that only review paddle boards. If you are selling paddle boards, the second type of bloggers will result in a more targeted audience. Also,it'll be easier to convert those visitors because they are already looking for a paddle board. A more general blog, like one about water sports, might bring you some sales but it'll be more difficult to drive the right traffic to your store. I have tried both types of bloggers and I can guarantee that niche specific blogs are much more effective. Overall, try to find bloggers that advocate for your products or brands.
Followers This is probably the most important metric to analyze when choosing a blogger to promote your products. Try to identify the number of followers, comments, and engagement in posts. Also, find the number of followers on their social media: Facebook, Twitter, Tumblr (very important for bloggers), Google +, etc.
Quality of the content Nobody wants to read a blog that has a layout from the late 90s or is crowded with banners and ads. Keep in mind that a blog is like a magazine, if the layout and content are appealing, visitors will spend more time on site leading to more clicks on your link or banner.
Frequency of posting This is important because a blog that is updating content frequently usually brings more readers and returning visitors. You'll have more chances to drive them to your store and hopefully convert them.
Website Rank I also recommend having a look at Alexa.com to see how high the blogger ranks on search engines. Ideally, whenever someone is looking for information about your product, your blogger is one of the top ones so those visitors end up visiting your site.
How do I contact the blogger?
Once you identify blogs that might be helpful for your store, you'll need to reach out to the blogger. Find out if they're willing to post about your site or have a banner with your products on their blog.
Most blogs have a contact section, an email, or even a chat. Just click there and send them an email. You can start with Anton's suggested pitch:
"I recently came across your blog and I am interested purchasing a banner ad for my online shop. The way we usually work with blogs/online magazines is that we get a free one week trial. Based on the traffic and results we see over this one week trial period, we decide whether or not we would like to proceed with signing a contract. We have gone through this type of trial with about 5 or 6 blogs now and have signed contracts with most of them.
Here is a link to my website if you want to check it out: [yourwebsite.com]
Please reply and let me know if the above trial period works for you and we'll proceed from there."
If the blog looks professional and already has banners or ads you can get straight to the point. Tell the blogger that you would like to pay for a banner or offer him an affiliate program (see the section 3 to learn more about this).
If you don't find an easy way to reach out to them, try Twitter. Most bloggers have a Twitter account with the same name of the blog. Send them a message or tweet them to capture their attention and continue the conversation via email. I actually first contacted my most important blogger via Twitter. Just say something like this:
"Hey! I've seen that you have a blog about product X, I sell that product and I was thinking that we could collaborate. Please let me know if you're interested."
Believe me, most bloggers are interested in bringing new content in or coming up with more ways of making money on their site.
Be prepared for rejection. Some bloggers might not reply to you. They might not be interested because your store is still pretty new. While others will ask you for crazy amounts of money just for a post. But don't quit, just keep researching and contacting bloggers until you find the right ones. In my early days I contacted more than 30 bloggers, but only 3 were willing to collaborate. As of today I am still working with 2 of them.
How do I promote my store in a blog?
Professional bloggers will send you a list of options for advertising, along with pricing. There is not a specific rule to determine how much to pay a blogger for advertising. So you will have to negotiate and agree on what you believe is fair. Keep in mind that some professional bloggers will ask for a monthly rate on a banner or a fixed amount for a sponsored post.
Try to set a goal and discuss it with your blogger. Talking to your blogger is the best way to determine where your banner may have the best reach (e.g. landing page, specific pages, particular search term, etc.)
Try to test your banner or post for a free week trial. If the blogger doesn't offer that option, just try for a month. Determine how much traffic you receive and if that blog brings the right audience. Try to identify if visitors coming from that blog are reading and clicking through to purchase from your site.
There are many advertising options that you can explore with bloggers. Here are a few that I've tried:
Banners These can be placed on the side, top or bottom of the blog, or on a particular page. Going back to our example of a paddle board store, I'd prefer to have my blog on a post reviewing paddle boards or even my product. That's because the audience will be more targeted and looking for that particular product. If the blog is about paddle boards a banner on the side of the main page might work well. If you pick this option most bloggers will charge you a monthly fee.
Sponsored posts Basically this is a post talking about your product or company with links to your products or site. Some bloggers might ask you to provide content, details, videos, or pictures.While others will add your link to existing posts. Either way, this strategy is great because customers are already searching for your product and all they have to do is click on your link to purchase. Unless the blogger is a pro, you can negotiate a one-time fee; otherwise, they might ask you for monthly fees.
Affiliate programs For blogs that are niche specific (e.g. paddle boards blogs). I like to use this option because I only pay based on the sales. You pay the bloggers for every purchase that is coming from their blogs. In order to track visits, sales and to reward bloggers you have to use one of the affiliate apps offered in the Shopify Store. I use "Affiliatly: affiliate tracking app" and it works great
Quick tip: try to offer a fair compensation. As I said, some bloggers will be open to negotiating while others will send a list of prices based on banners. Ask them for their statistics and metrics just to make sure that the cost is fair.
Track traffic and results
This is something that you can easily do using Google Analytics. Check the stats from your trial week or first few weeks (in case you have to pay to be on that blog), and compare the cost of those ads with the amount of sales and traffic generated. I have to say that I didn't sell much in my first few weeks with some blogs but I was still happy about receiving a lot of visitors and email sign ups.
How to optimize your sales and rankings?
Write great unique content! It sounds tedious and difficult to find keywords but it's not. Ask your customers:
How they found your store
How they were searching for your products,
What were they looking for
What they'd like to learn more about.
This way you'll get some good ideas and can begin writing content about how to use your product, compare products (e.g. product X vs. Y), differences in materials, how to maintain and repair.
In my niche, customers do a lot of research. I decided that I preferred them researching in my store blog rather than in others, because it's easier to convert them once they are on your site. Also, you can build trust with them at the same time.
Take care of your bloggers
Don't forget about them! it is very important to build strong business relationships. Using bloggers has to be a win-win relationship and you have to make sure that they like working with you, otherwise, they'll replace your banners, post or affiliate links with other brands.
Follow these simple steps to build great relationships with them:
Follow up Check in every month to make sure that their blog is doing well in traffic and that your ad is still working as expected
Pay on time Whether you are paying commissions or monthly fees, always pay on time!
Update Keep your banners, posts, or links updated with new content. You'll want to do this every month or every few months. I like to play with banners and try to boost their effectiveness. I always replaced them around holidays when I was promoting special sales like 4th of July, Labor Day Weekend, etc.
Build a relationship Share ideas, best tips, and help each other. I have been talking to my bloggers and they gave me feedback and great tips about how to optimize my keywords. You can always learn a lot from them and you can also help them to promote their blogs better, so you receive more visitors. It's a WIN-WIN!
I hope this is helpful, please let me know if you guys have any questions or if I can help!
Thanks for reading!! Much success!
Jose Marin