2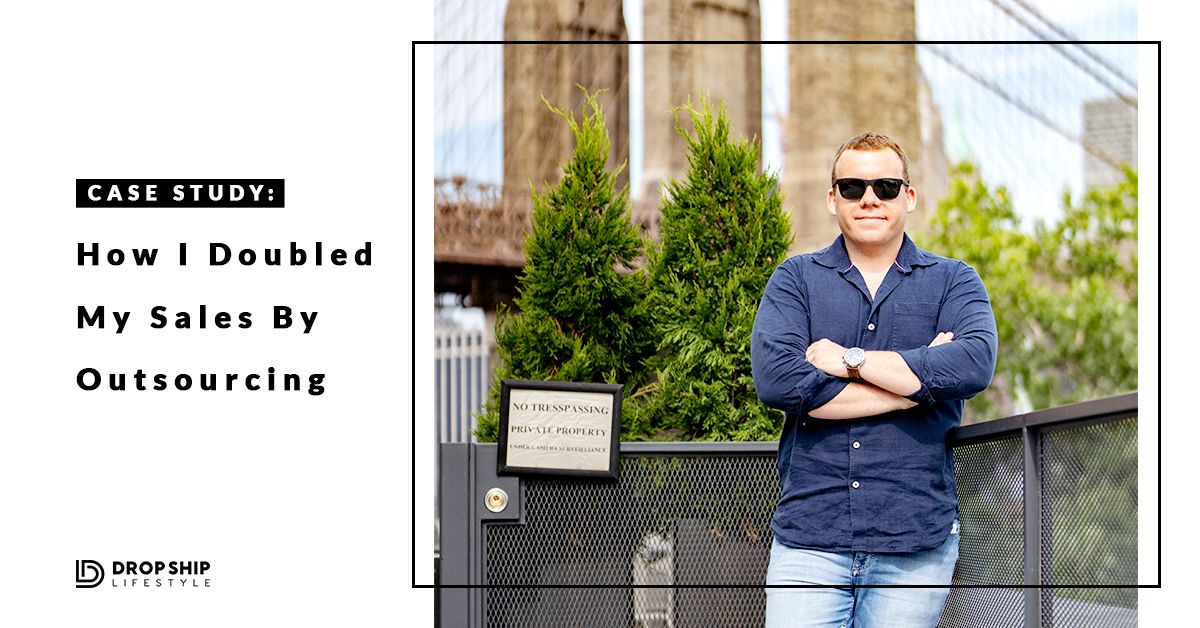 Case Study: How I Doubled My Sales By Outsourcing
How I Used Outsourcing To Double My Sales And Save Time
In 2015 I was stuck.
I was working a full-time job while trying to grow my drop shipping stores to a level of income that would allow me to quit my job (a familiar story).
My drop shipping stores were doing well but I had hit a snag, between working my full-time job, having a life, managing the repetitive tasks associated with customer service, and fulfilling orders I had no time left to do what needed to be done to boost my sales to reach my goal.
I was frustrated that my primary motivation for getting into eCommerce in the first place (to quit my job) was tantalizingly close, but still so far away.
I was aware that I could outsource things to lighten the load but I was afraid. I had previously dabbled with small tasks in a half-hearted way with predictably poor results. I thought it was too much of a hassle, I thought no one could do it as well as me and I was scared of handing over the "keys" to my business.
I was wrong.
Enter Outsourcing
The purpose of sharing my outsourcing journey is not to suggest that you need to follow in my footsteps. The purpose of this post is to help you think about how you could get started with outsourcing or if you're already experimenting, how you could use it to go to the next level.
My products and niches are different than yours and the challenges that you face may well be different to mine. What is consistent amongst most eCommerce entrepreneurs, who are working by themselves is, that at some point outsourcing will play a role in helping to grow your business.
At some point, like me, you will become your business's biggest roadblock on the path to growth.
There is a lot that is covered in this post in general terms. A more detailed guide to outsourcing including templates and examples that I have used for many of the processes outlined in this post will be included in the upcoming version 5.0 of the Drop Ship Lifestyle course.
Taking the Plunge
So after months of plateaued results and frustration I decided that I needed a few extra pairs of hands to help me move forward.
The store I was focussing my efforts on was consistently averaging $40,000 per month in sales. Not bad, but I knew it could be much better.
I had identified that one of the things I needed to do was add more suppliers and products to my store. This was in a big niche with thousands of potential products to sell.
I was constantly getting feedback from customers that I just didn't quite have what they were looking for. If I did they would be more than happy to buy from me over my competition.
I had 500 products already loaded on the store but the thought of adding another 1000 myself was scary. This store is based in Australia, where there is very little provided by suppliers other than images. The work of developing descriptions and other content in this niche is usually down to the retailer.
I turned to Upwork to start my search for freelancers to help me with the process of adding more products.
Step One - Growing my store
After a bit of trial and error as well as a few dead ends, I put together a team of freelancers (who I still work with to this day), each of whom covered a specific part of the process of adding products to the store. My team looks like this;
Bea Marie: Image resizing and editing
Bozidar: Supplier/Competitor website scraping
Catherine, Virginia and Devi: Product Description Writing
Maria: Image uploading, CSV build, and upload, description formatting
You will notice that I chose to work with a group of freelancers, rather than choosing one or two and asking them to do everything. In my experience, no one person is able to do everything well or effectively (myself included). It is rare for a good copywriter to be interested in building CSVs for example.
I devised a simple process where as a group the freelancers would work concurrently on their own segments and then passed their completed work through to Maria at the end for final collation and then upload to my site. Once this process was set up my involvement was limited to spot checking for quality purposes.
Following this process, we were able to add approximately 1,000 products to my store. Each product had unique product descriptions and we did it in just under 3 weeks. In the time I had available, these results would have taken me at least 2 months.
To make this process (and any outsourced process) successful I placed emphasis on doing the following:
Using high-quality information and clear job listings
Interviewing candidates who I was interested in hiring
Asking final candidates to complete a paid trial. This is particularly important for product descriptions
Providing the successful freelancers with complete instructions in the form of Standard Operating Procedures (SOPs)
Providing relevant screen recording walkthroughs of tasks. For example a walkthrough of how to build the product CSV
Setting up the above does take time, but it's worth it. SOPs and recordings only need to be done once and you can continue to use them for years to come.
Going through the above steps ensures a higher level of consistency and quality from freelancers as well as a lower level of ongoing support from you.
Two months after completing the process of increasing the size of my store, and with little other significant changes, my monthly sales rose to $80,000.
Another great benefit of setting up this team is that I can use them to carry out a large proportion of the work required to launch new stores quickly when I identify an opportunity.
Step Two - Removing myself from the Day to Day
After successfully growing my revenue and net profits I was able to quit my 9 to 5. Dream achieved!
But then something fairly predictable happened. My sales had doubled quickly and were continuing to grow. At the same time, customer service increased, shipping problems increased, returns increased, and order processing times increased.
Before I knew it, I was working 20+ hours per week on my drop shipping store just to keep it running successfully.
This didn't include the time that I needed to continue growing the business.
This was a problem for me while I loved working for myself, I didn't want to create another job that I would grow to dislike.
So once again, I turned to outsourcing. But this time I outsourced nearly everything.
Here's what I outsourced:
Customer service including phone, email, and online chat
Accounting
Order Processing including payments to suppliers
Shipping and Returns processing
Social Media management
Content production (blogs, lead magnets etc)
Some of these tasks are a much higher risk and could potentially have a greater impact on my business if they weren't carried out in a high-quality manner.
I was nervous about this, but I shouldn't have been.
In order to help address my concerns, I chose this time to work with an outsourcing company in a co-managed relationship to find and work with Virtual Assistants.
I chose an Australian outsourcing company that works with VAs in the Philippines. The Philippines makes a great choice for my Australian business due to the similar timezones and high level of English proficiency.
I was able to be involved in the recruitment process including interviewing my VAs before they started work. They are provided with a nice office space to work in with local HR management. I am responsible for their training and day to day work management.
Once again, for every task that I ask my VAs to undertake I provide SOPs and/or screen recordings of me carrying out the task. I now have almost a complete manual of SOPs and recordings for setting up and running a drop shipping business.
I am still amazed at the success of this relationship, the VAs that I currently work with are awesome. There's just no other way to put it. In a number of areas they provide a higher quality of work than I ever could, particularly with customer service.
Meet Kevin and Caryl, two members of my ongoing team.
This arrangement costs more than if I were to work with freelance VAs. I choose to do things this way because I feel a greater peace of mind that I am getting what I pay for.
To say that having a team of ongoing VAs managing my business is a success is an understatement. I have gone from spending 20+ hours per week on one store to less than 5 hours per week.
The majority of the time that I spend now is on activities that are aimed solely at growing the business.
Results
The results I have been able to achieve through outsourcing have far surpassed what I thought possible.
Outsourcing has enabled me to;
Grow the revenue of one drop shipping store by more than double in a short period of time
Own a business that provides enough income for me to live off in a high cost of living country with a weekly time input of 5 hours or less
Spend the time that has been freed up by outsourcing to pursue other business opportunities that will 10x my income over the next 12 months.
Outsourcing does cost money, there's not hiding that. The work outlined in Step One of this post cost approx $2000 AUD. My current team of ongoing VAs costs me $4200 per month. To me, the results far outweigh the cost. They've recently helped list my store for 195k; I've detailed how in my step by step post "8 Steps To Maximize The Sale Price Of Your Drop Ship Store".
I highly recommend that you give outsourcing a try. It can be the key to helping your business move to the next level. Also, it can help you protect your time and make sure that drop shipping continues to be the lifestyle business that you dreamed it would be.
If you have never dipped your toes in before, start with small tasks and gradually work your way up to the larger more complex tasks as your budget allows. Keep an eye out for version 5.0 of the DSL Course for more detailed how-tos to help you get started.