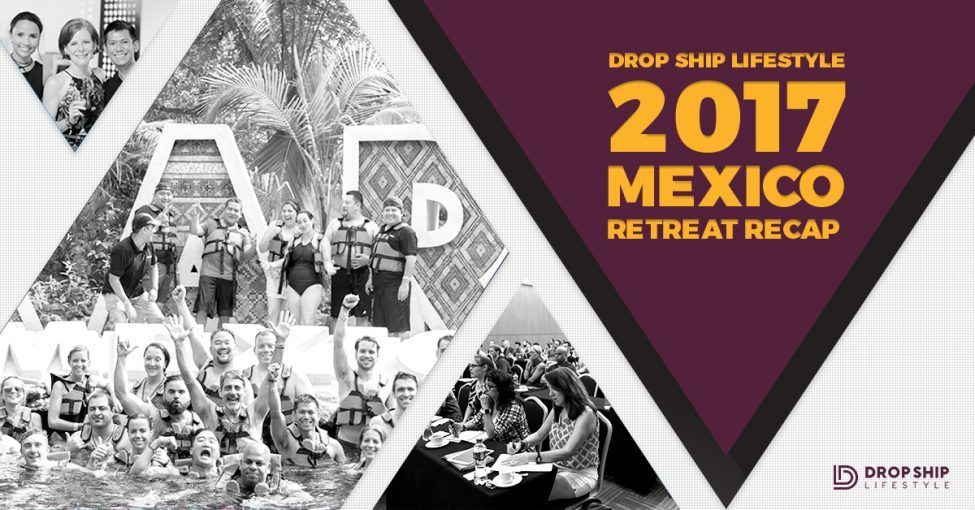 Drop Ship Lifestyle 2017 Mexico Retreat Recap
Another year and another great Drop Ship Lifestyle member retreat is in the books. At our retreats, we bring together DSL members from all over the world for four days of nonstop learning, fun, and networking.
And this year was no different. For our fourth annual retreat, we hosted over 100 entrepreneurs at the Occidental at Xcaret Destination Resort in Playa del Carmen, Mexico.
The video above from our 2017 Drop Ship Lifestyle Retreat in Playa Del Carmen, Mexico doesn't do it justice. But it does share some great memories that were made with over 100 friends at the 4th annual Drop Ship Lifestyle retreat.
Each morning, the schedule is packed with talks from some of the top eCommerce experts. And after three full days of actionable insight from the speakers, our members were excited to take what they learn and kill it in sales.
Here are some of the topics covered at this year's Drop Ship Lifestyle Retreat in Playa del Carmen, Mexico:
Alternative (and free!) ways of getting traffic to your drop shipping store
The ins and outs of influencer marketing
How to balance work and family
Rules and benefits for starting a great mastermind group
Building a location independent business with a family
Getting maximum profit when selling your store
Creating content that drives sales
Adding value for your customers
And finally, how to beat Amazon
Day One Powerful Strategies and Living the Lifestyle
We kicked off the long weekend in Mexico with a talk from DSL member Jose Luis Marin. He shared with us alternate ways to drive traffic to our drop shipping stores.
Then it was time for a talk from Alison, head of marketing here at Drop Ship Lifestyle. She gave a fun, but incredibly powerful presentation on using Facebook to stalk your way to more profits. After, Chad Jernigan from DIFF Eyewear shared with us his wins and secrets to successful influencer marketing for drop shippers.
So it's not all business at our annual member retreats… The other key aspect of our annual DSL retreat is the lifestyle aspect. Drop Ship Lifestyle helps people create a business that allows them to have a fantastic work life balance with more time for travel and fun.
Each afternoon during this year's retreat, we went on adventures that got us out and about, exploring the beauty of Playa del Carmen. On the first day, we headed to Xcaret, the eco-archaeological park attached to our resort. This park was quite literally a theme park for nature lovers and thrill seekers.
We started off our afternoon at the park floating through the natural limestone rivers and ended it lounging with beers on the beach.
Day Two Work/Life Balance
On day two, all of us packed into the conference room to hear the inspiring success story of another DSL member, Matt Scott. Balancing work and family is no easy task, but he shared how his family is traveling the world thanks to their drop shipping store. Many of our members loved this talk in particular, there was so much inspiration to what many us want to do: spend more time with loved ones!
After Matt, James Howitt of Empire Flippers filled us in with all the details of selling Shopify stores for the most money. There were plenty of questions after his talk, and he made sure to answer every single one.
On day two, we hit the open ocean on two massive catamarans for a bit of snorkeling and sailing on the spinnaker. We love being able to provide this time for our members to let loose and have fun.
These afternoon adventures are always a great way for our members, who are located all over the world, to meet each other. It's often when new friendships are made, and mastermind groups are formed.
Day Three Dominating our Niches and Mastermind Networking
Day three gave us eye-opening talks from Brandon Nolte and Ben Hebert. Brandon Nolte is the king of content, and no stranger to speaking at our retreats. Once again, he left us blown away with his successful and creative marketing strategy that helped him hit 7-figures in sales on his drop shipping store.
After Brandon's talk and a quick coffee break, it was time for Ben Hebert of Natural Stacks to share the keys to creating a bulletproof brand. Just like his own company, Ben filled us all in on building brands that dominate their niches. Needless to say everyone was very eager to learn those strategies.
Once the speakers finished on day three, we broke up into groups for some mastermind networking.
This is always one of my favorite moments at the DSL retreats. It gives me time to connect face-to-face with our members so I can offer advice and celebrate their successes.
Looking Ahead to the 2018 Drop Ship Lifestyle Retreat
The fourth annual Drop Ship Lifestyle retreat in Mexico was a huge success! Reconnecting with our drop shipping friends, and making new ones, always makes it hard to come back home.
But honestly, we all left with plenty of inspiration and motivation that had us restless to get back to growing our drop shipping stores.
Next year, we're heading to Bali, Thailand for the 2018 Drop Ship Lifestyle retreat. And we hope to see you all there!