3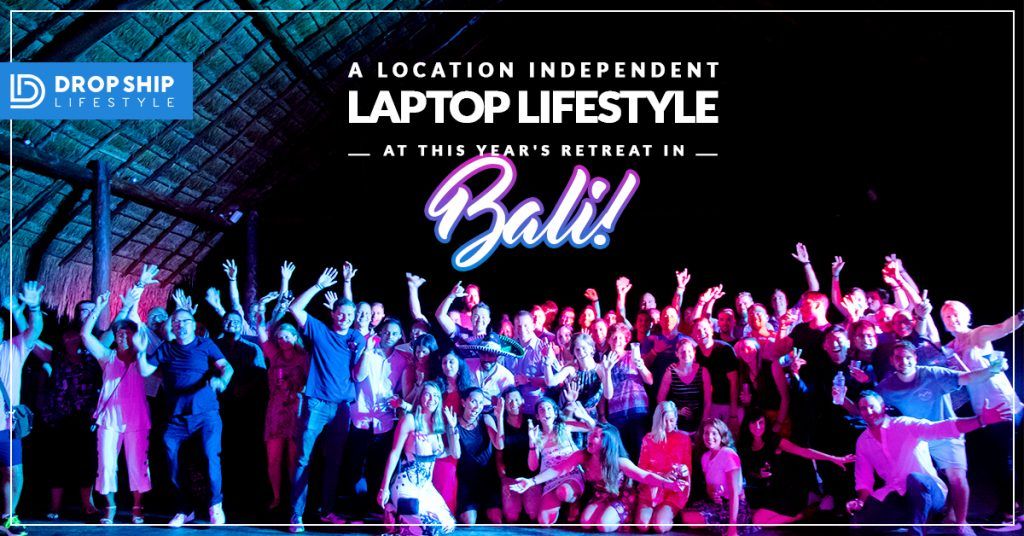 A Location Independent Laptop Lifestyle at this Year's Retreat in Bali!
​Meet the eCommerce Experts Speaking at the 2018 Drop Ship Lifestyle Retreat
More people than ever are looking into location independent jobs - a laptop lifestyle letting them work from any internet connection in the world.
Since the dawn of eCommerce, folks have been trying to hack the traditional workweek/job. Humans looked at the possibilities, shed the skin of the past, and took up a new mission… to design their lifestyle.
We've seen this in books like the infamous 4 Hour Work Week. Other books like I Will Teach You How to Be Rich focus on designing a lifestyle based on your strengths and weakness. And there are more and more people choosing when they work and how they work.
This is the reason Drop Ship Lifestyle's founder got started in the eCommerce biz. Anton knew that life was short. He saw the chance to design a lifestyle, and he took it.
When Drop Ship Lifestyle was born, Anton decided to plan out one retreat per year. He knew that a community support group was vital for entrepreneurs in his program, and he wanted to get as many people together in one place to talk shop and become friends.
Thus far, Drop Ship Lifestyle retreats have been held in some beautiful exotic locations:
​As time went on, the DSL community got tighter and tighter…
And now, we have an unbreakable community that cares for each other and grows together.
Learning the Laptop Lifestyle Together
Throughout the year, we work to build better lives for ourselves. Our community corresponds on private masterminds, Facebook groups, and forums. But once a year, many of us meet up at a dream location and collaborate in person.
And we're just one month out.
Can you believe it? It'll be our fifth annual DSL Retreat! And as many of y'all know -- this year we'll be chillin in Bali.
Exploring the jungles and napping on the beach is what drop shippers do best, but we're also good at hustling… any time - anywhere 😉
So the Bali trip isn't going to be just a vacation. It's going to be a gathering of folks with priceless knowledge at their disposal.
Not only will we be working together - talking shop with the Drop Ship Lifestyle community, but we have some incredible speakers lined up every morning. These cats know their stuff. They're some of the most experienced eCommerce experts around, and they're ready to share what they know.
If you haven't been keeping up with the latest speaker announcements, we included their bios below!
Justin Cooke
Lecture: Buying and Selling Drop Shipping Businesses
Justin is the CMO/Founder at Empire Flippers - an online buying and selling marketplace - that has sold many of Drop Ship Lifestyle Members' stores.
With over $52 million in websites sold, Justin knows how to get a store sold... and he sells BIG.
In his talk, Justin will cover the steps you need to take to get the most bang for your buck when you're ready to sell.
This info is vital to anyone in the world of eCommerce, and no one knows it better than Justin.
Larry Huang
Drop Shipper || AKA "The Maestro"
Lecture: Tactics & Strategies for Competitive Niches
Larry is a drop shipping veteran who has found incredible success in a hyper competitive niche. He's made the competitiveness of the space work for him - and I mean, REALLY made it work... In the past year alone his store has done over $980K in sales.
In his talk, Larry will be covering how to stand out among the competition, even in a crowded field. No matter where you are in your journey, you'll have something to learn from Larry.
Some people are afraid of competition in eCommerce… Larry is not.
Carla Sacca
Drop Shipper || AKA "Super Mom"
Lecture: Drop Shipping MUM, VA's, and Mindset
Carla is a mom to three young children and runs a kick-ass drop shipping business from Australia. This year, she went from her first sale to her first 6-figure month in SEVEN MONTHS. Yeah... she's the definition of a super mom.
Pre-drop shipping, Carla was selling $3 cookie cutters on eBay… Now, she's hired three fulltime VAs - and is trekking the world with her family!
Her talk, "Drop Shipping Mum, VAs, and Mindset" will cover all you need to know about the mindset and strategies you can use to scale your store. Whether you're a stay-at-home parent, or a full-time aspiring digital nomad, Carla can pass on some priceless tips.
Michael Erickson
Lecture: Avengers: Paid Traffic Infinity Wars
Michael has been one of our top rated speakers of all time based on his awesome and actionable talks about Google Ads.
His background in PPC ranges from almost a decade in account management to founding a boutique PPC agency that manages millions in ads dollars - many of which are Drop Ship Lifestyle Member's stores!
This year, he's calling it, "Avengers: Paid Traffic Infinity Wars", and he'll be talking about the five major principles in PPC optimization. His talks alone are known to grow students' stores to new levels... you're not gonna want to miss it.
Lewis Smith
Drop Shipper || AKA "The Gentleman"
Lecture: From the London 9-5 to Location Independence
Lewis Smith is one of the best drop shippers around, and we are psyched to have him speak at the retreat.
After attending the retreat last year, Lewis was able to break off of his mundane 9-5, and now, he's designing his lifestyle!
If your situation is similar - knowing that you're ready to toss the 9-5 and live the way you want, Lewis will be a great person to collab with at the retreat. He will be here to answer any questions about making the "impossible" transition from 9-5 to remote work. We're glad we have him along to show us the ropes!
Anton Kraly
Founder || Drop Ship Lifestyle
Lecture: ​Build Your Brand: How to Advance to Another Level Where Competition Becomes Irrelevant
Anton Kraly has been a serial entrepreneur for more than a decade, finding success building and selling multiple seven-figure businesses. Anton founded Drop Ship Lifestyle along with other multiple 8-figure businesses.
In 2013, he started Drop Ship Lifestyle to teach people how to create profitable eCommerce businesses by leveraging high-ticket drop shipping. Voted "Best eCommerce Course" by Shopify in 2018, Drop Ship Lifestyle is now the top online eCommerce coaching program and has helped more than 8,000 students in 25 countries to find freedom through entrepreneurship.
The Art of Finding Location Independent Jobs
If you're ready to achieve the laptop lifestyle, there are multiple paths you can take.
But drop shipping is what we recommend when getting started.
Why?
Because with Drop Ship Lifestyle, you have a community. You have thousands of successful drop shippers ready to help you on your journey. We're ready to help you launch your designer lifestyle.
And who knows, maybe you'll find yourself hanging out with us in the next year…
If You're Coming to the Retreat…
Leave a comment below about who you're most excited to hear speak this year!
If You're Not Coming to the Retreat this Year…
There's always next year!
Land of Poets and steeples