2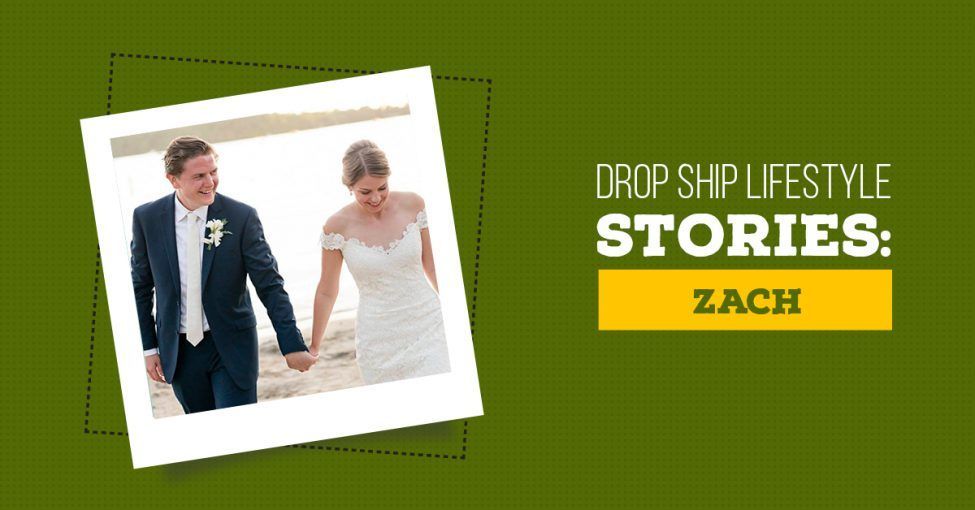 Drop Ship Lifestyle Success Stories: Zach
This time last year, Zach was aiming to win our $10K Challenge with his new store. He only had four months to make the most revenue and sales with his drop shipping store. Even though he had just barely finished building it, he crushed our drop shipping success challenge. Zach ended up making an astonishing 6 figures in sales ($270K to be exact!).
Hitting $270K in sales, Zach crushed the competition in our $10K Drop Shipping Challenge. Zach hitting $1 million in sales, barely a year later.
At the fourth annual Drop Ship Lifestyle Retreat this year, we got to catch up with Zach. And we were blown away when he shared the next milestone he was about to reach. In under a year, Zach has hit now $1 million dollars in sales.
The path to his success hasn't necessarily been a cakewalk, either. There was a lot of risk and a few setbacks in Zach's drop shipping journey. But his determination to escape climbing the corporate ladder and pursue building his own freedom gave him the motivation to reach his goals.
We couldn't resist asking Zach to share his drop shipping success story on the blog. It's one that many drop shippers can relate to and can learn from. Whether you're just getting started on your first store, or finding motivation to hit the $1 million dollar mark, his story is one you'll want to read
Fast Track Your Path to Drop Shipping Success - $1M in Sales in Under a Year
Like so many people in this community, my life has completely changed thanks to Drop Ship Lifestyle.
Three years ago, I graduated college and went on a post-graduation trip to Thailand. I had the time of my life and felt a sense of freedom that I had never felt before. Unfortunately, I knew that trip would come to an end and my corporate job would be waiting for me when I got back….
For a year, I woke up every day at 5:30, drove an hour to work, worked my tail off doing a job I didn't like, and drove another hour after work getting home around 6:30 at night. That job and hopes of climbing the corporate ladder were all I saw ahead of me for the next 40+ years of my life.
This was me in 2015, pretending to be ready for the 40+ year climb up the corporate ladder…
But the freedom I felt on that trip to Thailand got me thinking… What if I didn't have to spend the next 40+ years of my life sitting in a cubicle? What if I had more potential? What if there were better opportunities out there for me?
$1,000,000 in Sales In Under A Year
Fast forward to right now, and I'm free from my corporate job and my drop shipping store recently hit $1,000,000 in sales in under a year since launching.
Another goal I hit, was replacing my old corporate job income which thankfully, I've far surpassed thanks to this one store… None of this would have been possible without Drop Ship Lifestyle.
With that being said, I cannot stress enough how hard it was getting to that seven-figure mark…
I faced a ton of obstacles, it took a lot of big risks, and it was a lot of hard work. Sitting at my corporate job a few years ago, I created a plan to quit that would put a lot of people outside their comfort zone.
I had to tell my family that I was leaving a very comfortable job with a good company to pursue a passion they didn't completely understand. I had to be willing to sacrifice sleep, time with friends and family, hobbies, and basically all of my free time for over a year. I had to fight through a failed store and months without any income.
So no, it was not easy. I followed the exact model laid out in Drop Ship Lifestyle and took lots and lots of action…. Thankfully, every second of that struggle is now worth it.
Let Go of Fears and Fast Track Your Path to Drop Shipping Success
If you dream of leaving your job and haven't read the Four Hour Work Week by Tim Ferriss, I recommend you buy it and read it now. Right when I started to feel myself get a little bit comfortable at my job, I bought and read this book. Immediately, I put together my plan to quit in six months. For me, there were a ton of key takeaways that helped build the foundation for my mindset.
When I was just starting to decide whether entrepreneurship was right for me, one point the book made really stuck with me. The quote was something to the effect of "If you quit your job, what is the worst that can happen?"
For most, the worst that can happen is things don't work out and you end up back at the same job you were before. I knew if I took the risk of starting my own online business and it didn't work out, I could either go back and work for the same company or find a similar job somewhere else.
With this in mind, I made sure I had about six months of living expenses saved up before I left my job. Of course, everyone has a different comfort-level for what that number or timeline looks like. The Four Hour Work Week definitely helped ease my fears of losing some of my income in the short-term. It definitely fast-tracked my path to where I truly wanted to be.

Regardless, once that number and timeline for hitting that number is set, write it on your wall, save it as a screensaver on your desktop. Put it somewhere you are going to see it every day, maybe multiple times a day.
It was absolutely key for me to keep my goal in mind every day when I was feeling tired or discouraged to keep me going. You can apply this exact strategy to any goal you want to achieve whether it be to hit your first $2K in profit in a month, hitting your first $10K sales month, or something else.
If You Fail, Fail FAST
The day I left my job was an amazing feeling. The first workday where I didn't have to set my alarm at 5:30 AM to go to a job I didn't love, was also a great feeling. At the same time though, the reality of not having that steady paycheck is VERY real.
In my first four months of self-employment, I did not have a single month where I hit even $1K in profit. I was working 60-80 hour weeks optimizing my drop shipping store and learning everything I could. I felt like I knew the content in the course front and back but my first store was just a bust. I felt a bit like I was skydiving with a faulty parachute and time was running out.
At this point, it would have been easy to pack it in and call my old boss up and ask for my job back. Instead of quitting, this failed drop shipping store served as an amazing learning experience that I could apply to my next store.
I learned a lot about how to find products that customers actually wanted, how to position my store against my competitors, how to optimize my drop ship store for conversions, and how to profitably get more traffic to my store. I also realized that doing this all alone was not sustainable for me.
Going into month five of self-employment, I was still not seeing the results I wanted. That's when I started working with a business partner that I trusted who could handle customer service and the day-to-day operations of the business. This would let me focus on the growth side of our online business.
We started a new dropshipping store that had a more passionate customer base and higher demand for the products. But best of all, we saw a clear opportunity to position ourselves in our dropshipping niche against competitors we knew we could beat.
Knowing I needed to start replacing my expenses as soon as possible, I went all-in and signed up for an expensive $1,000 DSL coaching package which was the best investment I ever made. Within a month, I got insights from the Drop Ship Lifestyle coaches that would have taken me months, if not years, to learn.
After that, everything started to take off with the launch of this new store, which led us to where we are today…
The moral of my drop shipping story: if you fail, fail FAST. Learn as much as you can from the experience.
If you are passionate about a niche and think it has potential, give it a few months of hard work but listen to what the marketplace tells you. You can apply the most advanced internet marketing strategies out there. But if at the end of the day, you're selling products that the market doesn't want (or if it's not clear why your customers should buy from you and not your competitors), then the journey is much harder.
Unfortunately, you may not know the potential of a niche until you get started. So get started, and once again, if it fails, fail fast.
The moral of my drop shipping story: if you fail, fail FAST. Learn as much as you can from the experience. Click To Tweet
Commit to Your Goals and Dreams
Now that we have hit the $1,000,000 mark, my business partner and I are focused on building our business as far as we can. We're planning to hold onto this drop shipping success for the next five, ten, maybe even twenty years.
We have no intention of starting any new drop shipping stores and want to dedicate all of our time and attention to scaling our business. Our goals for the future are far bigger than I could ever have imagined when I first got started.
That is the beauty of this model… If you want to make $2K a month and live comfortably as a digital nomad in Southeast Asia, you can do that. If you want to build a big business that can scale to $1M, $5M, $10M+ annually, with an office full of employees and a warehouse, you can do that as well. I truly believe that with drop shipping, the sky's the limit.
Everyone has different goals and dreams but I am going to guess that everyone wants the freedom to do what you want, when you want. Nobody wants to spend most of their life at a job they are not passionate about. For me, that freedom and the ability to do something I love is my "why".
I recently got married and my wife and I are back in Thailand where my crazy goals and dreams started. We are on month two of a dream trip around the world and I have never been happier. This freedom is what pushed me to take more risks and work harder than I ever have before.
Drop Ship Lifestyle was the course that allowed me to pursue entrepreneurship and achieve freedom in my life. If you let go of some of your fears, set clear goals, and commit to your dreams with everything you have you too can achieve drop shipping success and the freedom you want in your life.