5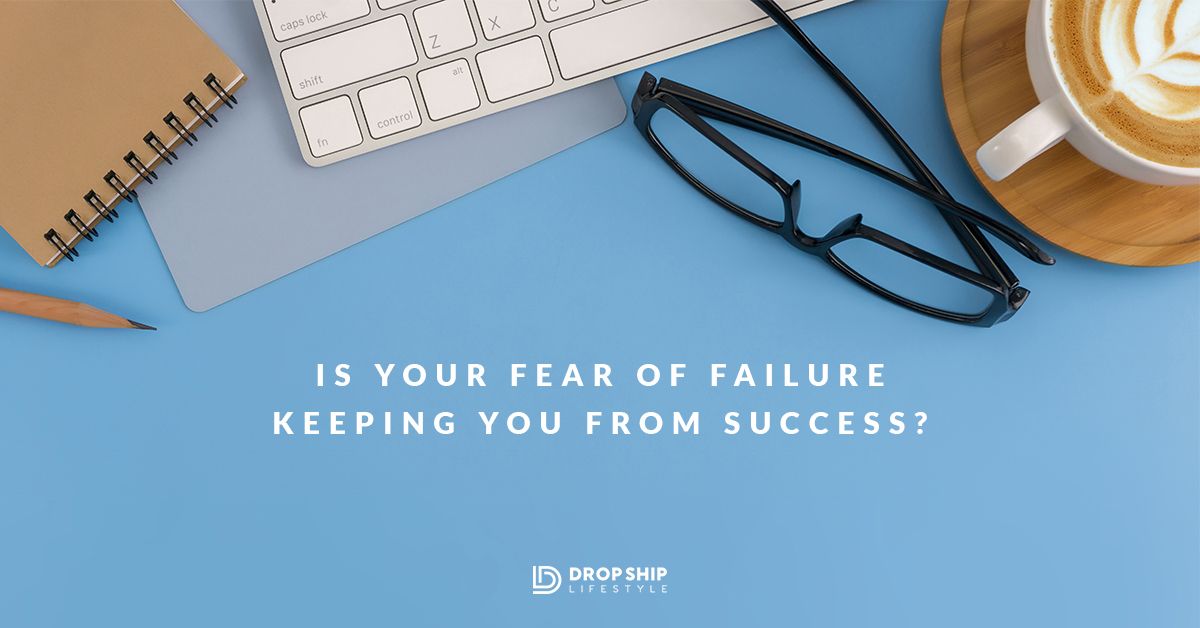 Is Your Fear of Failure Keeping You from Success? Find out how drop shipping can "free you" from this fear.
We recently asked our members "How many drop shipping stores did you create before you succeeded?" The question stemmed from a casual Friday afternoon conversation about "fear of failure" here at the office (we go deep on Fridays ;). Everyone chimed in with their "drop shipping bust" story and their journey from "bust to success".
Half of us chose the wrong niche the first time and created a store that didn't do so well, while the other half got it right on the first try. So we decided to poll our members with this question.
The results may surprise you.
You see in any business, fear of failure is one of the biggest obstacles. The same rings true for drop shipping. The truth is that even with every tool, education, and resource you aren't going to get it 100% right the first time. But there is one thing that everyone should remember.
Failure Is Part Of The Process.
Failure Is Part Of The Process
Click To Tweet
At Drop Ship Lifestyle we are always encouraging our members to never give up. Because we know that if you keep at it you'll find a niche that works for you. Now let's see what our members have experienced in niche selection. Here are the results of the poll:
35.9% Still trying for success
27.9% 1 (Got it right on the first try! Boom)
21.0% 2 Stores
15.2% I own and run multiple profitable stores
You're reading that correctly, over a quarter of people succeed on the first try with Drop Ship Lifestyle!
Jon Warren, one of our most successful students, followed the program and got great results on the first try:
"First one was a winner. Sold it for $125K. Follow up stores also profitable."
Often times, even if you succeed, there is still room for improvement and it always takes persistence. For instance, our member Jacob B. discovered what it takes to succeed:
"I'm getting by with the profits from my first store. Has been a long and educational road. I Would never have made it without DSL, the forums and a friendly helpful community thanks everyone!"
Business is all about perseverance (never give up!). The reason drop shipping is superior to other types of businesses is because it cost so little to start. That means that even if you fail the first time, you can choose a new niche and start a new store.
On top of being affordable, once you've gone through the process it's easier to build your next store. That's because the process is laid out in a clear repeatable way (so why not repeat it)! So whether your first store didn't get the results you wanted or you just want to build your second store, it only gets easier.
Since it's so easy, successful members will often roll the momentum they gained from one store to build multiple stores (15%, wow)! Can you imagine having a drop shipping empire? You can have it, all it takes is to not be afraid of failure. All it takes is picking another niche and starting again.
Honestly, drop shipping is like having a reset button that you can keep pressing until you get the results you want.
Now let's talk about the 36% of our members that are still working hard to be successful. Often you don't get it right on the first try and that's okay. Those members are still trying because sometimes it takes a few tries to get started like Isaac S. learned:
"It took me 2 stores, but I went through several niches using my second store before it hit."
And that is really the key to succeeding, keep showing up. With drop shipping, it just means picking a niche and trying it. Once you get the hang of the process, you're only looking at $25 a month for Shopify. Leaving you with the ability to dupe, pause, redo, or build new stores until you get the results you want.
Some of our most successful members started with failed stores. Like Matt Scott:
"My first one was terrible!"
Then they go on to create amazing stores. You can read Matt's success story ​here.
What makes Drop Ship Lifestyle so great is the community. It's what drives some people to continue trying until they make it! If you spend even a small time in our community, you will see people supporting and motivating each other until they find success. Our member Darta R. found out first hand the power of DSL's community:
"Honestly, if it were not for the forum and this FB group, which provides constant motivation, and screenshots of sales - I would probably not have persisted this far."
Darta hasn't given up, she's learned that you need to follow DSL's instructions and keep trying until you find a niche that works:
"I am now working on my third store. For the first two, I did not do the due diligence in niche research. I have learned now that Anton's instructions should be followed precisely, with no deviations."
So if you are just starting out, or haven't found success in drop shipping yet, fear not. Try and try again! You can always try another niche until you find the perfect combination that lets you live your ideal lifestyle. In fact, that is the only way to succeed.
To encourage you and the community to ignore their fears of failing we have the perfect tool.