9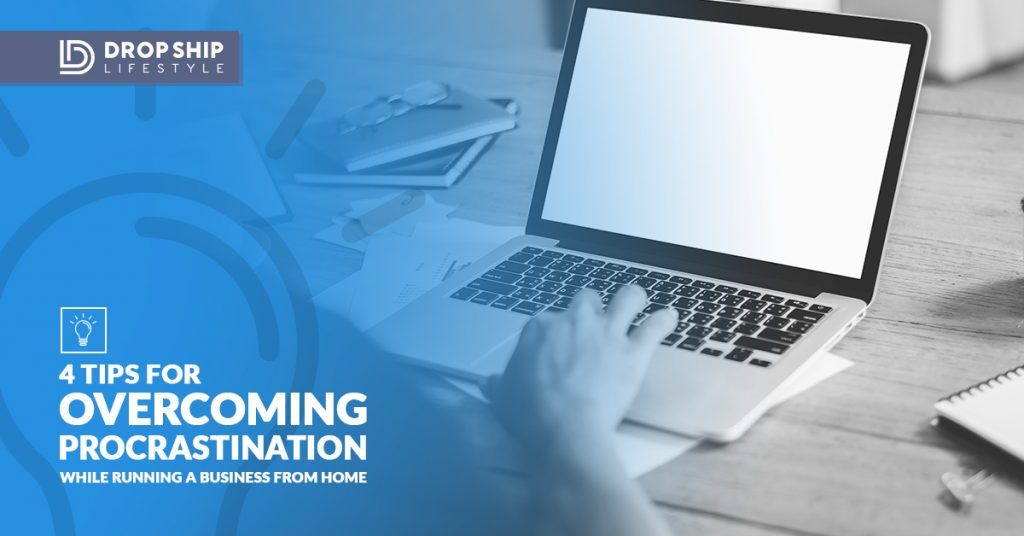 4 Tips for Overcoming Procrastination While Running a Business from Home
Overcoming procrastination is a part of life, but that doesn't mean it's a GOOD part of life. Today I wanted to share some of my experiences. Here are 4 ways to overcome procrastination that I find useful:
Ask the Right Questions
Get a Routine
Always Stay Proactive
Take Action!
[I covered these 4 tips to overcoming procrastination and getting started in a recent Drop Ship Weekly video. Hit PLAY to watch the video below! And definitely make sure you subscribe to our YouTube Channel so you never miss out!]
Whether you're running a business, learning how to drop ship, or trying to obtain drop shipping suppliers, you should always take care of your to-do list. If you don't, the negative effects of procrastination will drive you insane.
There are many reasons why people procrastinate. However, most of the time, it's because the task in front of us looks unideal.
For a beginner, learning how to start a drop shipping business seems like a daunting task. Learning any new skill is tough!
Sometimes we feel demotivated. We feel down on ourselves. You find yourself dragging your feet through the mud with whatever it is you're working on. In these moments, success is nowhere to be found.
These moments make running a business from home feel impossible.
...I felt like this last winter. I felt bogged down, dragging my feet instead of doing what needed to be done. But eventually, I found some ways to overcoming procrastination.
And it felt good.
Hopefully, my story of dealing with and overcoming procrastination will help motivate you to finally take actions to build and grow your business. Feeling "inspired" isn't always necessary, but it's nice. Inspiration can help us stop procrastinating and get motivated.
How I Experienced the Effects of Procrastination
Every year starting in October, we close down enrollment to Drop Ship Lifestyle. We do this so that we can improve our products.
We knew that it was absolutely necessary to build out version 6 of the DSL Blueprint. This version would make learning how to start a dropshipping business even easier! It would provide our members with easy to use modules and a killer interface. I really wanted this version of the course to help you guys better understand how to run a business in the eCommerce world.
So I had everything mapped out. Notebooks full of business strategies littered my desk.
I realized that Drop Ship Lifestyle 6.0 required a TON of video footage. This means that I needed to create a TON of videos. Teaching people how to dropship takes time - a lot of time.
I put together a mindmap of different PowerPoint presentations, and in doing so, I basically mapped out the layout for every video. What happened next MAY SHOCK YOU...
I didn't do it… surprising right?
I didn't record anything. So now, weeks have gone by. Every day, I come to the office and I think, "ahhh, I can get to it later". I procrastinated for no reason that I can logically explain. Now I had to deal with the consequences...
What are the Negative Effects of Procrastination?
There is nothing good about procrastination. Nothing. Procrastination won't do you any favors. It will make you stress. It will turn your successes into burdens. In the long run, procrastinating will only hurt you. Below is a list of what you can expect from procrastination:
Not meeting your goals.
Stressing out about things you should have done a long time ago.
Getting bogged down with a huge to-do list that keeps piling up.
Not being able to enjoy the things you're doing right, since you're so stressed about the things you haven't done yet.
Feeling like you aren't making much progress with work.
I'm not sure… maybe my procrastination was some kind of mental block. I wouldn't say I love making hours of videos, but I don't hate it. There's really no reason for me to not get this done. I love teaching folks how to dropship.
4 Tips to Overcoming Procrastination
Maybe you can relate to my experience above. You've probably experienced a lack of work drive if you are...
New to eCommerce - just trying to build your store. Maybe you haven't been able to actually finish it yet and go live. Maybe you're confused about how to start a dropshipping business. Maybe you don't even know how to run a business!
Afraid to call suppliers. Maybe you called, got burned, and now you decided to just stop and forgo the rejection.
Overwhelmed with how much there is to do. There are so many variables to account for when running a business. Believe me, I know. Running a business takes massive amounts of discipline.
We all have that never-ending list of things we want to get done.
If there are items that have been on your list for a while, you're probably starting to feel really bad about it. Maybe you're learning how to start a dropshipping business, worrying about dropshipping suppliers, or not knowing what product niche to sell in. These lingering tasks haunt us. They keep us up at night.
If we want to be successful online business owners, we have to find ways to beat procrastination.
And now, let's looks at the four ways to beat procrastination that I find the most helpful!
1. Ask the Right Questions
It's brutally important that we ask the right questions.
If you choose to run your own business, you need to put yourself in a mindset that is diligent, confident, and realistic.
Ask yourself these questions:
"What's the worst that can happen if I get this done now?" You'll find that getting things done is a good thing. Finishing a project is always better than shelving it.
"What is my highest priority?" Learning new techniques is a good thing. Learning how to be more productive is a good thing. But those good things should not be more important than the items on your to-do list. Don't procrastinate getting dropshipping suppliers. Don't procrastinate filing your taxes. Don't procrastinate recording videos you NEED to record! High priority items come before the little things.
"Why am I not getting this [insert project here] done?" Seriously, debate with yourself and ask why you aren't doing what you need to do. Is it because something else is higher priority? Or is it because you dread doing it…
2. Get a Routine
To combat my procrastination making version 6 of the DSL Blueprint, I created a routine where every morning I:
Woke up early
Went to the gym
Came into the office
Set up my microphone
Got to work
When I got into work, the first thing I did was record a Welcome Video - an introduction to the new version of Drop Ship Lifestyle. It was short, only around three and half minutes long, but it was better than nothing!
As soon as I finished the welcome video, I felt a lot better about myself. I was actually making progress.
Riding the momentum, I started making the new Module One…then I got started on Module Two. I haven't had this much energy in weeks! I was pumping out quality content.
If you own a dropshipping business, or if you're running a business from home, you need a routine. There's no getting around that.
Why get up early in the morning? Why get dressed for work? Why keep your hours as normal as possible?
Because your business owns you. You don't own your business. A routine helps you gain equilibrium. A routine helps you conquer the spontaneousness of the business world!
The most successful entrepreneurs in the world have a routine. It's for a reason.
Get up. Get to work. Enjoy your life.
3. Be Proactive
Always build upon the tasks you've set out for yourself.
Just make sure you prioritize those important tasks before you read a hundred blog posts on SEO optimization. Get your work done, THEN go down the rabbit hole.
4. Take Action!
Don't think. Just do it! (Of course you need to think, but don't JUST think. Make sure to actually do something.)
The takeaway of this post on overcoming procrastination isn't some weird life hack.
The takeaway is to take action.
If something pops up on your to-do list, do it.
You can use the momentum to roll through and keep things happening. Overcoming procrastination is about moving forward!
Always be confident, and always stay poised.
Learning how to start a dropshipping business - or any other business - takes work...but it's worth it!
Get to Work!
Starting is the first step to overcoming procrastination.
You'll feel better about yourself as soon as you mark that first lingering item off the to-do list. If you're running a business from home, you'll feel like a massive burden was lifted from your shoulders!
Overcoming procrastination is not an easy task, but you can do it. Make a commitment to yourself. Set aside a day or week and pump out some work.
Wake up early, knowing that your plan is going to happen. Whether you're running a business from home, dropshipping full time, or working a 9 to 5 job, overcoming procrastination is key to living a life of freedom.
Get started, and I promise you... you're going to accomplish a lot.
If you want to know more about what we do here at Drop Ship Lifestyle, head over here.
This will take you to our free 10 day mini course sign up. Every day for 10 days, I'll send you a dropshipping tutorial video. This mini course is jam packed full of info, and it will teach you everything you need to know about getting started in the world of eCommerce dropshipping!
Stay tuned and keep at it!