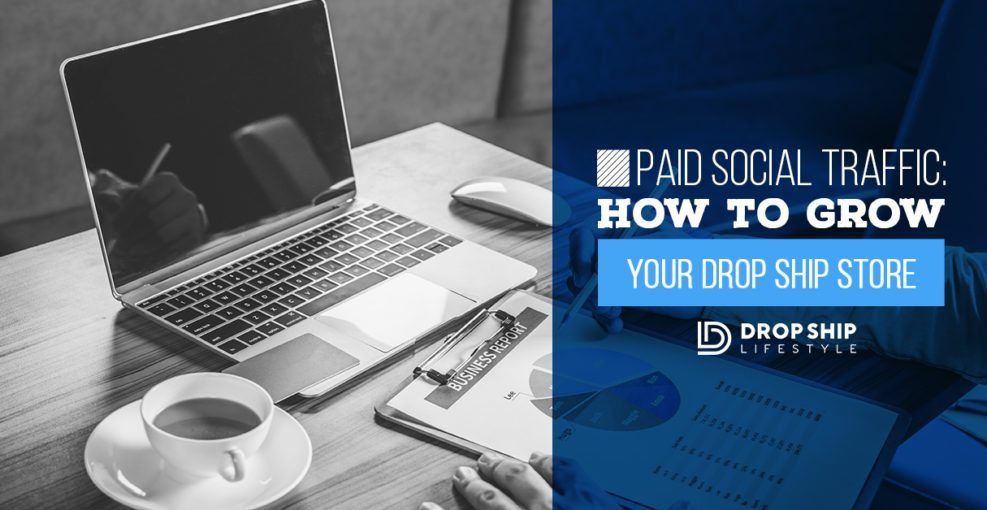 Paid Social Traffic: How To Grow Your Drop Ship Store
Scale Your Traffic & Sales By Leveraging Social Traffic…
My highest converting source of traffic has always been Google Product Listing Ads… even before they we're called Product Listings Ads…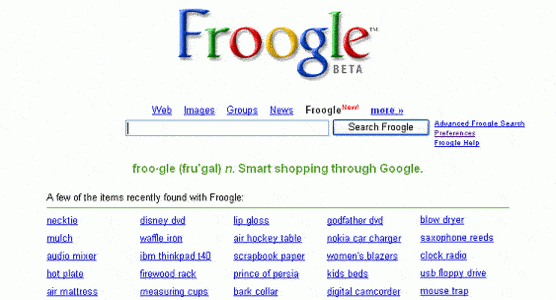 This is the same traffic source that we used to generate $3,456.97 in sales in our first 22 days of launching a new store.
PLAs are the highest converting source of traffic for a reason…
When someone searches on Google for a:
brand name
product name
and/or SKU#
… you can get your product image, product name and price to appear right on the first page of Google: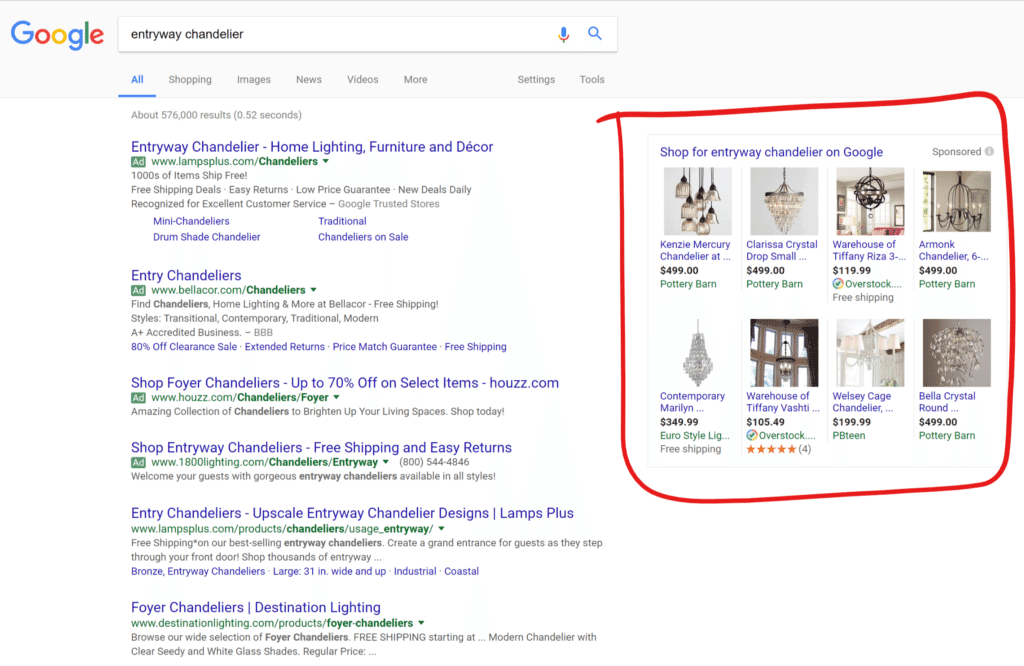 When set-up properly, you can get laser targeted traffic from Google PLAs.
Think about it… the people who are clicking your ads have used buyer keywords.  They've also already seen your product image AND product price.  They know they're going to be sold to and that's exactly what they want…
Google PLAs are the easiest way to build a successful drop shipping store.
"but wait Anton, this post was supposed to be about paid social traffic…"
We're getting there!
I just want to make it clear that you do not need to use every traffic source in world to build a profitable drop shipping store.
In fact, you're much better off mastering one traffic source before you commit time and money to trying to new channels.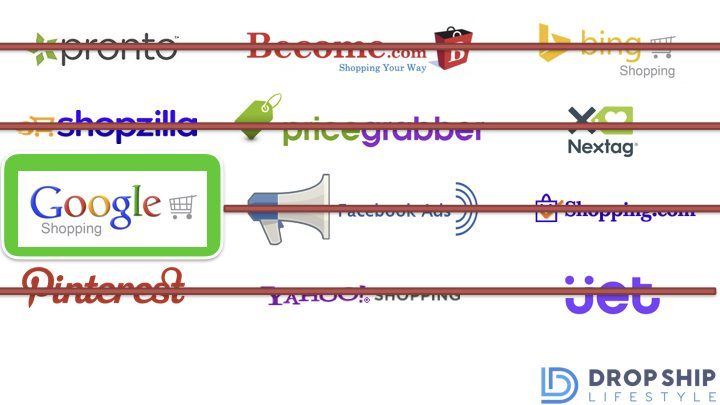 If you're not doing at least $30,000 per month in sales then you should stick to Google PLAs.
Click To Tweet
But what happens after you find success on Google?
Maybe you've got your 6-Month Paid Traffic Game Plan laid out, you're seeing consistent sales, and you're ready to scale to new traffic channels…
This is when you should shift focus to paid social traffic.
Our favorite channels for paid social traffic are:
Facebook Ads
Instagram Ads
Pinterest Ads
Twitter Ads
People are often shocked when they hear that we can get consistent and repeatable ROI when using these channels… while the methods we use are not as straightforward as with PLAs, they can definitely be replicated.  I'll show you how in this article.
For the purpose of this post, we will focus on

Facebook Ads

.
Your easiest win with Facebook Ads will be Dynamic Product Ads used for remarketing.
Here's how it works:
Visitor goes to a product page on your site and leaves without buying
Visitor goes to Facebook
Visitor sees the product they were just looking at with a link back to you store
Visitor gives you $$$
The easiest way to get set up and running with dynamic remarketing on Shopify is via Perfect Audience.
They integrate with Shopify and they offer a 14-day free trial and $120 in advertising credits to get you started… you literally have nothing to lose by trying this out.
The beauty of dynamic retmarketing ads are that you can set it and forget… they will continue running automatically by brining lost leads back to your store:
Targeted PLAs + An Optimized Website + Dynamic Remarketing = Success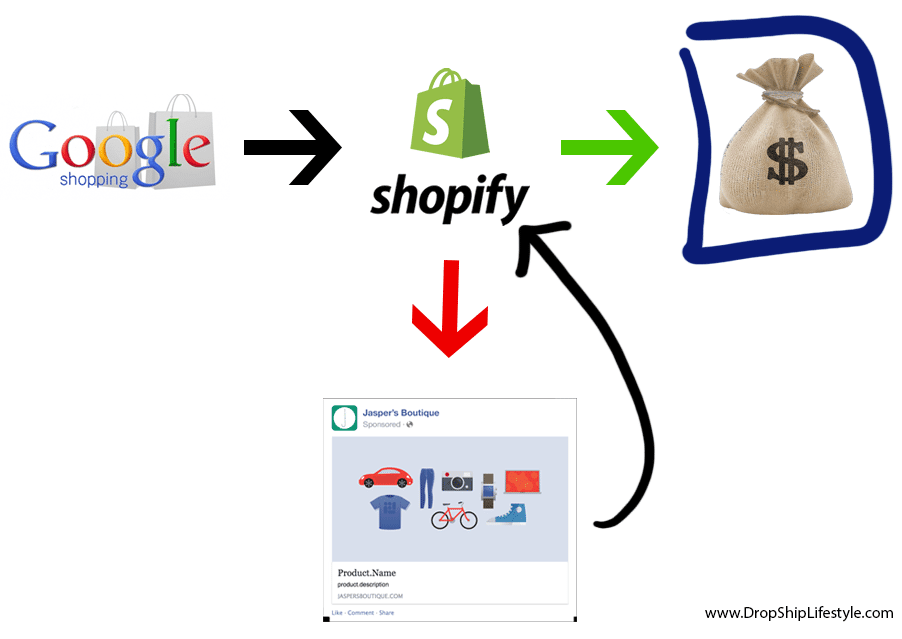 Once you've got a profitable Dynamic Remarketing Campaign up and running you should go ahead and start using Facebook Ads to target cold audiences.
Dynamic Remarketing = Increased Lead Value
Ads To Cold Audiences = New Lead Acquisition
Cold audiences are those who have no idea who you are… these are people who are randomly scrolling through Facebook reading posts about the latest political drama and clicking links to fake news sites…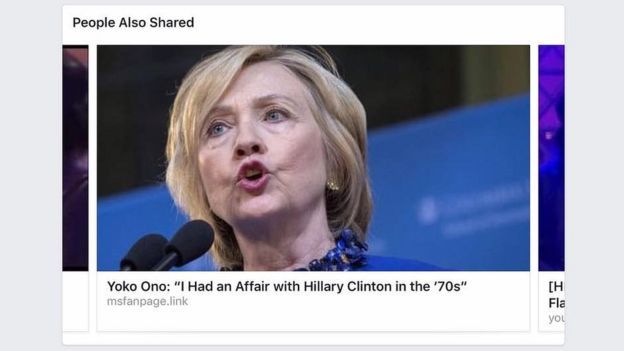 These cold leads are not going to be ready to click a link to direct to your product page to give you money….
That's because they are much higher in the sales funnel: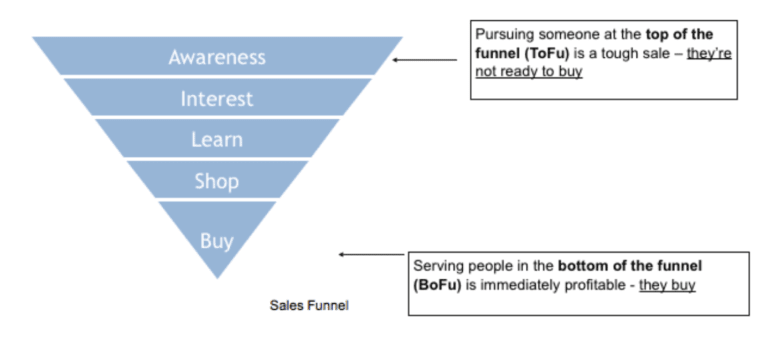 If you're selling hight-ticket products, asking cold leads to buy from you on day 1 will lead to extremely low conversion rates….
To combat that, we simply provide something of value (for free) to these leads in exchange for their name of email address.
This "things of value" can be a:
Gift Cards
Free Shipping Coupons
Downloadable Reports
Buyers Guides
… there are many other options as well… but any of these will work.
Our goal here is to get our target buyers to opt-in to our email list so that we can get them to ascend into paying customers.
We do this through a series of email campaigns.

After capturing the name and email address, we kick off two automated email campaigns…
The first campaign is called the indoctrination sequence, and the goal of this campaign is to get our new leads to know, like, and trust us.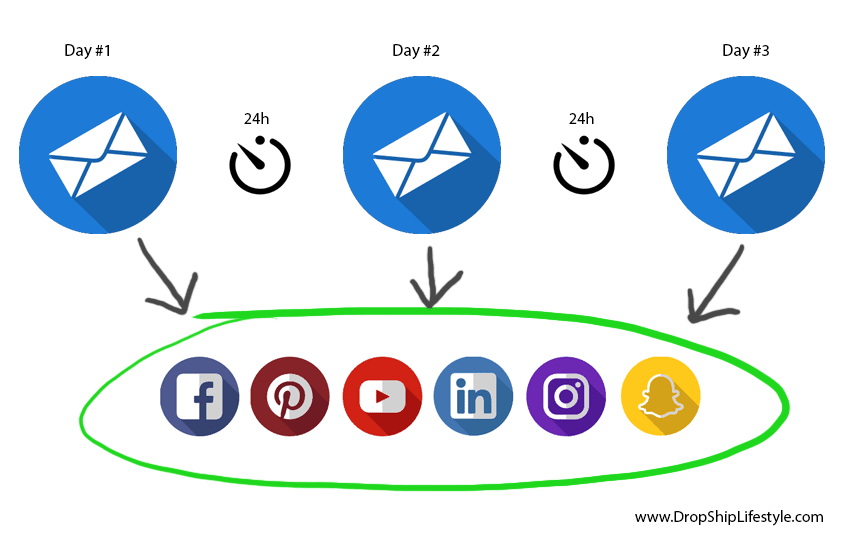 ** Important **
We do not do any selling during this email campaign.  The goal of this campaign is to get the reader to engage with our content.
This could be previous blog posts, our YouTube videos, our Facebook pages, or any other social platforms that we may be using.
We link to our best content throughout our indoctrination campaign.
After this campaign runs it course, we move the cold lead (who is now getting warmer 🙂 ) into our ascension sequence.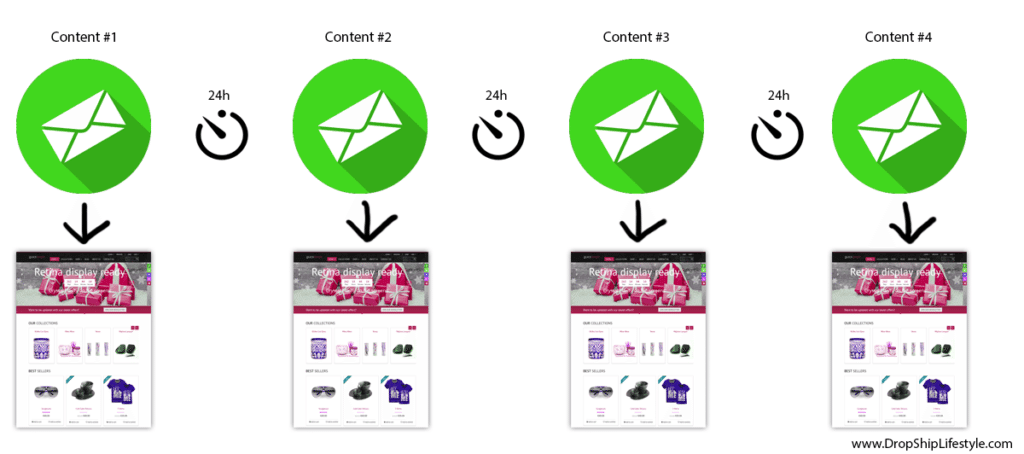 The goal of the ascension series to offer unique content that links to our products.  This is when we begin marketing to our lead list.
For more information on the ascension series and content marketing you should check out Brandon's talk on Content Marketing For eCommerce.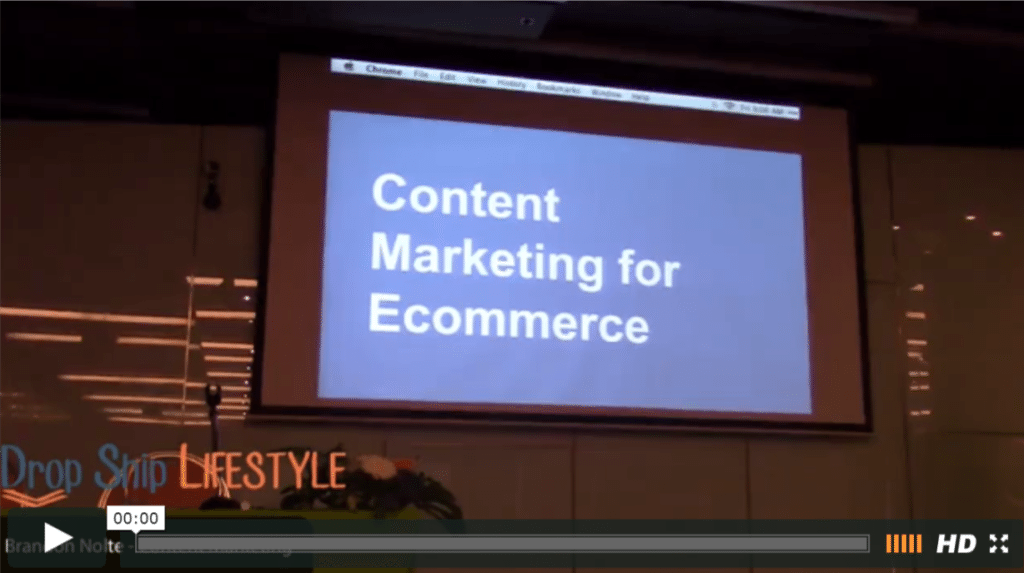 As you can see, leveraging paid social traffic does take more effort than the traditional route of using Google PLAs… however, if you're committed to scaling your audience AND your sales then the techniques listed above may just be what you need to get started.
Watch this video training if you want to know how to use Facebook Ads to promote your drop shipping store!
Subscribe To Drop Ship Lifestyle
This video is a replay of a live training we did that covers how we send Facebook Ads to our drop ship (Shopify) stores.
In Closing With Multiple Traffic Sources
Leveraging multiple traffic sources is one of the most important factors when it comes to scaling sales.  We have multiple in-depth training courses on this topic inside of my Drop Ship Lifestyle Coaching Program which is great if you're looking for the most comprehensive training that we offer.
If you're not sure if you're ready to fully commit to using paid social traffic, I would highly recommend that you get started with our Paid Traffic Bundle!
Any questions? I'd love to hear from you. Leave a comment and we'll keep the conversation going!