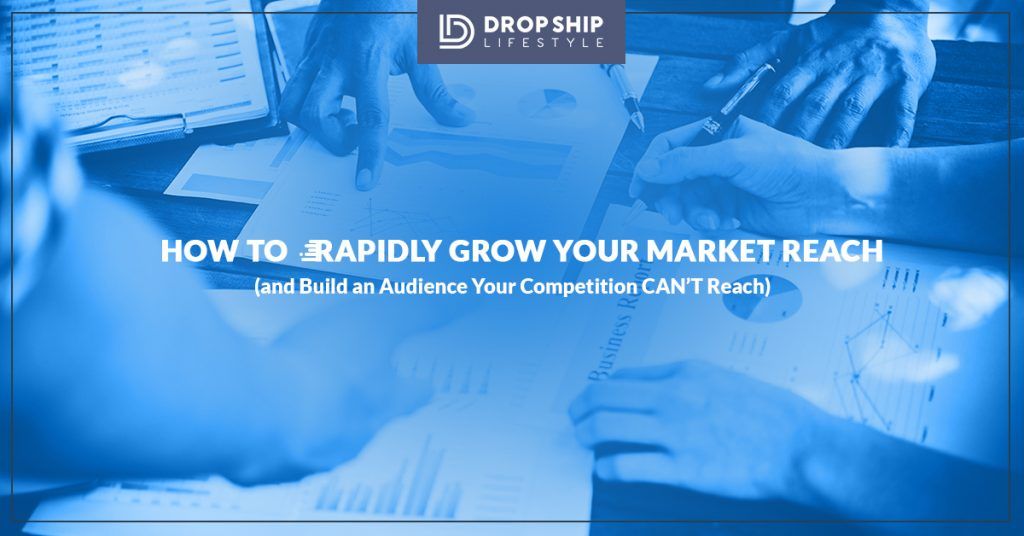 How to Rapidly Grow Your Market Reach and Build an Audience Your Competition CAN'T Reach
Editor's Note: Drop shipping can be highly competitive and we're always looking for ways to help you beat out your competition. Today we have an article that is sure to give you an edge. This guest blog is by Gary Nealon from RTA Cabinets. He shared a few great tips on how to grow your business with some unique reach techniques.
By Gary Nealon
Here's something every business owner knows to be true. Regardless of your industry or your customers, there will come a time when the competition starts watching everything you do. It's inevitable and unavoidable. Consider it a compliment.
For us, that time came 5 years ago. Our company, RTA Cabinets, had been around for about five years and we had one-third of the employees we have now. We were small but mighty and things were going really well. Things were so good that we had competitors watching closely. To the point where they were copying our ads down to the exact words being used. As a result, the cost of the keywords we were targeting shot up. If you're in the growth stage of your company, I'm sure you can relate.
Rather than continuing to battle upstream, we knew there had to be a better way. And there was. Out of a lot of experimenting, came what we now call the "Wagon Wheel Formula" or "Hub and Spoke model".
Understanding WHO Your Customer Really Is
Our first big AH HA moment was when we really took a deep dive into exactly who our customer was. In the beginning, we did what every business owner does - we went after anyone and everyone that would potentially be interested in our products. We targeted "buy" terms or keywords that were intention based so that we could cast the widest net possible. One message, one giant audience.
After looking at the data, we realized that we actually had 4-5 very different customer profiles. This changed everything about how we marketed, how our sales copy was written, and how we targeted our customers. As we dove deeper into WHO these customers were, we started looking at their hobbies and interests. What sites did they follow? What blogs or publications were they reading?
We were having a very hard time getting social engagement on our Facebook, Twitter, and Instagram pages. We figured if we could reach our audience around something that they were passionate about (versus on a branded company page), we might have some luck.
So we started creating Facebook pages focused on their hobbies and interests. Such as gardening, cooking, barbecuing, and golf. Even with the low organic reach that Facebook had set, we were able to build highly engaged and far-reaching audiences around topics they were passionate about.
Building The Wheel
Once we knew what niches we were going to focus on, it was time to build the wheel. While there are many different strategies for building out Facebook pages, this is the formula that seemed to work best for us. It also allowed us to quickly reach 60k followers per page on a consistent basis.
In order to get the pages started, you are going to have to invest some money. On average, we would allocate $500-1000 per page to get it running. We'd start with a $10 a day budget to get eyeballs on the Facebook page and build up the following. We then narrowed down the target audience by age, gender, other pages they like, and even by location (since our businesses are 90% US based).
When it comes to posting, it is all about consistency and frequency. We post 3-4 times per day, depending upon the niche. And initially, we start with things that we know people would share about the topic.
This includes a steady stream of memes, videos, and funny images. Because let's face it - this is the kind of content people love to share. When we identify 2-3 posts per week that are doing better than others we boost them in $10 increments.
You see, this does two things. First, it allows you to increase the organic reach of your page. That's because Facebook's algorithm will naturally send more organic traffic to a post that is getting more shares and likes. Secondly, it allows you to target people outside of your current page followers and bring in new people with content that you know is already shareable.
Here's the thing. The key to maximizing the ROI on your spend is a little trick that most people don't know about. If you look next to the number of likes that a post has, you will notice that it is a hyperlink. If you click that link, it will open up a window of the names of all of the people that liked your post. What you will notice, especially on a post that gets a lot of shares, is that there are a large number of people that liked the post but didn't like your page.
Here's where our nifty little trick comes in handy. Until your Facebook page hits 100,000 followers, they allow you to invite these people to like your page. It's that easy and that simple. We are able to grow a page by several hundred followers a day simply by inviting people that liked our posts.
Using this strategy, we have been able to build up an audience of roughly 1.5 million people. These people are in our target audience and we have a relationship with them on some level. So the inevitable question is... How does all of this relate to what you sell, if you are using unbranded pages and showing them a bunch of memes?
Here's the real secret.
Setting the Wheel In Motion
Building a huge audience is great, but if you can't monetize them, you are just throwing time and money out the window. So the real secret to this process is how we monetize them.
I am a firm believer in reaching people on multiple platforms. That's because I never want to be reliant on any platform to control our customer base. This is especially true with the constant changes to the terms of service. As well as Facebook's tendency to simply shut down pages with no explanation and no easy way to dispute it.
So the first thing we do is to try to get these potential customers off of Facebook. That's right, we invest all of that time and energy just to try to get them off the platform we are working so hard to build. Call us crazy, but we promise, it works.
For example, with one of our cooking pages, we took the top 15-20 recipes with the most engagement and created a free PDF download. We used this to entice our followers into giving us their email address. Thereby pulling them off of Facebook and onto our mailing list. Once we have their email address, we can create custom audiences on Facebook, Twitter, and Instagram. Then we can target them on other platforms, in addition to sending them direct emails.
Getting their email is fantastic, but there is an even better advantage to building out these pages. We now have a captive audience of our target market (based upon our customer profile research). So whenever we have a sale or new product, we can run ads to them and our competition can't.
The real bonus is that you can link ad accounts for the page and your business page. So Facebook now sees these followers as your customers. This allows you to run ads to them as your company, without them knowing it is coming from a cooking page or gardening page that they enjoy following. It also drops your CPC (cost per click). Because Facebook sees the audience as people that you already have a relationship with versus cold leads.
In the end, you score a captive audience that your competition can't target. You also get to run ads to them as your business without them knowing it is coming from your non-branded pages. And you get cheaper clicks which in turn should drop your CPA (cost per acquisition) and increase your ROI. In a sale we did over the Christmas holiday, this process resulted in 6 figures in sales and a 40% decrease in CPA.
Pretty awesome, right?
Keeping the Wheels in Motion
Here's what we discovered next. As we continued to create and build out more pages targeting our customer base, an unexpected benefit surfaced. These pages actually started to monetize themselves. True story.
The pages were getting so much attention, we ended up hiring a team of dedicated social media managers to run the pages and keep the content flowing. Of course, we also needed a way to cover those new costs.
As the pages grew, we started getting requests for sponsored posts and other advertising opportunities. So we began monetizing the pages through advertising. Now, these pages cover their own costs. While we get the benefit of using them as a marketing platform for our main business, RTA Cabinets.
When our pages hit 100,000 followers, we took it a step further and built out a blog for each page. This allows us to sell more advertising, list the pages on influencer networks, and build out the mailing lists even further.
And the coolest part? We've been able to spin off entirely separate businesses, like Pure Taste Recipes, as a result of it.
So to summarize, here is a quick step by step process for our Wagon Wheel Method:
Get to know your customers. Start by developing a clear profile of who they are including hobbies, passions, pages they follow, etc.
Get creative. Build Facebook pages around their hobbies and interests. You can also create a page around something completely differently that naturally has a lot of engagement. Just make sure they are non-branded.
Start pumping out A LOT of content. Aim for 3-4 posts per day, and boost the posts that are getting more engagement than others. Start with $10 boosts at a time.
Grow your followers. On each post, "invite" the people that like the post to also like your page.
Take it to the next level. Sync your ad accounts with your main business.
Set the wheel in motion. Start pulling people off of Facebook. Find out what would entice your followers to give you their email address, and leverage it. This could be an ebook, a download, a contest, etc. The goal is to get them off Facebook.
Build your community. Create custom audiences with your new mailing lists on other platforms too like Instagram or Twitter.
Make money. Monetize the pages through sales and advertising.
In closing, does this process really work? Well, this year our Christmas sale ended up being the largest in company history. When we tracked multi-channel attribution in Google Analytics, we were able to saw multiple 6 figure sales directly from the Facebook groups that we had created.
So yes, this process totally works.
Editor's notes:
We're always looking out for anything that will give you an edge in drop shipping. Hopefully you can apply Gary's tips and see some serious growth. Let us know if you found this article useful in the comments below.
Also, here is a recent interview Gary did with Adam from DSL: