19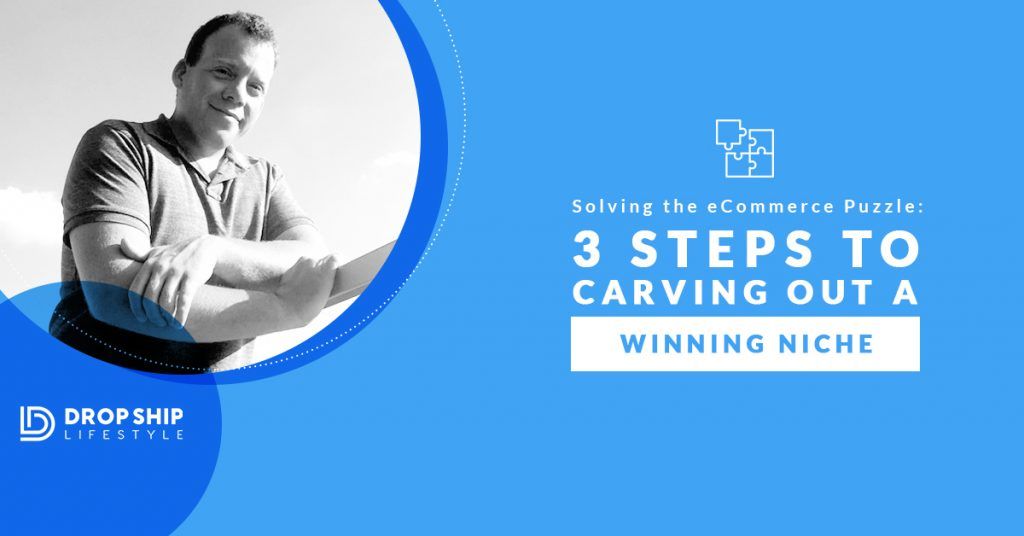 Solving the Ecommerce Puzzle: 3 Steps to Carving Out a Winning Niche
You are poised to launch your own eCommerce business...
You have crafted your business plan. You have your infrastructure in place. But you're just not sure which products will fly and which will flop.
You realize that you can't sell everything - yes, that's Amazon looming over your shoulder – and want to carve out a niche for your enterprise. Smart move.
Here are the three steps to take in making your decision.
1. Choose a Category that Fuels Your Passion
There are 11 top-level categories of niche markets that are primed for eCommerce success:
Sports
Kitchen
Office
Pet Supplies
Health & Fitness
Medical & Elderly Care
Maternity & Parenthood
Hobbies & Recreation
B2B
Patio & Garden
Home Goods
Nestled inside each of these categories are products that consistently outperform in online platforms, so one category isn't inherently better than the next...
However, these 11 categories are head and shoulders above the countless other categories where the market is over saturated.
Because these 11 categories are all fair game, it makes sense to choose a category about which you're passionate. If you have to stifle a yawn every time you think about cooking, baking, and entertaining, then "Kitchen" is the wrong category for you.
But if you're a gym rat or relentlessly training for your next triathlon, then "Health & Fitness" is right up your alley. If your spine tingles when you step into an office supply store but you feel faint when you think about a doctor's visit, skip "Medical & Elderly Care" and instead go for the "Office" category.
The bottom line: Select a category that will keep you interested and excited.
2. Get into the Mind of Your Potential Customer
If you are passionate about your category, you probably already know what makes your customer tick, but give it some thought nonetheless.
Once you understand that moms-to-be want only the best for their babies, you can source uber-appealing high chairs and cribs.
Folks who cook and entertain are always on the hunt for the latest kitchen gadget, so by keeping your finger on the pulse of restaurant trends, you can anticipate customer demand and ride the sales wave to profitability.
Playing sports is inter generational, meaning you can seek out products that your customers are likely to purchase for themselves, their children, and the entire family.
The knowledge you gain by getting into the mind of your target customer will guide you in both product selection and your marketing efforts.
** Note **
You may thinking "wow, Anton... this all sounds great, but I don't have any passions!". Don't worry. While I do you believe that having a passion can help you build a better store from day one, I absolutely know it's not necessary for long-term success. I've sold (and still sell in) many niches that I knew nothing about one first launching stores. Choosing a passion is one technique for niche selection - you can also click here to see some more.
3. Carefully Choose Your Products
Take each product you're considering and view it through five lenses.
Lens 1: Competition
Lens 2: Loyalty
Lens 3: Pricing
Lens 4: Weight
Lens 5: Returns
First, scout out the competition.
If everyone is selling the same set of patio lights or is offering the same shower bench, it may not the product for you. Instead, seek out harder-to-find products – especially those that can't be stocked by big box stores due to a number of styles or options available.
The second lens is brand loyalty.
Your most profitable products will be those that aren't dominated by a national brand. In other words, forget the food processor (Cuisinart's cornered that market) and instead opt for high-end blenders or juicers.
Third, seek out products with high price points.
The higher the price, the greater the profit margin.
A 30 percent markup on a $10 item is just $3, whereas a 30 percent markup on a $1,000 item is $300. This is where your knowledge of your potential customer is critical.
What big-ticket items are pet owners likely to purchase?
What about sports enthusiasts who live by the water?
The fourth lens is the weight of the product.
Shipping is expensive. Charging your customer for shipping a heavy item can be a disincentive for purchasing while offering free shipping on that same product can cut deeply into your profit margin. The winning combination is offering high-priced products that have low shipping weights.
At the same time, think about how you can beat your competition. The high shipping costs may dissuade them from selling certain products. Their fear could be your strength.
As a rule of thumb, we will not sell items that must ship via freight carrier for any less than $500.
The final lens through which to view products is the potential rate of returns.
Absolutely avoid selling clothing. Because of sizing issues and style preferences, apparel has an astronomical return rate.
Contrast the likelihood of clothing returns with the likelihood that a fitness buff will send back a high-priced stair climber. It's apples and oranges.
While many product categories are flooded with sellers, the 11 categories we've pinpointed have tremendous potential for profitability.
When you follow your passion, know your customer, and filter out probable under performing products, what remains will become the foundation of your successful eCommerce venture!