23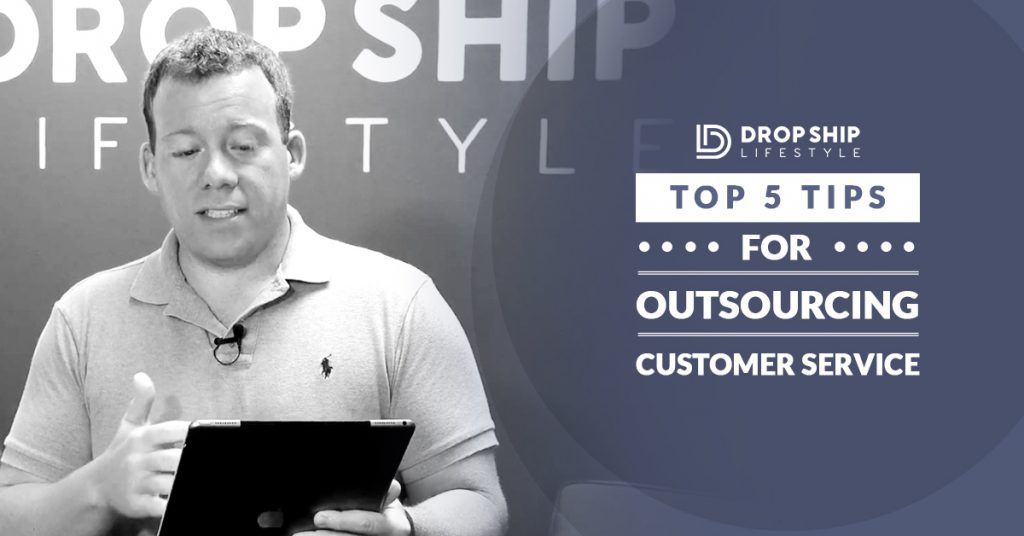 Top 5 Tips For Outsourcing Customer Service (#5 is the hardest)
It's great if you enjoy serving customers with your drop shipping eCommerce store. But as a business owner, your time is valuable. It's important to be able to focus on aspects of your business and life other than fulfilling orders and handling customer service.
Wouldn't it be lovely if you could clone yourself and let the duplicate you take care of all of that maintenance so you can focus on business growth (or even a week-long vacation) without having to stress about your store?
Turns out you can clone yourself, but it's super expensive and ethically questionable... Click To Tweet
Plus, what would your mother think?!
Instead, in this article, you'll learn our top five tips for doing the next-best thing: Outsourcing the eCommerce customer service work to another person.
Let's dive into the tips that we follow as closely as possible whenever outsourcing work!
Tip #1: Prioritize English Skills (Hire a native speaker)
The better grasp of the English language your freelancers are, the easier your life will be after hiring them. Hire native speakers, if your budget allows it. Otherwise, go for non-native speakers that are fluent in English.
People with a strong grasp of the English language are great to work with because communication with them is much easier than it is with non-fluent speakers, which will decrease the chance of them misinterpreting your instructions. Additionally, if the position you're hiring for requires the freelancer to speak with suppliers or customers, having a fluent speaker with no strong accent is something I strongly recommend, because it improves your credibility, increasing the likelihood of closing sales and supplier approvals.
Tip #2: Experience Level
You may be tempted to hire someone with no experience or feedback, as they may be cheaper. But keep in mind that you get what you pay for. We strongly recommend shelling out one or two extra bucks per hour in return for a freelancer that comes highly recommend.
You can view info about the freelancers on the profiles on the freelancing website (We use UpWork.com). The first indicators of a good freelancer that we look for are simply the number of hours worked and job success rating. We never hire freelancers with under 100 hours worked or under 90% job success rating. Why? Because we want experienced freelancers that we can rely on.
Paying for experience costs more in the short run but saves you time and money in the long run. Click To Tweet
Once you're happy with these surface-level numbers, you can dig into their profile and read actual reviews left by customers to see what they had to say about the freelancer's strengths and weaknesses.
Tip #3: Availability & Longevity
After you've made sure that the freelance speaks English well and has experience, you need to make sure they are available for work. The best freelancers are typically busy because clients keep coming back to them and referring them. So it's a good idea to invite high rated freelancers to your job position as a way to get more applicants.
Once you have a set of applicants, you want to take two things into consideration.
1) Availability - All of the best feedback in the world means nothing if the freelancer doesn't have time for your project. Make sure to ask them how much time they can dedicate to your project. Here are some questions we ask potential hires to make sure we're on the same page:
How many hours can you dedicate each week? Where on your priority list would this work be? Are you available to work nights and weekends?
2) Longevity - Longevity is just availability over an extended period of time. Are they interested in working with you on a long-term basis? If so, this can save you a lot of time having to re-train new VA's every time one quits or gets too busy. If you are trying to hire someone who is about to start school or is about to travel in a few months, it may make more sense to hold off for someone that can commit to long term work. Most freelancers are looking for stable and consistent work, so it's up to you to communicate your desires clearly so you and your freelancer are on the same page.
Most freelancers are looking for stable and consistent work, so it's up to you to communicate your desires clearly so you and your freelancer are on the same page.
Tip #3.5: The Hidden Task
As you write your job description, you need to keep in mind that you need someone who is going to follow directions. A great way to weed out some of the applicants who WILL NOT follow directions is to include what we like to call a "hidden task."
This can be anything, but it's really just a random task thrown in the middle of the job application to see who reads directions carefully. One example is to throw in one sentence that says, "Please copy this sentence and paste it at the top of your cover letter."
Or, if you'd like to get a little more advanced, you can ask people to go to a website, find the tenth word in the first paragraph, and then post it at the top of their cover letter. The task can be up to you, but it will do you wonders when it comes to weeding out unqualified applicants.
Tip #4: The Interview (Live)
Once you've used the above tips to narrow down your candidates to the final two or three, get on Skype with them! Sure they said they're fluent in English and available to work with you, but is it really true? Having a face-to-face Skype interaction cuts out the middleman of pre-meditated text responses, and it will quickly become clear to you whether or not this is somebody that will be able to do a good job on the task that you assign them to.
If they've made it this far in the screening process but are not good for the particular task you have in mind - say they have a strong accent, and you need somebody to answer customer phone calls - they may be good at something else! Ask them what their other skills are. It's possible you may be able to benefit each other in a way that you did not originally plan.
BONUS Tip 5: Teachability
Lastly, is your freelancer a good learner? This last tip is a bonus tip because you can't expect to find this quality in a freelancer every time. In fact, it's very rare, and every time I find a freelancer that is self-sufficient and a strong learner, I make an effort to keep them around.
The main reason it's great to have a teachable freelancer is because they can wear many hats. If you hired a VA to do customer service, and now you need blog posts written, it's possible that the VA you already work with could to both tasks with some training.
How can you tell if he/she is a good learner? You give them a task. Offer them a paid sample task to do something new. Make sure to provide helpful resources that include blog posts, video tutorials, examples of similar work, and step-by-step instructions. If he/she can learn on the fly, then you know you have a keeper!
Where To Find Freelancers
There are several places you can go to hire talented support for your store, including freelancing websites, virtual assistant agencies, and even just posting on Facebook to see if any friends-of-friends are interested in making extra money for minimal extra work. My favorite place to hire talent is a website called UpWork (https://www.upwork.com/), but there are many options out there.
Get Hiring
That's it! It really is that straightforward. Armed with these 5 tips, you can now confidently move forward and hire virtual assistants for short-term or long-term projects, so you can spend more time working on the aspects of your business that you enjoy and are good at - or even just kick back with a coconut on the beach.
Do you have any of your own tips for outsourcing eCommerce service?
We would love to hear them. Please share them by commenting below...