5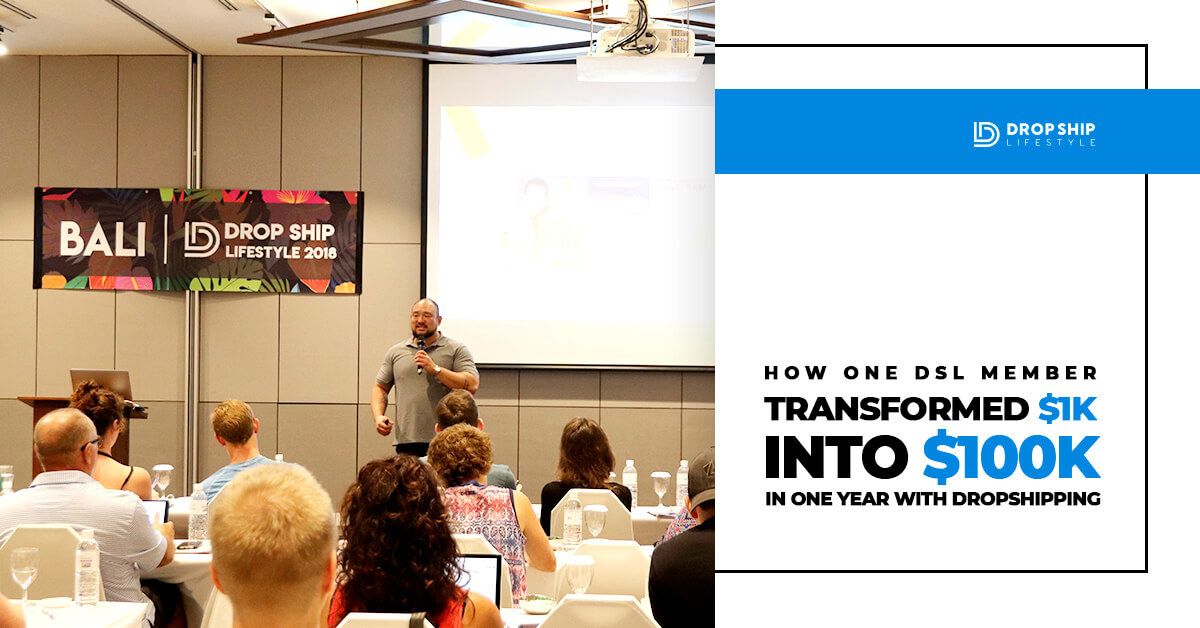 [Johnny Update: "I Retired!"] Transform $1K into $100K in One Year with Drop Shipping
Johnny Update: "I Retired!"
What would you do if you were able to retire early with your drop shipping business?
In the United States, retiring usually happens when you're in your sixties, if you're lucky. Everyone has a different idea of what they'd love to do when they retire too. But that means having a set income that will last you the rest of your life, allowing you to do what you want when you want to.
Judging by outer appearances, you probably couldn't guess that my friend, Johnny FD is retired and still heading towards millionaire status. At 35 years old, he's not your typical 'retiree' either.
Before his retirement, most people didn't understand why he was living in a "cheap" apartment, wearing everyday clothes and simple flip flops. He could have been living the indulgent, extravagant lifestyle of a successful dropshipper, but Johnny had a different end goal in mind: retiring ASAP.
Through bootstrapping 75% of his income into income-producing investments, Johnny went from having about $1,000 in the bank to being a 'half-millionaire' in four years!
The majority of his money is now in Vanguard index funds such as VTI and small cap value funds such as VBR. Below is a screenshot of his account.
In order to retire, Johnny then sold his second drop shipping store and used the profits from running those stores to further his investing. It was hard work building a self-generating passive income but it was what allowed him to comfortably retire early at 35.
For Johnny, that means true freedom to travel and discover the world. He can work hard pursuing a new hobby, or he can lounge around all day in a tropical paradise. Whatever he wants to do he can, thanks to his investment in creating a passive income.
Johnny definitely fits the bill as a successful drop shipper turned digital nomad too. Now he travels the world, living off of his passive income and the investments he worked hard to build these past four years.
What Johnny has done is quite the feat, but it is possible if you work hard. Below, he details exactly how he grew a $1,000 investment into $100,000 in just one year.
Yes, it's as crazy as it sounds, but read on and see how to start setting yourself up for an early retirement.
Transform $1K into $100K in One Year with Drop Shipping
Imagine investing $1,000 into something and watching it grow in value to $100,000 in just one year. To really wrap your head around it, think of it without the zeros, think of it as a way to take a single one dollar bill and have it magically turn into a one hundred dollar bill in a year's time. Would you do it? Would you take it? Of course you would.
Well, this isn't magic and it's not some get rich quick overnight trick. This is the reality. This is my reality and the reality for hundreds of other students inside the course. Most people are too busy to show you their success formulas but I'm happy to share. I'm going to show you step by step how to do it yourself and make it yours with the help of what you've already learned inside Dropship Lifestyle.
Your First Dollar
Most people overestimate how easily it is earn your first dollar online and underestimate how much money than can make over time.
The way any business works, whether it be a pizza restaurant or a retail store is the fact that the first customer is always the hardest to find.
When I first started my dropshipping store it took me exactly two months before I made a single penny. It was hard to get up every morning and put 6-8 hours of work in on my store without knowing if it would ever amount to anything.
But the good news is, if you can get over the hump and earn your first dollar, you can scale it from there. If you can make $1,000 a month online, you can scale that into $100,000 a year and in this post, I'm going to show you how.
Go out there and earn your first dollar online, you'll be happy you did, here's how to do it.
Investing in Yourself
The very first thing you should do when starting your own business is investing in yourself and in the tools required to get the job done.
The $1,000 Macbook Air I bought over three years ago has given me the tool to build my dropshipping stores, update my blog, and even record and edit podcasts all of which help contribute to me making over $100,000 a year.
The $1,000 I spent taking the Dropship Lifestyle course gave me the skills and knowledge to build stores worth over $100,000 as I'd average $2,000-$5,000 a month in profit per store.
The $1,000 in books I've read over the years has expanded my mind and given me to confidence to go from making $600 a month to making well over $100,000 a year currently.
The $1,000 in Shopify hosting I've paid over the year at $79 per month x 12 months has given me the platform to make well over $100,000 a year in sales for my dropshipping store.
How to Scale
If you're already making $1,000 a month profit from your drop shipping store, it's easy to transform that into six figures a year.
Doing the math you might think $1,000 x 12 = $12,000 which is a far stretch from the six-figure mark.
So what's the deal? What's the trick?
Before I tell you, if you're not already making at least $1k a month in profit. Scroll back up and read "The First Dollar" and "Invest in Yourself" again.
The harsh truth is, if you can't even make $1,000 how can you expect to make 100X that amount?
Stop reading this right now and go take action.
I wrote this post when I first started making $1,000 a month following Anton's course. I went from having less than $1,000 in my bank account to building the foundation to scale it into six figures.
When I first joined Dropship Lifestyle, I had a total net worth of less than $1,000 and now just in my checkings account alone, I have over $100,000.
The Six Figure Formula
Now that you have the basis and since you're reading this on the Dropship Lifestyle blog, I'm going to assume you have a dropshipping store built with Anton's method that makes over $1,000 a month in profit.
Here's how to scale that from $12,000 a year to six figures:
Optimize your Conversion rates: Increasing your conversion rates from 1% to 2% doesn't just double your profit, it actually increases it by 300% as you're still paying the same amount for advertising. Check out the course I created called Optimize Like a Boss for step by step instructions on how to increase your conversion rates. This alone can bring your store from $1,000 a month in profit to $2,000 which is $24,000 a year.
Scale your Store: How that your site is optimized it's time to add more suppliers, products, and increase your ad budget. Whenever someone asks what my ad budget is, I tell them as much as possible while being profitable! If you currently have 100 products selling at a 2% conversion rate and $300 a month ad budget, aim to keep your conversions at the same rate while adding more products and increasing your ad budget. This can potentially double or even triple your sales bringing your store up to $36,000 a year.
Rinse and Repeat: Once you've grown your store to it's maximum potential, it's time to start another store following the same formulas. If you start a sister store like Anton suggests in the course, you can potentially increase your income by another 10-20% just from referrals. But the real reason to start a second store is so you can sell your first one! Once your store has gotten 12 months of sales, can sell it for 20-30X monthly profit. I recently sold one of my dropshipping stores for $60,000 following this same formula. In the video below I explain exactly how I did it.
Final Thoughts
So there you have it, the formula to make six figures is to invest $1,000 into yourself first, focus on earning your first $1, grow that up to $1,000 a month, then optimize and scale it up to $2,500 in which case you can sell the store for $60,000 or more.
You can rinse and repeat this same strategy year after year or take that money and focus on other projects, travel or enjoying your life.
I hope this post both inspired you as well as gave you the steps required to make a six figure income. Joining Dropship Lifestyle has been one of the best decisions of my life and now I get to live anywhere in the world while earning more money online than I ever did at my 8-5 job back home in California.
HERE ARE YOUR NEXT STEPS...
​Join me for my dropshipping masterclass. ​You'll discover how our members are earning $300 or ​MORE per sale with the Drop ​Ship Lifestyle system:
​Johnny isn't the only success story from Drop Ship Lifestyle. He have thousands!! Are you ready to be the next DSL Success Story?
​Click here to register for our next free web class​ and ​learn how our students are making at least $300 each sale with their dropshipping store.