9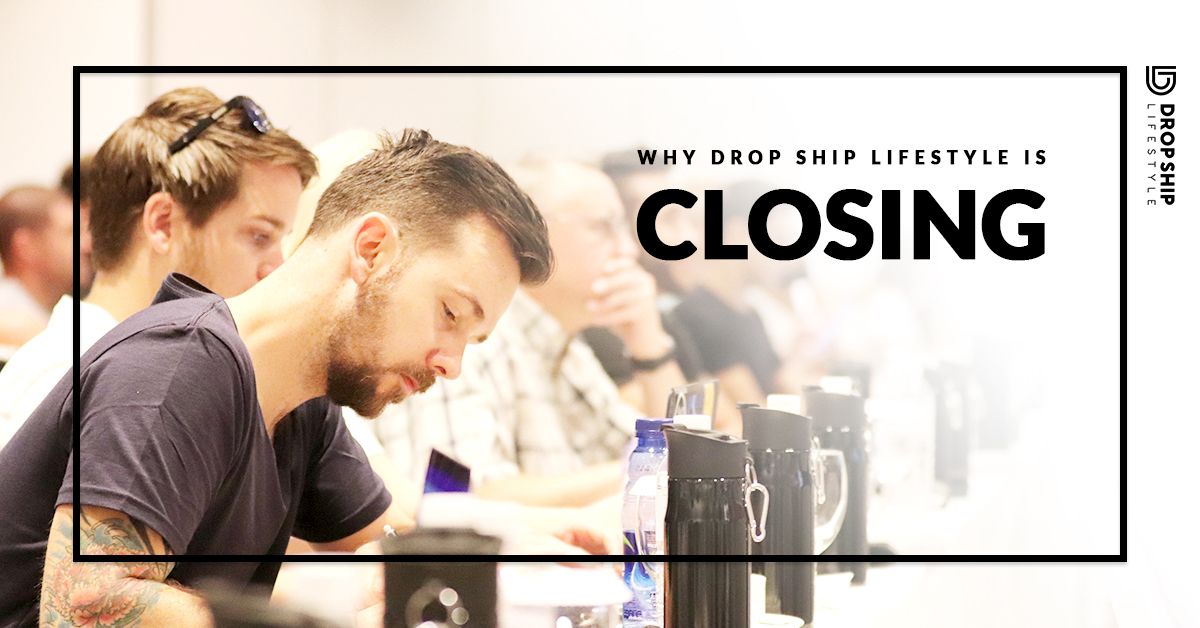 Why Drop Ship Lifestyle Closed
When one door closes, another new one opens. This new door is bigger and better than ever.
Warning: I'm about to be 100% transparent.
In case you haven't heard, Drop Ship Lifestyle is closed as of December 1st. If you're thinking, "Oh, I'm sure Anton is taking a break so he can go drink coconuts on the beach in Thailand," you're wrong.
Here's the thing….
I LOVE the Drop Ship Lifestyle community. It's an exciting community to be a part of.
The community currently has over 3,300 people (as of 2015 and growing) coming together and working hard to make our dreams a reality. And I love it. I really do. We've already had two successful retreats in Thailand that were more fun that I could have ever imagined. (Just writing about it now gets me excited.)
It's incredible to watch the success stories unfold in real time. I literally get to watch people go from scared and stressed about their income while living in their parents basement to traveling the world freely and scuba diving with their friends. I love this business because the community changes people's' lives.
As you may or not know, I am constantly updating our courses. In fact, before writing this post, I just created close to five hours of new content explaining step-by-step how to get highly converting traffic to your store. I'm also very active in our private forum.
Though as a business owner, there's always more stuff I can be doing. The to-do list is always getting longer. There's always a million things that need to be done.
Whether it's writing blog posts, working on our outsourcing strategy, answering email questions, creating more videos, chatting in the member's areas, etc. Trust me, you don't want me to keep going…
For the last few months, my team and I have been working hard trying to get new students to join the community. The more people we can help, the better. But doing this effectively takes a ton of time and resources.
So, why are we closing Drop Ship Lifestyle?
It's time to take a break from growth and revamp the member's area. We want to help our existing members grow their current businesses. We want to make the community fail-proof. So as of December 1st, 2015, 100% of our time and energy is going to be spent helping current students. With these changes, it'll help our members grow their businesses faster.
What's that going to look like?
New & Improved Members Area
We are rebuilding the member's area from the ground up:. It's going to be easier to navigate, more user-friendly, more organized, and more responsive. It'll look better and feel better. I honestly can't wait for this.
Better Training Videos
We're updating and importing our training videos:. We're adding hours upon hours of updated content that will help our current students grow their business. I'm constantly getting new ideas, and I'm going to use this time to create more content so our current students can get the best of the best. We've also added closed captions (subtitles) for people to watch the videos without sound, or to help non-native English speakers consume the content easily.
New Tools and Softwares
We're adding BRAND NEW tools to help our students get even better results:. These will save our students a ton of time and a lot of headaches. Developing new software take a lot of time, though. So we'll be working hard to make sure they are easy to use.
Mastermind Groups
We're improving our mastermind group onboarding to help members engage with one another and help each other along the way. We want to make sure that starting from day one, everyone is surrounded by a close group that won't let them fail. Sometimes it can take people a few days or even weeks to feel like they're finally a part of the community. We want to make people feel welcomed and start making connections in a matter of minutes.
Bigger and Better Content
We're adding advanced content to help our successful members to grow their businesses even bigger. This is advanced and detailed stuff that will help successful members take their businesses to the next level.
Plus, we'll be concentrating more on or blog making sure that we're consistently putting out valuable and engaging posts.
As of December 1st, my goal isn't to make more money, it's to make sure that all of my students succeed.
Fortunately, we do plan on reopening registration, but I'm honestly not sure when that'll be.
Though access to the forum and training videos are closed, we'll still be posting regularly on the blog, so don't worry.
Anyways, as you now know, we've got A LOT of work to do!
P. S. - Is there anything you'd specifically like to see in DSL 4.0? Let me know in the comments section below!