29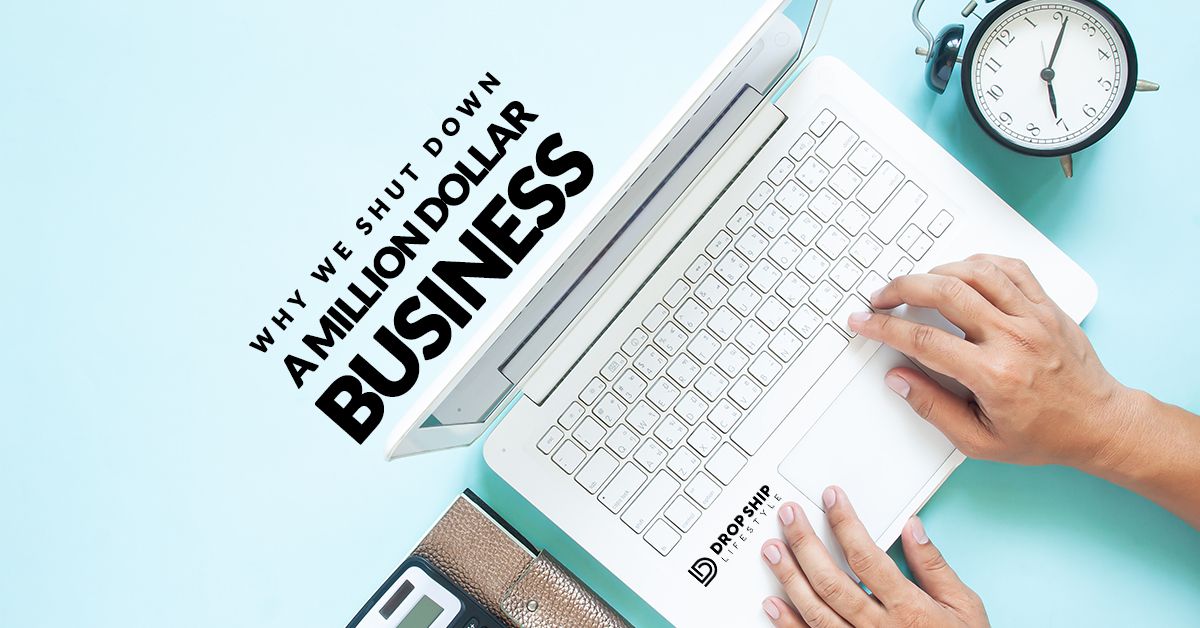 Why We Shut Down A Million Dollar Business [Behind the Scenes of DSL 6.0]
Fall has come and that means one thing, it's time to shut down my million dollar business again.
People always ask me why we close enrollment each year, and most of my friends think I'm crazy to do it. They say things like:
"You're missing out on sales and revenue."
"That's stupid, you're not going to get those potential customers to come back to Drop Ship Lifestyle."
But the truth is, it's exactly what I need to do to make sure my members have the best resources for eCommerce. So even if my friends are right, closing my million dollar business is still the best move for my current and future members.
This update is the biggest one yet and my team and I very excited to roll it out. All the parts we're upgrading and the new content we're adding is going to make it even easier to create a successful online business.
The plan for Drop Ship Lifestyle 6.0 is to completely revamp the site with new courses, resources, certifications and updated templates.
Even though I've done this before, it's always a little nerve-wracking to close down. Why? Because we have something that works, but as I teach in my course… you can always do better.
So what changed in 2017? Well, we ran more events than ever last year and that gave us some great insights to boost our business.
I also attended a lot of high-level mastermind events where I discovered some new trends that are having a huge impact on my businesses.
Over the year I've practiced these new techniques and know which will work for my members and which were passing fads.
It's that research and testing that continues to give value to our members. So even if you signed up 3 years ago, you still have a reason to come back to the site and see what's changing in 2018 for eCommerce.
Without further ado, let's dive into what's worth shutting down a million dollar business for. Here are the updates for Drop Ship Lifestyle 6.0.
User Experience & Brand Updates
First, we're updating the website itself.
User experience is a huge part of Drop Ship Lifestyle. From the content to the graphics and layout. We want the best experience for our members.
With that in mind, we are making the member's area more user-friendly. That way members can find what they need and focus on building their eCommerce business.
Along with the changes to the website, we're also upgrading Drop Ship Lifestyle as a brand. That starts with defining and sharing our core values.
We've always been about transparency and defining what we believe in is an important part of that.
More Ways to Choose Winning Niches
As you may know, one of the first steps to drop shipping is to locate your niche.
It's one of the questions we're asked most,"How do I find a good niche?"
To make sure you have the best answer to this question we've created a brand new tactical niche training!
In this training, we are drilling down on the most essential factors of good niches so that you can find a profitable niche.
New Paid Traffic Tactics
We launched our paid traffic course last year and it has helped our members take their businesses to the next level. With its success, we wanted to make sure that it's updated with the best strategies.
We also noticed something that people were missing...
People use paid traffic to get leads and sales, but there's another function that can have a huge impact on your bottom line, abandoned carts.
Click To Tweet
In general, people have been using paid traffic to get leads and sales, but there's another function that can have a huge impact on your bottom line.
Abandoned Carts.
We've seen that a lot of people still struggle with dealing with abandoned carts so we made sure to focus on that and how to sell more to your customers.
With these two updates, you'll be armed with the latest in paid traffic!
New Shopify Theme
Another huge part of eCommerce is your store itself. So to make sure everyone has a great looking store when starting out we've added a brand new Shopify template.
This template is optimized for conversions. That means not only will your store look great but you'll also get more sales.
This was put together by our master web designer, who also happens to be my sister Laura. She is the same person who does our 'Done For You' designs, as well as numerous other gorgeous sites.
Shopify Design Training
The whole "teach a man to fish" metaphor is perfect for our next feature. Because not only are we giving you a brand new Shopify template but we have a new course that teaches you how to design your site.
This means more conversions, referrals, and return customers.
In this new course, we cover how to take our template and truly make it yours through design. This has some huge benefits for your store, one being that you'll stand out from your competition.
Another huge benefit is that you'll have increased trust with your visitors because your site will look 'official', which is also helpful for getting suppliers.
Elevated Facebook Mastermind
One of the best parts of Drop Ship Lifestyle is our community, especially the Facebook group! With that in mind, we created a new space for members who've already succeeded and want to push their store even further.
It's the perfect place for swapping insight with people that are also established. And another reason to come back to check out the 6.0 course updates.
Certifications
Another thing that our members get stuck on is getting suppliers. We wanted to help with that AND ensure that everyone is finishing the program.
That's why in Drop Ship Lifestyle 6.0 we're introducing certifications.
With these certifications, you can prove you've completed the course and build trust with suppliers. Plus, who doesn't like proof that you accomplished something?
6-Figure Coaching Club
After 5 years of Drop Ship Lifestyle, we've gotten some really successful members. And we want to celebrate their success while helping them grow their business.
On top of that, we want all of our members to have access to these people. That way you can learn from members who've succeeded and reach your goals quicker.
With this new mastermind and coaching, you'll have more guidance than ever.
The team and I are super pumped (and a little stressed) for all these updates. They are worth shutting down a million dollar business for.
We can't wait for all of our members to take advantage of the new features.
Here's a quick recap of those features:
General look and feel update to the course for easier use
Shopify theme optimized for conversions
Shopify design training to convert more visitors into buyers
Tactical niche training - more ways to choose winning niches
Paid traffic course – discover our new 2018 tactics to decrease abandoned cart rates & capitalize on existing customers
6-Figure coaching club - access to our 6+ figure group coaching call masterminds and exclusive content
Elevated Facebook mastermind - members only mastermind for strategic drop shipping
Certifications - Secure More Supplier Approvals with our New Certifications
We use feedback from the community to decide the new features, so let us know about anything you're stuck on, we're here to help. Have any questions? Just comment below or reply to any of our emails for a quick answer.