4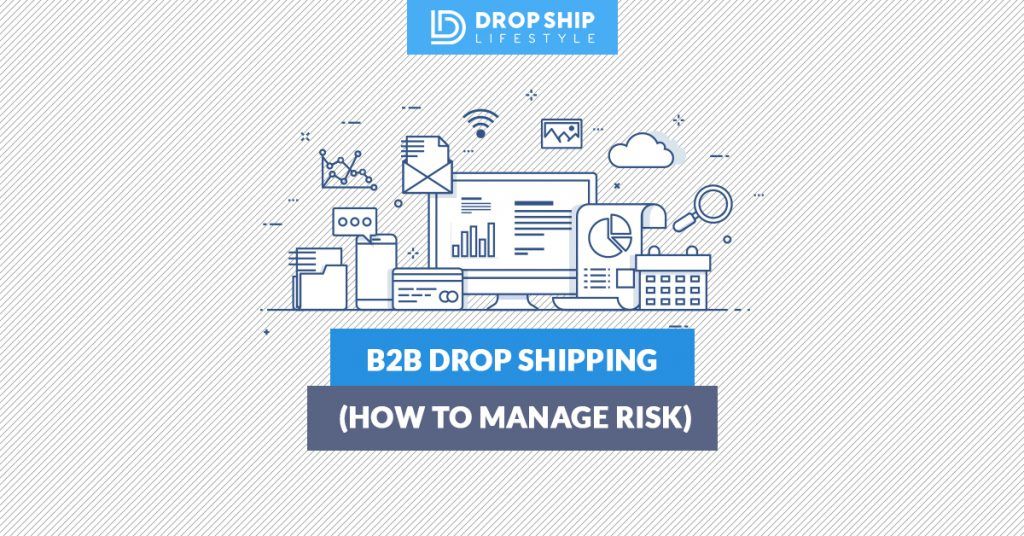 B2B Drop Shipping (How To Manage Risk)
The idea for this post came from a thread on our private Fast Business Forum regarding B2B drop shipping.
The post is titled "How I Handled a $57K Order" by user Preston_P.
I believe this is an important topic that we haven't covered in detail before... the majority of our stores focus on business-to-consumer sales (B2C), but everyone once in awhile we will receive a massive purchase order for a business-to- business sale (B2B).
This post will share what to do when another business wants to give you a lot of money.
The common emotional response is overwhelming excitement, followed by an overwhelming fear of risk.
Preston_P's post below will give you context and I'll give my feedback underneath:

Enter Preston:
How I Handled a $57K Order
I wanted to write up this experience so others can learn from it and so I can reflect and get advice from others on how to be prepared for similar situations. I might be calm writing this, but I can assure you I was pretty nervous throughout most of the situation as it was very high stakes for me. I'm in a mostly B2B niche, so I assume similar situations (for smaller amounts) will arise in the future as I continue to run this business. That is why I want to reflect here and prepare for similar orders so I can maximize my future profit and create smoother transactions.
So I got a call on my store's voicemail and they are asking about my most expensive product. They asked if the price can be lowered since they are interested in more than one. I start looking at the product and learning everything I can about it from my descriptions and the documentation I have from my supplier.
I gave them a call, I don't remember the details of what was said, but they wanted it in a certain color finish and they would like to get a quote. They tell me they already have 2 quotes, and they need a third from me. The product comes in two sizes, and they'd like a quote for both size types. They are in a hurry, and they need a quote "like yesterday." They are a large business with their own purchasing department. I'm like ohhh crap, I've never sold one of these, let alone more than one.
I also wonder who else they got quotes from? Is it for the same product and they are just trying to get the best price? Or, are they looking at another company's similar product? For this super expensive product, I know I'm one of two companies on Google Shopping. But, I think there are other companies who have it listed on their site (get organic traffic to it). Plus, the manufacturer will take orders for it directly.
In my head, I start thinking of how the transaction will likely go down. I've never been in a situation like this so I ask on a few eCommerce facebook groups for advice on quote terms and payment terms that are an industry norm. I search google and try to do the same.
Companies often will agree to pay like 40% down and the remainder due 30 days after delivery (net 30). My supplier requires 75% down payment for custom jobs (regardless of if you have credit with them, which I don't). So I quickly do the math and I will need over $25k to pay my supplier if this was the case (for 75% of wholesale costs). If I got 40% down payment from the customer after they send me a purchase order (through cashier's check or wire transfer), I'd need to come up with about $10k to be able to pay my supplier to start production, and then I'd need to pay them the remainder + freight shipping to get it to the customer (I would need to pay the other 25% before shipping since I don't have net terms with supplier, but maybe I could have negotiated credit terms on the 25% remainder of this order). Then I'd need to wait for the remainder of the payment from the client for 30 days (or more depending on if they pay on time). These are estimates I'm doing on the fly, I don't have the actual math I probably did at the time; hopefully, you get the idea. I instinctively know there is no way I want to do this, nor can I without finding some way to get some type of loan or financing.
So, I decide, screw it, I'm just going to quote them so that I get all the payments from them before I get it shipped to them. I give them the terms of 40% down to begin production, remainder due prior to delivery. I know these terms are probably unconventional, but this amount of money is probably nothing to this business, so I go for it. I quote at $42,747 and $44,997 for the two sizes. Here is an edited excerpt of one of the two quotes I gave.
The next day I think, I get a call back from the potential client and they say their other department is requesting some changes to the specifications of the product. Okay, let me find out if we can have that done. I'm feeling really down at this point because I feel like all the work I put into quotes for them, and they just change everything on me the next day. I honestly thought of just telling them no, that can't be done. But, I snapped out of it and called up my supplier to find out. (I hadn't talked to them about this potential order yet).
I called my manufacturer and asked them if they were aware of a company looking for multiples of this product? They said, "Yes, you are one of our retailers that submitted a quote." I tactfully asked, "Please stop me if I'm asking an illegal question or stepping on any toes, but are you allowed to submit bids also? I wouldn't want to compete against you directly as that wouldn't make sense. " They said they weren't (thank goodness). I asked if the modification to the product could be done. He said it could. But, he told me he was out of the materials needed for the change. He needed to get a quote on those materials from another company.
So, I had to tell the potential client that I had to wait for a quote for the upgraded materials before I could reissue a new quote with the proposed changes to the product. I never got any push-back on my payment terms, so that was good. My supplier got the new quote for me, and it increased my wholesale cost $1500 to $3k each (depending on which size they wanted). I also asked them for a rough estimate quote on shipping. These products are somewhat heavy, and anyways they told me it would be about $5000 to ship all of them (that was a basic quote too I think, no accessorials included, no extra insurance). I quoted my potential customer again. This time, I put in my payment terms 50% down to begin production, balance due prior to shipping. I estimated I would need to come up with about $5k to meet the 75% wholesale cost deposit with my supplier to begin production. Here is an excerpt from the more expensive quote. I estimated a $6k profit after shipping.
One week passes, nothing happens. My supplier asks me if there are any updates from the potential client. I tell them, no nothing yet.
A couple days later, I get a voicemail. My company has won the bid. Daaang!!! (I'm obviously pretty excited, but obviously nervous about moving forward as this is uncharted territory for me). I honestly didn't expect to win the bid. They still haven't decided on the exact color yet, or the size they want.
The next day, the client contacts me wanting physical color samples and CAD drawings. I ask my supplier, they say they aren't willing to release the CAD drawings until delivery due to the proprietary nature of the product. I have them send the product samples to me. Then I repackage them and send them USPS from my UPS suite return address, and from my company name. (The client's location was geographically close to me, otherwise I probably would have just let the manufacturer send the samples directly, but I didn't want their company name and address on there, let alone whatever other materials they might include in there with all their information on it...basically I didn't want the client to get any ideas about getting a quote from the manufacturer directly lol)
The client also sends me a vendor packet to fill out before they can send me a purchase order. But, they still want some type of visual representation of what they will be buying, just so everything is down on paper and they don't end up surprised with what they get. My manufacturer has some pictures of something similar they have done. I throw together a document with the pictures and dimensional annotations about the two different size options they can choose from and how the changes will alter the original product description (weight, dimensions, and other features).
I take a look at the vendor packet. There's a W9 Replacement form, a declaration of tax exemption, a general terms and conditions document, and the cover sheet of the packet says they have insurance requirements with checkboxes. This is what the coversheet they sent to me looked like. I'm not sure if they didn't check any of the insurance boxes in item #7 on purpose? In retrospect, I should have asked what insurance they required of me, but I didn't navigate this situation like that.
I don't have any insurance policies for the business. I quickly looked into a general liability policy and product liability policy. I didn't get very far in this search. This is an area I still need to look into, but I'm not sure if I should get any of these policies. I would only need a worker's comp policy if I had employees. And I would only need a worker's comp policy if I had employees going onto their premises to do work relating to the order (which I obviously don't). I wouldn't need an automobile policy. But, I would probably need a general liability and product liability policy in case they ever tried to sue me if the product somehow failed or someone got hurt using it? But, I have also read that in order for me to be liable, they would have to prove negligence on my part that the product was faulty (which I don't think is really possible, since I've never seen or touched it). But, regardless, I would still need to pay for defense fees to a lawyer if I didn't have a general/product liability insurance policy. This is the area that I'm looking for advice on. I need to know if it would be recommended to get these types of policies to be qualified for such future orders, or if such policies are likely a waste of money since the majority of products I sell in this business are extremely safe and I'm just a fulfilling orders with drop shipping.
I closely look at their terms and conditions document. There are the items that I don't feel comfortable with (click image to read):
So, I come up with a plan. Instead of looking potentially unprofessional asking about what insurance policies they require or seeking approval to amend their terms, I decide I'm going to see if my supplier will take over this order, take the payments directly, be responsible for the shipping, and all liability related to the order (whatever the client's purchase order happens to be, or if they decide to push back on payment/net terms). I will ask them for a commission/finder's fee for winning the bid and getting them the customer. I want them to take over the order at the same price and terms I quoted the customer. I know this will actually make them more money (because they will be getting more than wholesale pricing if they accept my proposal).
I talk to my supplier contact, he understands what I am asking for, he asks what commission I'm asking for. I tell him 6%. He says he will ask the president of the company. He gives me a callback and says that sounds good, but that I will receive a 6% commission not including shipping expense after they receive the order and deliver/ receive final payment. I tell him that's fair. So, this works out to be about $3k for me. A lot less than if I handled the order myself, but a lot less work for me too (scrambling to get an insurance policy together, processing payments, dealing with any shipping messes, more customer service, future liability, etc.). So, at 6% a commission, I estimate the supplier will receive an additional $2500-$3k over their wholesale costs they would have not received had I taken the order myself. A win-win situation that I wanted them to accept and glad they did.
Then, I put together a proposal email to the client about what I would like to happen. Here is a screenshot of the email (click image to read):
I talk to the client on the phone and give over the manufacturer's details to speak with them and get them the vendor packet.
I email my supplier contact and say, I hope the call went well, and that I had put the samples in the mail and the client should receive them in the next day or two.
He says, yes he thinks it went well. They are looking over the vendor documents the client sent them and will let me know how things go moving forward.
I get the 6% finder's fee commission in writing, and now I'm just waiting until they get the order.
About a week later, he lets me know they received the purchase order (for the more expensive customized versions at $57,297 total) and thanks me. So, now I'm just waiting for the delivery to happen and my check in the mail.
Would you have handled the situation differently? Do you have general/product liability policies? Any constructive criticism and advice are welcome!

Here was my feedback:
It's very common for business buyers to want to make a deposit rather than paying 100% upfront... it's totally normal and that's the way B2B sales are typically structured.
It's also 100% true that processing an order after only receiving a deposit puts more risk on your business because you're using some of your own capital and/or credit instead of theirs.
To eliminate the risk of this transaction, Preston decided to send this order direct to his supplier and receive a commission for the referral rather than the profits of the order. This lead to a nice extra payday that came with 0 risk.
Was this the right move?
If you're totally new to eCommerce and and unwilling to take on the risk required for the extra profit then this type of deal makes sense.
However, a fair commission for the referral should be paid and in the case shown above I do not think the true value of this referral was captured.
Preston had two options:
Option 1: Process the order himself and try to negotiate to at least a 20% margin
Option 2: Direct the customer to the supplier and negotiate a commission
As stated above, Preston went with option 2 and requested a 6% commission, which the supplier happily agreed to. This left at least 14% of net profit on the table.
There's nothing wrong with passing along risk (especially when first starting out and not having a bankroll), but you should always know your worth and get what you deserve. In this case I think 10 - 12% would have been more than reasonable as a commission.
I also talk more about how I would have handled this order in Episode #4 of Drop Ship Weekly:

I know this was a long post with a lot of info. I hope you found it useful and that it will help you to better manage your B2B orders.
With that being said, these large orders don't always require that much extra work on your part. Here's a screenshot that Leigh posted yesterday in one of our private Facebook groups:
$21k+ from 1 order that didn't require any pre-selling... not a bad start to the day at all!
Congrats to both Preston and to Leigh on massive orders on their drop shipping stores. They are both very well deserved.
So, what's your experience with B2B eCommerce?
I'd love to hear about it in the comments section.