20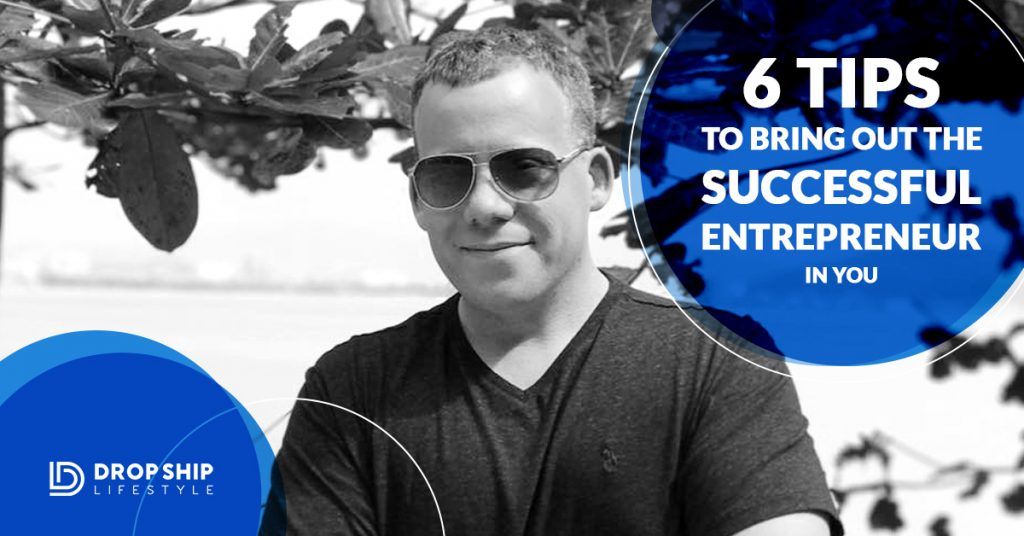 6 Tips to Bring Out the Successful Entrepreneur in You
After spending nearly a decade building and selling businesses, I can tell you a lot of success comes from having the right mindset. With the right mindset, you'll stay on track with your goals, find a supportive tribe, and create massive success.
To become an entrepreneur, you have to think like one. I recently came across an old video I did in Chiang Mai with my friend, Johnny FD. We created it together to share six of the best tips to get an eCommerce entrepreneurial mindset. (Plus, show off some of the fun we had as digital nomads!)
While marketing trends and paid traffic rules may change at a dizzying rate, other things are more reliable. As I was reliving my digital nomad days watching that video, I realized that those eCommerce mindset tips are ones that I still use every day.
Getting into the mindset of an eCommerce entrepreneur is the one step that holds so many back, and that's exactly why we're sharing my favorite tips:
1. Set Big Goals, Achieve Bigger Results
When you're first building your drop shipping business, you can't think small, only think big! Don't make little goals, make huge goals.
Instead of setting goals such as making a couple hundred each month with your drop shipping store. Set big goals, and even if you don't reach them, you can still be successful.
2. Follow and Replicate Success
Whether it's eCommerce or any other profitable online businesses, don't try to re-invent the wheel. Follow people in your area that are already successful. Find their websites, stalk their social media, join their email lists, and emulate what they are doing.
Find out what makes these people successful. Where are they getting the traffic and sales from? Who are they working with? Find that out, and do the same.
There is no reason to start from scratch. Find someone who is doing what you are and do the same, but better.
3. Stay Persistent, Especially in the Beginning
Stay persistent in your drop shipping business, especially when you first start. Whether you're uploading products to your drop shipping store, working on supplier contracts, or optimizing your website for better conversions. Just stay persistent, keep working.
Maybe it takes a couple of weeks, or even a couple of months? Regardless, keep working and stay persistent. My good friend, Johnny FD knows all about that. Had he not stuck with his first drop shipping store after the first several weeks, he wouldn't be where he is today. Stay persistent, it does pay off!
4. Stay Motivated by Rewarding Yourself
Staying motivated is easier said than done, but after more than a decade of being my own boss, I've learned a few tricks. An easy way to stay motivated is to reward yourself when you've met those goals.
Hopefully you've read The 4-Hour Work Week by Tim Ferriss by now, if so you're familiar with his dreamlines. To relate it to eCommerce, know before you get started, not how much money you want or need to make, but what you want to do once you have that money.
Spending time in Southeast Asia was one of my first goals when I began drop shipping way back when. And in 2014, I moved to Chiang Mai and rewarded myself with a beautiful place and a private rooftop that oversaw the whole city.
In the beginning, it could be small rewards such as booking a spa day once you make the first sale. Set goals and make them happen. Meeting your goals and getting the reward quickly solidifies the idea of your business. It will confirm that your efforts paid off and make you excited to make bigger and bigger goals.
5. Surround Yourself with Success
​
Tip #5 to creating an entrepreneurial mindset is an easy one: surround yourself with successful people. You've probably heard this one plenty of times before, but it's true.
When I first started in eCommerce, I spent several years working at home for myself. While I've always been productive working on my own, it wasn't until I found my first co-working space in Thailand that I hit a new level.
Working in a space with entrepreneurs from all over the world was empowering. I could come in every morning and talk business, learn, and grow alongside my friends. We were competitive in a way that most business friends are. We were always trying to one up one another while being helpful and supportive.
Maybe in your hometown you can't find a co-working space but that doesn't mean you can't surround yourself with successful people. Head over to Meetup.com and find groups that interest you, whether it's coding, internet marketing, or entrepreneurial networking, there is a group for everyone.
When you find a group, reach out and make them your new friends. I've found that most entrepreneurs by nature are willing and eager to connect. Finding a successful group of people to surround yourself with doesn't only increase your productivity and business, it increases your quality of life.
6. Get Started ASAP!
Not to harp on productivity, but this is a big tip if you want to create the mindset of an eCommerce entrepreneur. Once I heard this tip, my whole mindset shifted and my productivity was lifted. It's easy enough: when you have a project on your mind, something that you really think could work, start on it as soon as possible. Don't delay getting the ball rolling.
Something in our brains tells us that once we start a task, no matter how hard we think it is, it instantly becomes real and easier once we start. If you keep putting off that small task, or a big project, you're going to think it's a bigger investment than it actually should be.
The sooner you start working on your idea, the easier it's going to become. And once you get into the workflow, your entire mindset will change.
So get to work, make things happen, and I promise, you will be successful.
Heard a great tip that changed your mindset or workflow? Let me know in the comments!