47
The Truth About Amazon Drop Shipping
Subscribe To Drop Ship Lifestyle
There are a lot of different ways to drop ship, but the one I get asked about the most is Amazon drop shipping.
Just this year I was at my friend's wedding in New York and got to talking with some of my friends about eCommerce. Most of them are teachers or police that have some interest in making a little extra money in their spare time.
Usually these conversations are very beginner level. We typically talk about how much time needs to be invested, chances for success, and how to select products. But after a few Jack and Cokes, the topic of drop shipping on Amazon vs. Shopify came up.
That's when I decided to create this video to give you the truth about Amazon drop shipping.
I cover a bit about different types of drop shipping in the video, but I mostly want to answer the question, "Should I drop ship on Amazon?"
To help answer whether you should use Amazon to drop ship, I've put together some of the pros and cons of Amazon drop shipping.
Pros of Amazon Dropshipping
Pro #1: Very Large Audience
A lot of people are very concerned with traffic, and how to get it to their store. After all, traffic is the cornerstone of any eCommerce business.
One of the best parts of Amazon is that it has around 2.5 billion visitors each month that are looking to buy.
Now this doesn't mean that all that traffic is going to come across your door step… But it does mean there is already a pool of people ready to purchase, which is hard to pass up.
The good news is Google PLAs have even more reach, so if you do what I teach and build your own drop shipping store, you're going to have a rich pool of people to market to.
Remember, with Google PLAs you're only targeting those who are likely to buy. Rather than hoping that the right people show up to your dropship Amazon store.
Pro #2: Easy To Set Up + No Hosting
A lot of barriers to starting your own drop shipping business are technical ones. People think they have to be web developer to have a beautiful storefront. With Amazon, you aren't registering URLS, working with a hosting company, and doing a bunch of backend work on your site.
Instead, you just use their process and list products on their site. It is a lot less daunting to people who believe the myth that you have to know a lot about technology to create something that sells, something professional looking.
Cons of Amazon Dropshipping
Con #1: No Access To Customer Data
If you're new to eCommerce you may not know that having customer data is crucial to growing your business. With data and emails you can build a meaningful relationship with your audience, which you'll use to sell new products. It's called the Lifetime Value (LTV) of a customer.  
With Amazon drop shipping, you aren't privy to the customer data... leaving you with no way to scale your business.
Click To Tweet
With Amazon drop shipping, you aren't privy to the customer data… leaving you with no way to scale your business.
Con #2: Your Store Could Disappear Overnight
Now Amazon can use that customer data that I previously mentioned to discover what new niches are profitable and then expand their very own line into your niche.
This happens more often than you would think and pretty much shuts down your store overnight. Since Amazon owns every part of the transaction, they can offer a better price than you'll be able too.
Not to mention they will have their product rank above yours because it's their site after all.
Con #3: Not A Sellable Asset
One of the most exciting things about building your own store is that you're building a sellable asset. It's something that people new to eCommerce overlook. After you find some success, your store has a real value if you ever want to sell it. That's because buyers are interested in finding drop shipping stores that are already successful.
With Amazon, you don't have a sellable asset. It's almost a flea market type structure, where you pay for a booth. You don't own the flea market, you're just a vendor in it.
Con #4: Suppliers Won't Work With You (Especially Local)
With the flea market nature of selling on Amazon, a lot of suppliers won't want to associate their brand with you. Instead, if they want an Amazon presence, they will just set up their own store. Basically there is very little upside to work with you.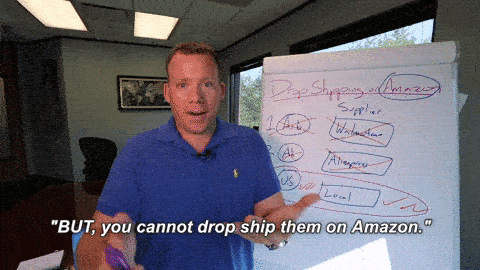 Now that you have some pros and cons, I want to talk about how you get products to sell on Amazon.
Amazon Drop Shipping with the Arbitrage Model
Arbitrage is the first way to drop ship as well as the most common way to run a dropship Amazon store. Basically, this model is buying from one place to sell in another.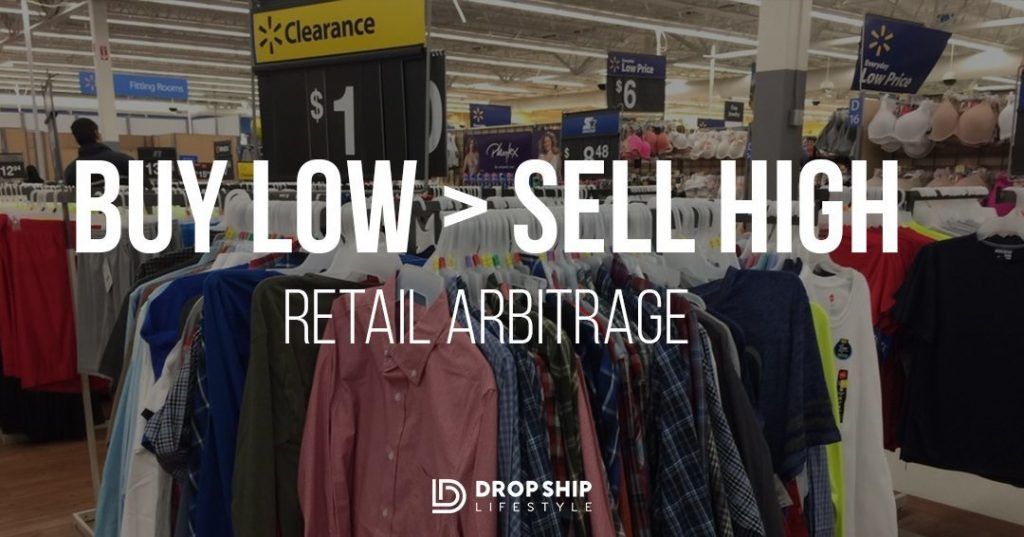 So in this example, especially working with Amazon, a lot of people try to source products from a company like Walmart. These drop shippers try to find products that are selling for a low price at Walmart, but are more expensive on Amazon! In this scenario, Walmart would become your supplier.
Now, here is the thing – can this work? The answer is, yes but it's not really a sustainable business.
Problem #1
One of the biggest problems with using the arbitrage model is having to constantly check if your products are in stock. You also have to continually search for cheap items so that you can actually make a profit.
Problem #2
If you use a supplier like Walmart, the packaging is going to come from their brand and that leads to serious customer service issues. Mainly, they will get buyer's remorse, resulting in terrible reviews and poor ratings. These issues could lead to your store being shut down.
Problem #3
It's not a business.
Plain and simple, with this model of Amazon drop shipping, you're not building a business. You are building a quick thing, trying to flip a product, and make a couple of bucks. Overall, I don't recommend this method to anyone for those three reasons.
Amazon Drop Shipping with AliExpress
If you are still set on Amazon drop shipping, your next option is to use a website that gives you a bit more freedom like AliExpress. AliExpress allows for more freedom by offering private label products.
With the arbitrage model, you are saying,"Oh, here's this branded product, like this Sharpie for example." Whereas with AliExpress, you could create private label or have no label on it.
For example, you could say here's "Anton's Famous Orange Marker". This leaves you with a little bit more control over the product.
Usually, the inventory is a bit better too. That is a direct result of actually having that business relationship with your supplier, albeit they're on the other side of the world.
Yet, using AliExpress to dropship Amazon products isn't without its flaws. If you want to drop ship on Amazon, you're going to run into the issue of long lead times. Even the fastest ePackage shippers on AliExpress(and I've tested all of them just to see) take weeks to deliver the item to your customer.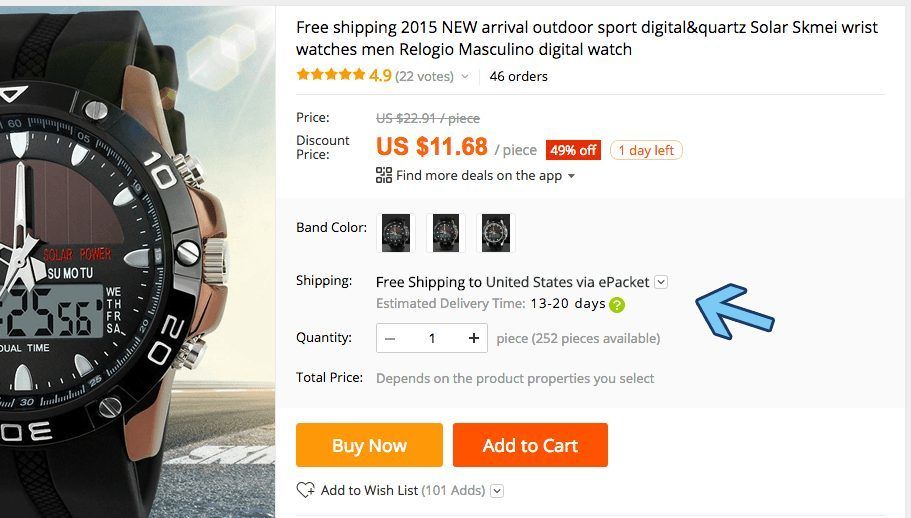 If you are any bit familiar with Amazon, you know how that stacks up against their shipping speeds. Most of the world is used to Amazon delivering packages in two or three days, not two to three weeks.
And guess what? On top of that, you're almost guaranteed to get negative reviews. And returns will be a bigger headache than your customers even imagined.  If your customer returns the product, it's not going back to China, it's coming back to YOU. Because of this, I do not recommend using AliExpress for Amazon dropshipping.
The way AliExpress drop shippers usually make money is by selling on their own Shopify stores. The reason they do that is because on Shopify you can get away with a less-than-perfect customer service experience.
If your customers on Amazon aren't happy, they will tell the world and you could get banned from the site.
Amazon Drop Shipping Domestically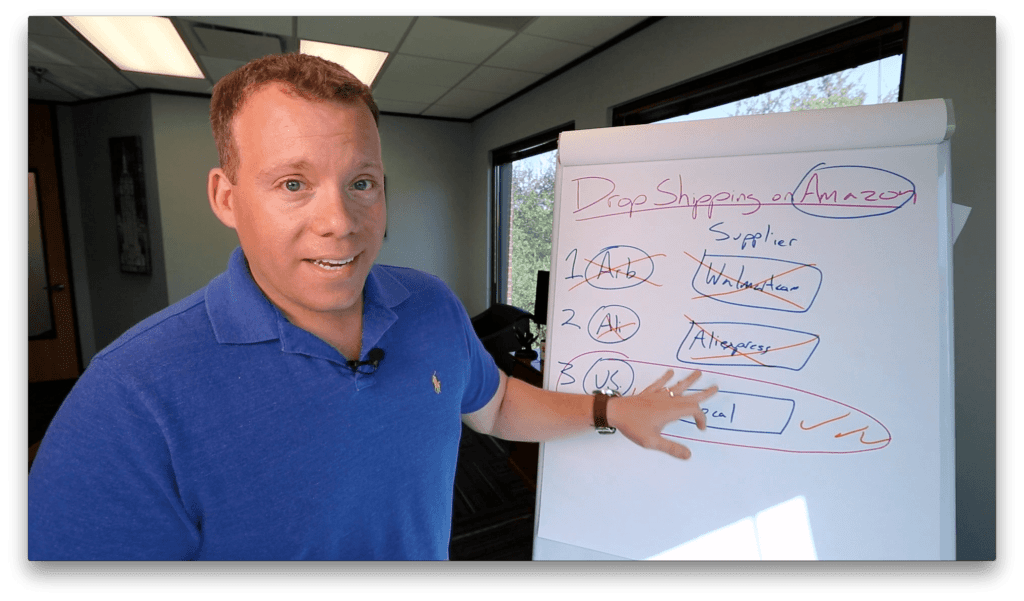 The third model for Amazon drop shipping is really the only sustainable choice and that is finding domestic suppliers.
The best example I can give you would be if I sold whiteboards and flipcharts. If I had a good business relationship with the suppliers, I could ask, "What's my cost, what's my wholesale cost, what's my MAP cost, and what's the MSRP?"
Then I sell the flip charts and the company fulfills the order, we're all familiar with that process! This model is one that works well for Amazon dropshipping.
It's what I teach my members to do for finding their drop shipping suppliers. I use this model because it's what works.
Think of it this way, basically you're selling these products that are on Amazon, and your supplier is in your home country. When an order is placed, you tell your supplier to ship them out, and a few days later your Amazon customer gets their product.
After that, they are either happy with your product or they aren't. Either way, if it gets returned, the product goes right back to your supplier (instead of your house).
Amazon Drop Shipping Wrap Up
I hope you found this explanation helpful. If you were excited about Amazon drop shipping and I just burst your bubble, I am sorry. But the truth is, Amazon drop shipping shouldn't be your first or second business.
Because after 10 years in eCommerce, I've found that creating my own stores is the best way to drop ship profitably. Working with legitimate brands, developing real business relationships, building a real business, and using Google as the primary driver of sales.
If you want to try Amazon drop shipping, I'd only do it after building a few successful Shopify stores. That way you have a steady income and won't need to rely on just your dropship Amazon store.
So hopefully you got value. If you did, please leave a comment below. If you have any questions, do the same. I'm more than happy to get down there and help you out.