52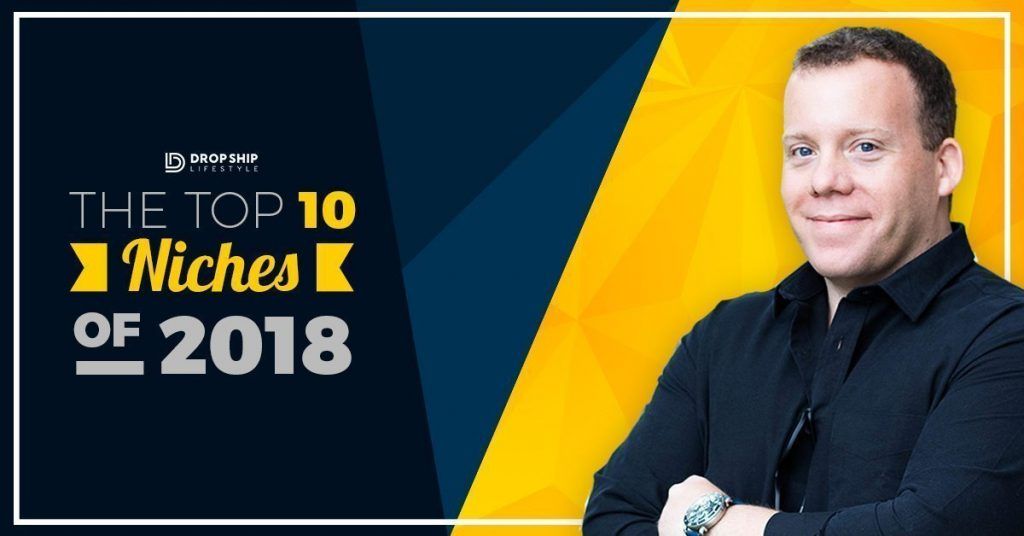 The Top 10 Niches Of 2018
Welcome to your top 10 niches of 2018.
Niche selection is the first step to creating a profitable eCommerce business. That's why we focus on it heavily in the Drop Ship Blueprint!
It's also why every year we analyze which niches are giving the most return and why. That leads us to new profitable strategies and finding the top 10 niches that work with these strategies.
This is the fourth year of our analysis and that means another 10 of the best niches for eCommerce, totaling to 40 niches! It's really a niche timeline, and if you're following along with my course, any year's niches could work for you.
Top 10 Niches of 2015:
2015's top 10 niches were all about hobby niches. People are passionate about their hobbies and will gladly spend top dollar to support that passion!
The best part? These passionate people can be targeted over and over again with new content that can be loaded into your email autoresponder. You can target the same customers repeatedly by delivering real value that they'll love and want to share with their communities.
For you, this means less advertising costs, more qualified traffic, and more loyal customers. Out of all the hobbies that are popular right now, we found that these top 10 niches (in no particular order) were winners:
Aquariums

Backpacking

Deep Sea Fishing

Home Brewing

Bowhunting

Model Trains

Arts & Crafts

Gardening

Doll Houses

Scuba-diving
These top 10 niches have a lot of opportunities to use smaller offers for building trust with your customers. That way they're comfortable buying your main offer. Also, you can make some great free content with these niches to attract potential customers.
Top 10 Niches of 2016:
Here are the top 10 niches of 2016 and some ideas for upsells:
Power Tools -> Value Added Upsell Idea: Woodworking Plans
Drum Sets -> Value Added Upsell Idea: Drum Lessons
Gun Safes -> Value Added Upsell Idea: NRA Membership
Wall Paper -> Value Added Upsell Idea: Interior Design Consultation
Snowboards -> Value Added Upsell Idea: Snowboard Bags
Trampolines -> Value Added Upsell Idea: Safety Net
Fireplaces -> Value Added Upsell Idea: Fireplace Screens
Desks -> Value Added Upsell Idea: Office Chairs
Home Bars -> Value Added Upsell Idea: Bar Stools
Above Ground Pools -> Value Added Upsell Idea: Pool Covers
Top 10 Niches of 2017:
Each year we are learning and building on what we found out the previous year. So not only are we looking for passionate segments of customers, but we want to have a high upsell value to get more money with each transaction.
In 2017, we focused on passion-based niches that you can create Facebook groups around and become a leader in. If you build a thriving community around your products you'll get a ton of organic and referral traffic, which means you'll be able to sell more to your customers!
These top 10 niches are broad while still being specific. Meaning there are a lot of associated products you can sell with/after they purchase your main offer. Which means you'll have huge upsells on the main offer AND be able to continually sell to them after!
Why Build A Community?
Building a great community will turn you into a trusted authority to your customers and newcomers alike.
Facebook is a destination, a habit, a way of life. So if you can tie your brand to their Facebook AND have them interact, then you become more than just a drop shipping store. You become a destination, a habit, and a way of life.
Just look at the average daily social media to see the potential:
Facebook comes in second place with an average of 35 minutes per day! That's huge. You could have people's attention tied up with your brand for 30+ minutes EVERY DAY.
So what niches are perfect for building Facebook groups?
Here are the top 10 niches of 2017 for building communities with:
MMA Training Equipment: Take advantage of the buzz created around fights
Spelunking: It's a competitive hobby, think photo bragging rights of "who climbed into that really really small hole". Plus it's usually a group activity.
Survival Prepping: Think "Doomsday" Preppers.
Exotic Pet Supplies: People, LOVE their pets, and they also LOVE talking about their pets.
RC Cars & Planes: Not just for kids. Adults pay some serious bucks for this niche.
Rock Climbing Equipment: Also a group activity. Many rock climbers join local climbing Facebook groups to meet fellow climbers & talk "rock"!
Lawn Care: These are the type of people who win "Lawn of the Month".
Robot Building: Another expensive "toy" for adults. There are even robot competitions!
Bio-Hacking: Huge trend that has grown in popularity over the past few years.
Amateur Photography: So many accessories to talk shop about: light boxes, stands, green screens, filters, etc.
With these top 10 niches, you can build up an active Facebook group that your customer will love to interact with. More importantly, you'll have a brand that they'll love to buy from!
Top 10 Niches of 2018:
Can you believe it's already 2018? Time keeps flying and we keep selling, which means our top 10 niches list keeps growing!
Now if you scroll up to the top of this list you will see we started sharing our top 10 niches back in 2015. You'll notice that some of those items are great for one-time purchases, but many provide opportunities for repeat customers.
Imagine if you started with one of those niches back in 2015 and still had the same customers coming back to your store to buy more. You'd still be making money off a customer you acquired over 3 years ago!
Here are the top 10 niches of 2018 for gaining repeat buyers:
Racing Bicycle Wheels (New Tires = Repeat Sales)
Skeet Shooting Launcher (New Skeets = Repeat Sales)
Grills / Smokers (Wood Chips = Repeat Sales)
Video & Photography Lights (New Bulbs = Repeat Sales)
Pottery & Ceramics (New Material = Repeat Sales)
Automatic Pet Feeders (Pet Food = Repeat Sales)
Mobile Bars (Restocking = Repeat Sales)
Commercial Restaurant Equipment (Restocking = Repeat Sales)
3D Printing (New Material = Repeat Sales)
Bow Hunting (New Arrows = Repeat Sales)
With these top 10 niches of 2018, you'll be able to acquire customers that will buy from your dropshipping store for years to come. This means you'll have a much higher customer lifetime value and a higher ROAS (return on ad spend).
Keeping long-term strategies in mind will not only help bring in a consistent cash flow but will increase the value of your store over time. Meaning, If you decide to sell your store, it will be worth more.
Now you have 40 of the best drop shipping niches from the last 4 years! With these ideas, you can get started creating your own eCommerce store. And finally, live the lifestyle you've always wanted.