5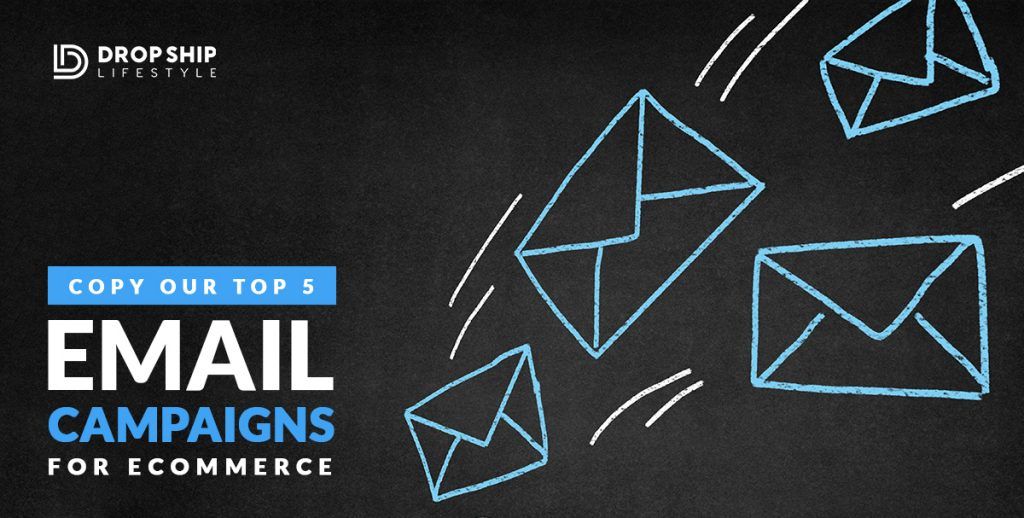 Copy Our Top 5 Email Campaigns For eCommerce
Email is the cornerstone of great eCommerce. It's the oldest, most personal, and most effective digital marketing tool that a drop shipping business can use.
Last year there were 3.7 billion email users globally. This figure is set to grow to 4.1 billion user, by 2021. By the end of this year, the amount of mobile users is estimated to be over 2.2 million
On top of the incredible amount of people you can reach, the return on investment for emails average around 124%! Which far exceeds other marketing channels.
Using automated email funnels (most commonly referred to as sales funnels) can grow your monthly revenue by 30% on average. However, doing it properly is a challenging task for someone new to email marketing.
Believe me. I know that writing proper email campaigns can be tricky. This is why I put together today's blog - featuring 5 of our most successful email campaigns.
5 Email Marketing Campaigns for eCommerce Stores

I invite you to take some inspiration from these email campaigns and apply them to your campaign. If done correctly, you could increase your monthly revenue by 30% or more... not a bad deal.
And that might sound crazy, but what I am about to share with you in this article literally requires no extra work. Once you implement these email campaigns, they'll generate revenue in the background.
There's no magic, tricks, or brand new secrets that others haven't figured out before. These are common business practices that work on almost any drop shipping store. And if done correctly, they could work on yours as well.
Understanding The Sales Funnel's Place In Your Drop Shipping Business
Before we dive into the sales funnels themselves, I want you to have a strong understanding of how they will work in your business.
So let's break down the drop shipping business model real quick.
Before we implement sales funnel strategy, we need to build our store with Shopify. It's the best platform for drop shipping, hands down.
Marketing revolves around your drop shipping store – it's the heart and face of your business.
Next, we have all your traffic sources. This is how you attract customers to your drop shipping store. If you're part of Drop Ship Lifestyle, then you're definitely using...
Google PLAs
Bing Ads
Blog banners
Facebook for remarketing
Instagram
Pinterest
YouTube
Organic search
Once they arrive at your drop shipping store, some of them are going to buy right away. That's the best case scenario, but they will often come to your website and not buy.
The visitors that don't convert are still very valuable leads. We'll cover some of the sales funnels that take advantage of them later in this article. Just know that you can always use remarketing with social media channels like Facebook.
Finally, we move onto sales emails.
Sales Funnels Basics
With automated email campaigns, once someone buys, the real marketing begins. You'll put together a series of emails that are automatically sent after certain triggers. An example of a trigger is when a customer buys something.
With automated email campaigns, once someone buys from your Shopify store, the real marketing begins.
Now, you are probably wondering...
What are in these emails
How long are the email sequences
What's each sequence's goal
How do you set them
When using Shopify, I like to use the email service Klaviyo.
They call their email sequences 'flows'.
So we setup flows that are triggered by Shopify actions. It acts similarly to a Shopify app that directly connects to your drop shipping store.
Shopify Triggers
Post Purchase
If someone goes to your Shopify Store and they place an order, that customer and all of their information gets transferred from Shopify into your Klaviyo account. Your Klaviyo will know that they are a new customer and kick off an automated email sequence.
Abandoned Cart
If someone starts the checkout process but doesn't complete their purchase, they are considered an 'abandoned cart' lead. This a common trigger for email campaigns. When that happens, Klaviyo will be triggered and start an automated email sequence trying to get the potential customer to finish their purchase.
The ability to send abandoned cart emails is also baked into your Shopify store. So even if you don't use a third party email services like Klaviyo, you can at least implement this email sequence into your business.
Opt In
Another common interaction with your drop shipping store visitors is when they opt in for a promo. You can attract these leads with promotions that give 10% off, free shipping coupons, or free content.
After someone becomes a lead, there are a few different email sequences that you'll send. One email sent will introduce yourself and build trust. This email campaign is called the initiation sequence.
The next email campaign is the engagement sequence, meant to build value and get the customer acquainted with your brand.
Lastly, there are even based promotional sequences that these leads will be served throughout the year.
The Biggest Benefit of Klaviyo
Once your automated email campaigns are set up, all you have to do is monitor them. This is why I recommend using something like Klaviyo with Shopify, as it actually ties revenue to your emails.
This allows you to see how much revenue is tied to any one of your email campaigns.
Now, let's talk about what these campaigns will look like.
I am going to give you five different email campaigns that literally any drop shipping store can use.
Email Campaign 1: Initiation
The first one is the initiation email campaign. Now, what does initiation mean? It means you are introducing someone to your brand. This is a campaign that gets sent to all new leads.
So if someone becomes a lead on your website, it doesn't matter where they come from...
They could be a new customer
They could be an abandoned cart
They could have opted in for your newsletter
They could have opted in for a promotion
It doesn't matter. If their email address is new in your system, they get put into these email campaigns.
The goal of the initiation email campaign is to introduce people to your brand. You are trying to get people to know, like, and trust us. That way, they eventually buy and continue to buy from your drop shipping store.
The email campaign isn't there to make money. It will help us make money eventually.
The initiation email campaign is a three email sequence.
The first email goes out instantaneously. When someone becomes a new customer, abandons their cart, or opts in for your newsletter - email one gets sent out right away.
Then we have a 24 hour delay timer. Again this is automated. You set it up once and Klaviyo knows that it's been 24 hours since your lead received the first email.
We then have another 24 hour delay timer, and that's when email three of this email campaign gets sent out.
Again, this email campaign isn't going to make you money directly. People aren't going to be clicking links in your emails to spend money.
But here's the thing...
This is going to be your biggest long-term money maker. The other email campaigns covered in this blog all make money too. This email campaign is going to lead to the most money in the shortest amount of time.
Email Campaign 2: Abandoned Cart
This email campaign is going to be your biggest money maker. That's because the audience for these emails has already shown you buying intention. They've already shown you exactly what they wanted. You just need to finish the sale.
There are plenty of reasons why someone would abandoned their purchase.
They became busy before they could finish the purchase
They want to do some more research before buying
Something technical came up on their end
The list goes on and on, but what you know for sure is that they were only a few clicks from buying your product.
At this point , it's your job to get them to come back and buy. So this email campaign goes to everyone that begins the checkout process and doesn't purchase. Again, this is automatically triggered by your Shopify connection to your Klaviyo account.
Or like I said above, Shopify has the ability to send this particular email campaign with the basic setup. So there's no excuse to not have this setup for your drop shipping business.
This email campaign is made of six emails sent over ten days.
We're literally following up with people for 10 days telling them, "Hey, you still have this item in your cart. You can go back and buy it."
The actual messaging in your emails won't be this basic, but that is the intention of this campaign.
We don't just email people the same thing in all six of these emails.
We offer coupons
We ask people for feedback
We get them to re-engage with us
We are trying to start a conversation so we can get them to buy.
But when you set this up in your Klaviyo account, emails one and two of this email sequence happen within four hours and twenty-four hours. These first two emails are going to make the most money.
The others are still good to have as reminders, but the first couple emails in the series are the ones that are going to make you the most money.
Email Campaign 3: Post Purchase
The third email campaign is the post purchase sequence. This email sequence is triggered after someone buys from your Shopify drop shipping store.
Reducing Buyer Remorse
One goal with this email campaign is to reduce buyer's remorse.
Buyer's remorse is a real thing. And we want people to feel confident with the purchase they just made on our store.
If you do high-ticket drop shipping like I teach in Drop Ship Lifestyle, most of your customers are going to be first-time customers. One goal of this campaign is to reinforce that decision they made. Let them know that they spent their money wisely and that you're going to treat them right. This lowers your refund and return rate, which is very important in my high-ticket drop shipping model.
Increasing Lifetime Value Of Each Customer
Another purpose of the post purchase email campaign is to increase the lifetime value of each customer. Lifetime value means how much money a customer is worth to us overtime.
This comes in many forms like upsells, cross-sells, and referrals.
Getting Testimonials
The final goal of these post purchase email campaigns is to capture testimonials.
It's no secret that having reviews from different customers on your website increases conversions. And there is no better time to ask for a testimonial than within the first couple weeks after they purchase.
This email sequence is made of nine emails sent over 14 days.
It starts right after they buy. The customer wants information on their order and when it's going to ship. While you're filling them in on their progress, you'll mix in some messaging to help reduce buyer's remorse.
You can reduce buyer's remorse with messaging about...
Your brand
Why you started your drop shipping business
Why you care so much about your customers
In the middle of this email sequence we are doing things like offering discount codes, offering complementary products, other things that would benefit this customer.
Finally towards the end of fourteen days, you'll go for the testimonial. You'll get your customers to send photos of the products in their homes, videos, and fill out surveys.
Email Campaign 4: Engagement
The fourth campaign that you are going to set up is what we call the engagement email campaign.
Up until now we have had leads coming in from a few very specific triggers, but what happens after they finish those email sequences?
What if they don't buy, what if they're just sitting there on the email list? Well, that's when they become part of your general email list, which you'll want to keep engaged.
This email campaign is focused on keeping your brand in front of your leads and customers. You want them to think about your business as often as you do.
These emails are typically content based - and I'm not going to get into what kind of content you should create for your business – that's covered in Drop Ship Lifestyle.
These engagement email campaigns could either be sent weekly or bi-weekly. They are basically like a newsletter.
Some messaging that you can feature in these emails are…
Announcing a new supplier
Introducing a new product
Talking about what's going on with your business
By sending these emails, you're keeping people engaged with content surrounding your industry. This is why it's called engagement.
This keeps all your leads and customers warmed up for the next email campaign/promotional email sequences.
Email Campaign 5: Promotional
Now, campaign number five is the second biggest direct moneymakers after abandoned cart email sequences.
These email campaigns are promotional, event based email sequences targeted to your entire email list. It doesn't matter if they are customers or if they've never bought from you before. Everyone on your list is going to get these promotional emails.
Now when I say event based think – Black Friday, 4th of July, Easter, and Christmas. Every single chance you have to run a promotional email campaign, you should run one. It could even be the same things you normally do like giving ten percent off, free shipping, or offering a free bonus gift.
Whatever you use to incentivize customers, you can just use it again. Just set up a promotion for it.
I am not going to dive into all the details of what these emails should look like right now. That's literally what my course Inbox Funnels is.
(It's almost a 10 hour course with 35 email templates.)
Just know that once someone's on your email list, they are in your ecosystem. They either opted in for promotion, joined your newsletter, abandoned their shopping cart, or made a purchase from you. Whatever it is, they're in your world.
After that, you're keeping them engaged by sending them content emails either weekly or bi-weekly. Then, when there are events throughout the year, the engagement emails switch to promo emails, and the goal is to close more sales.
So all the people who've been following you but haven't pulled the trigger yet… promotions are the time to convert them.
So what are you waiting for? It's time to start building your email campaigns and make more revenue with your business!
Are you currently using automated emails sales funnels for your business? Do you have any questions about these sequences? Let me know in the comments, and we'll have a conversation.