8
Drop Shipping With No Credit
One of the most common mental roadblocks is wondering if you can start drop shipping with no credit. It's something that stops people from building their eCommerce business and something I'm asked about often: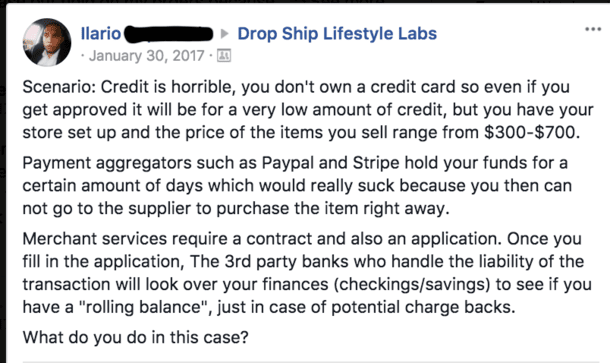 Maybe you screwed up your credit, overspent or didn't pay your bills. Maybe you're young and never had a credit card (or old and never had a credit card).
In any case, you may be wondering if you can get into drop shipping with no credit...
The answer is YES you can.
With that being said, I want to take a step back and show you why that's true and how you can actually use drop shipping to build your credit.
Payment Options
When you're applying to suppliers using the Drop Ship Lifestyle model, they're going to give you two payment options.
Option one is by signing credit terms. Drop shipping suppliers will offer what is essentially a credit line by giving you 15-45 days to pay the invoice of what your customer ordered. They will send the products out right away and you'll pay later.
The second option is to prepay your supplier, which means as soon as the order is submitted, you pay them the cost and they ship it out to the customer.
Using Credit Terms To Pay Suppliers
With credit terms, you may think having more days to pay your bill is good because you can free up cash and pay later. That's true but it's where the benefits end. I will show you why prepaid is always better even if you have an 850 credit score.
When your suppliers ask if you want to pay with credit terms, you're going to say no.
If you go with credit terms, you would have to submit bank statements, personal references, business references, credit report, and D&B score if you've been in business a long time.
Drop shipping suppliers have to be rigorous because they're basically extending a credit line to you and putting their money on the line.
Pre-paying Drop Ship Suppliers
I recommend you always use the prepaid method for your orders. This means once an order is placed on your website, you'll pay your drop ship supplier and they'll ship it to the customer. This doesn't mean you'll have inventory or pay cash in advance, you're simply paying before they ship it.
Your Pre-pay Options
Even with the prepaid option, there are a few different ways to pay your drop shipping suppliers. The good news is that most of these methods will allow drop shipping with no credit.
Credit Card
The first option is paying with a credit card. With this option, the supplier will have your card on file to charge when orders come in. That way you're processing the order right when it comes in on demand. This is the best pre-pay option in the long run.
Debit Card
Your second option is using a debit card. This isn't available for all suppliers, but a lot of them allow you to use it.
Dwolla
If the supplier doesn't take a credit or debit card, Dwolla is a good alternative to pay your suppliers with.  This online payment system is easy to use and only has a tiny fee of $0.25. Dwolla really is your best choice for drop shipping with no credit or if the supplier won't accept credit.
Paypal
Paypal is an option, but one that we avoid using at Drop Ship Lifestyle. There are a lot of stories of Paypal holding onto payouts for various reasons, delaying payment and throwing your business into chaos.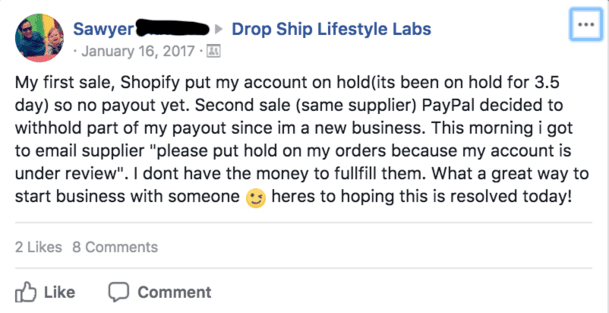 So even if a supplier accepts Paypal, that amount of uncertainty makes it a poor choice for paying your suppliers with.
Check
A lot of the old school suppliers will want you to pay with a check. I always try to avoid this because there is little to no upside. It is a huge hassle and takes time and effort, without any reward. So if your supplier asks for payment by check, don't do it.
Advantages of Using A Credit Card
This article is for people that are worried about their credit. So I recommend that if you have no credit, you should start your business with a debit card or Dwolla.
But if you have the option, using credit cards is your best choice. That's because it gives you an extra advantage with high ticket drop shipping business due to how much money is processed.
With our credit cards, we spend multiple-six figures a month with our suppliers. We pay for shipping costs and ads. That allows us to build up so many points with the credit card rewards program.
That way you can earn cash back, mileage, and other great perks!
Here is the card I use that lets me travel for free:
How To Build Your Credit Quickly
If you have bad/no credit I have some great news for you. With your drop shipping business, you can rapidly improve and build your credit!
After you get your business up and running you can rapidly build your credit with a secured credit card. All you need is a good amount of savings built up.
The secure credit card acts as a reserve for the bank. I personally recommend a Capital One secured credit card. They put your reserve of money in a CD (certificate of deposit) and give you a credit card with something like a $5,000 credit limit.
You won't be using this credit card like a normal person. It's a business credit card, so you're going to max out your card and pay it off over and over. This will drastically improve your credit score in no time.
As your credit score goes up you should get a rewards card. With that, you can get take advantage of the free travel and cash back.
Not only can you start your drop shipping business without credit… but it's also a great way to improve your credit! Click To Tweet
So the answer to whether you can start your drop shipping business with no credit is not only yes… but it's also a great way to fix that problem! It's another reason eCommerce is the best choice for starting your own business.
Drop shipping with no credit was also covered in this previously recorded video:
Subscribe To Drop Ship Lifestyle
Hopefully, you found this article helpful if you have any comments or questions write them below and we'll have a conversation.