7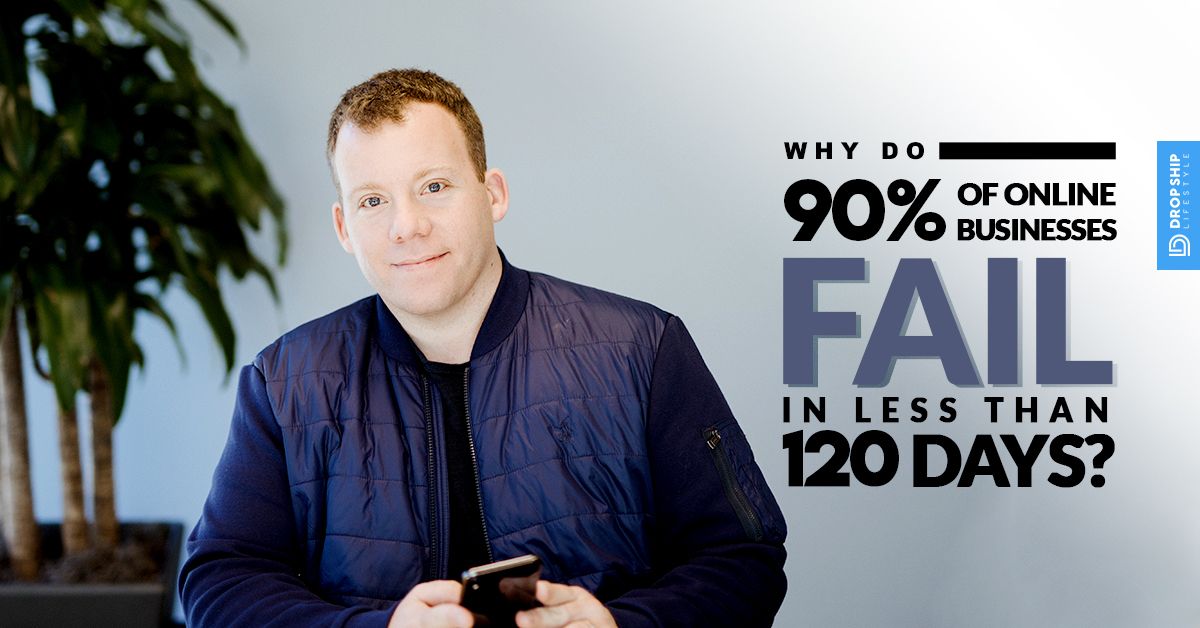 Why Do 90% of Online Businesses Fail in Less Than 120 Days?
Did you know that 90% of businesses fail within the first 120 days?
Sounds crazy, right?
Well, that common statistic about business failures might not be ​true after all.
My team and I did some research on business failures.​ In doing so, we decided to create this blog post based on what we found regarding the 'exact' percentage of businesses that fail.
​​I wanted to research this statistic on business failures because ​of the ​amount of worried messages ​we get on the topic.
So to those people worried about failing at dropshipping because they've heard nine out 10 businesses fail... Let me explain something to you: that's just not true.
Even if it was, who cares?
In this blog post, we'll cover the most common business failure statistics, and whether there's any truth to them. Then, I'll get into the common characteristics of businesses that fail– and succeed.
Alright, let's get into it...
What You've Heard About Business Failures is WRONG
Imagine a quarter. If I flip that quarter, there's a 50% chance that it'll be heads. If I bet the coin lands on heads, then my chances of winning that bet are 50%.
​If it's true that 90% of businesses fail within the first 120 days, ​would that be the same concept? I flip a coin: heads, my business fails, and tails, my business succeeds?
​If the stat was true, that 90% of businesses fail, is that the same? Does that mean that you have a one out of 10 chance of succeeding in the long run?

​No, absolutely not!
One is based on a fact that doesn't change. The other, is based on millions of variables.
Building a successful online business is based on you. It's based on your business, work ethic, support system, and your commitment. Success is based on what you're willing to do that other people aren't.
What Do You Do With a Statistic ​That Has No Source?
​Even if it was true that 90% businesses fail within the first 120 days, it doesn't matter.
Don't even get into that mindset. Don't think that if you start 10 businesses, only one of them will succeed. That's not how this works at all.

To push it even further, I never thought that number was right. It's one I'm sure you've heard of plenty of times. There's countless articles using that business stat.
​90% sounded insane, and 90% in 120 days… You don't even know what you have on your hands in 120 days!
​In writing this article addressing business failures, my team and I found several websites mentioning the 90% stat, and they all linked to one single source.
​We're not here to call anyone out, but it's easy enough to Google.
So on that original website listing the stat, its source was simply, "according to many sources." No joke, that was their source– "According to many sources" but linking to nothing.
And again, every other time we saw this stat mentioned, by websites even as big as Forbes, they were linking to this source that didn't have anything to back up their stat. Simply a number, percentage pulled out of air?
So for anybody that has this in their head, that nine out of 10 businesses are gonna fail, again, I do not believe that to be true. And you shouldn't either.
So, What's the Real Stat on Businesses That Fail?
The only solid concrete data I could find on business failures was from the Small Business Administration (SBA). According to them, 80% of businesses last past year one. The US Bureau of Labor has similar numbers.
Which is almost the exact flip of the 90% business failure myth that's out there...
After year one, yes more businesses go out of business. Same with year three, and year four. But there are no solid statics out there saying that an insane amount of businesses can't make it past 120 days.

​What Does That Mean For You?
Well first, those numbers mean your odds are a lot better than you might have previously thought. However, with that being said, it means you really are in control of your business. ​
​With all the variables for where things go right in business, there's no reason why you shouldn't succeed. Honestly, if you're serious about this, I think your chance of success will be 100%.
"Out of All Your Students You've Worked with at Drop Ship Lifestyle, What has Been the Biggest Thing You've Seen That Holds People Back From Success?"
I was asked that question above once on a podcast. My answer was simple: It was people not actually doing anything.
With Drop Ship Lifestyle, I always make sure to explain to people, if I can't help make you money, I don't deserve yours.
I want to be able to help you get results. I want you to build a business that can actually make you money and give you more freedom in life.
So what usually happens, when I say people not 'doing anything', is the following.
I'll get an email from someone saying, "Anton, this just isn't working for me. I give up." I'll ask for them to send me a link to their store. Let me check it out and give them pointers and tips for helping with conversion rates.
And you know what they usually tell me? "Well, I didn't get to building a store."
Okay, so let me see a list of suppliers you researched as you went through my course. I don't mind taking a look to see if you have good suppliers or if there are opportunities to work with better dropship suppliers.
They email back and guess what they tell me? "I didn't make a list of suppliers."
Now let's go way back to Step One. Send me a list of niches you were looking into following the criteria I provide, and I'll help you pick one out of your list.
Then I might get the reply, "Well, you know what, I didn't make a list."
Now, does that count as a business failure? Should that affect the success rate of people in Drop Ship Lifestyle or people building stores? No, because guess what?
The people that don't do anything– that don't even try, are never going to succeed.
Now on the other hand, you have the people that build their Shopify store, and maybe sometimes they have to build a second store. Maybe they take three months. Maybe they take six months to get it figured out. Maybe it's years in the making.
But they're making progress, and they're trying.
"A Little Progress Every Day Adds up to Big Results."
We actually did a poll in our Facebook group for Drop Ship Lifestyle, and we asked, "How many stores did it take for you to become successful?"
Most people said they got their first store working. Some said store two. Some said store three.
Does that mean, for the people that made it work on store three, are stores one and two failed businesses?
I don't think so. I consider it all the same thing. It's a journey as they're building their business.
If you're the analytical type of person that looks for statistics and you see that stat about 90% of businesses failing in 120 days, know this. As far as my team and I could find, it is NONSENSE. It is fake news. It's a business statistic that has always been a myth and has spread wildly around the internet.
Good news is it's not reality. At least not from what I've seen from my decade-plus of helping people build, grow, and sell online businesses.
Remember, your success is heavily up to you. It is up to the business you build. It is up to what you put into it. If you're serious about this and in it for the long haul, there's no reason why you shouldn't have a 100% success rate in business.
Wrapping Up the Truth About Business Failures
If you're reading this and thinking things don't feel like they're working in your store right now, then I have some advice. Check out this video I made not too long ago called, "How to Save a Failing Store".
This particular episode of Drop Ship Weekly will give you plenty of actual strategies to implement in your existing store.
Wrapping up, I'd love to hear your thoughts about these stats on business failures. Let me know in the comments below and we keep up the conversation!