2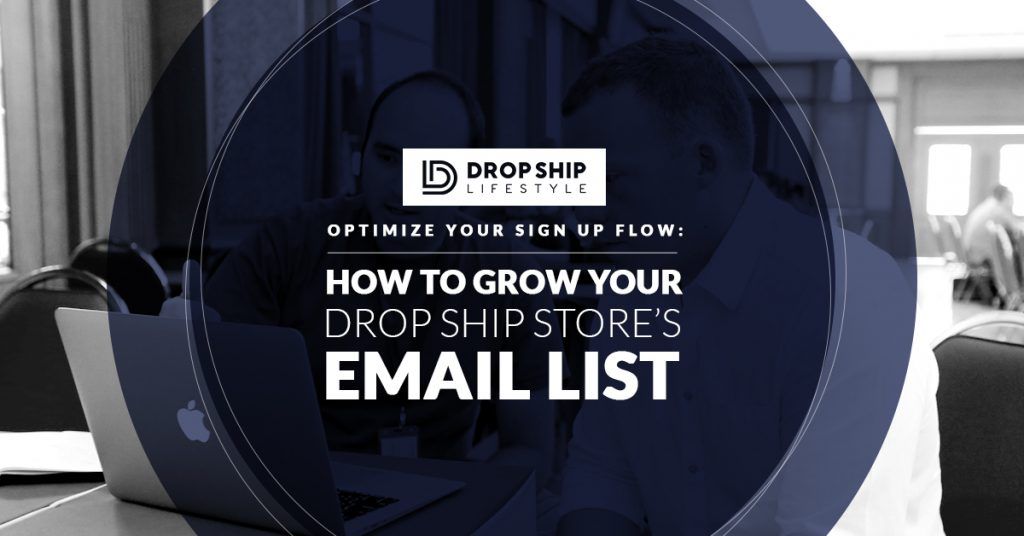 Optimize Your Sign Up Flow: How To Grow Your Drop Ship Store's Email List
If you're not using email to reconnect with the hard-earned traffic, you're missing out on a huge opportunity to engage future customers.
Sure, you know that email marketing is a best practice that can directly improve your revenue. In fact, email is second only to paid search when it comes to driving purchases, according to a report by Custora.
But paid search and other forms of traffic to your site are a wasted effort if you're not also converting it into your subscriber list. If you don't grow your email list, you won't be able to make the most of effective email marketing for your store.
That's because traffic coming to your site is unknown to you. Hundreds or thousands of visitors who get a first impression of your site, and then, for one reason or another will exit only to never return again. Seriously, you risk losing more than 80% of the traffic coming to your site in the first place, in the door and then right back out again.
On the other hand, when visitors opt-in to receive email communications from you before they exit, they are expressing explicit interest in learning more about your brand and what you have to offer.
They are also giving you permission to develop a relationship with them as a customer by continuing a conversation to them through their inbox.
So, how to do you ensure that you are engaging your site traffic? And presenting them opportunities to join your email list, in ways that will ultimately maximize your return?
We have a few tried and true ways to optimize your signups that will bridge the gap between site traffic and email marketing. Also, it'll continually prove to be your highest ROI.
Messaging is key
As a marketer, you've probably realized that treating each subscriber and customer as an individual leads to greater success. Gaining their email address in the first place should be just as much of a personalized experience as well.
Whether it's a popup, flyout, banner or any other type of email display you're using, the most important aspect of the form will be the messaging.
When crafting your form, you want to consider each site visitor as an individual. Email forms serve as the start of a conversation, one that will continue in their inboxes if that visitor opts-in. So you want to offer a clear benefit or value for signing up, while also making it as convenient as possible to opt-in.
Keep it simple and clear
Imagine being a customer on your site.
In comes an obnoxious popup that doesn't really clue you into what you'll be receiving in return for the keys to your internet identity. The form asks for your email, your name, your phone number, and so much more. Of course you're going to click out of the popup, you're not looking for an inbox full of potential spam.
Now imagine you're a customer on a site you are interested in. It's your first time there, so a banner displays, inviting you to receive a weekly newsletter with recipes, discounts, and updates. All you have to enter is your email. Plus, you get free shipping on your first order for doing so!
Use forms as customer touch points
There are a few different form types you can use on your site, and if it makes sense for your brand, you can use a few simultaneously for maximum results. By triggering various display types at different times and locations on your site, you can be sure you are engaging with site visitors at different points in their shopping journey.
What works best for your brand will depend on your unique customers. But by aligning appropriate, specific, opportunities to sign up throughout their journey, you can increase the likelihood that interested visitors will opt-in.
Personalize to optimize
Since you can only make assumptions about your site visitors based on a few nuggets of valuable information, such as location, source, device type, or visit number, capitalizing on what you do know can make all the difference in growing your list.
For example, visitors who have been directed to your site through specific ad campaigns, and visitors who are repeat customers on your site offer two completely different opportunities to personalize the on-site experience.
A visitor adding products to their cart could be very different than someone spending time reading your blog. Treat them individually with different opportunities to signup. Perhaps use a free shipping bar for the shopper, or a box that pops up after the blog reader has scrolled through 50% of the page.
Give them one more opportunity
Sometimes a customer might click out of your email form, add a few products to their cart, and then decide they want to come back later. But wait - you don't have their email yet! Triggering an exit intent form or a cart abandonment form as a final attempt to grab their email could turn a lost visitor (or customer!) into a last-minute subscriber.
By implementing these simple forms for your site traffic, you can turn unknown site traffic into known subscribers. This allows you to keep the conversation going, so don't give up on personalizing the content once you have their email address.
Take the time to learn what your subscribers are interested in based on their shopping habits, clicks in email, and other attributes you can detect, and continue to deliver relevant content through email. You now have the optimal chance to nurture these otherwise-lost visitors into happy customers.
We have a special offer to help you grow your email list. DSL community members will get 20% off by using the code DROPSHIP upon checkout. Don't delay, get started with Privy today.